VietNamNet Bridge – Australia's Howard&Sons Pyrotechnics, Italy's Martarello and Pyrotex Fireworx team from the UK have been named the finalists of the 2017 Da Nang International Fireworks Festival.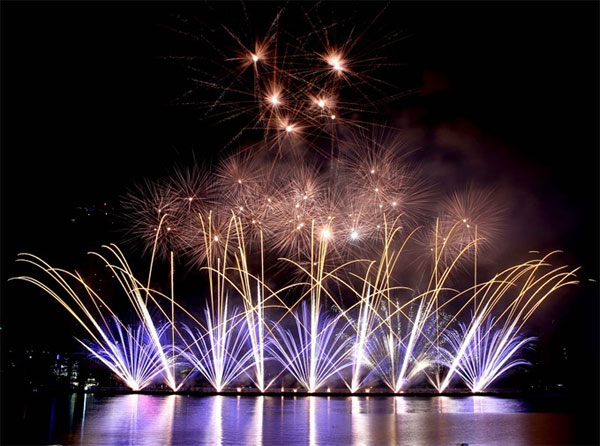 Australia team's fireworks performance at the 2017 Da Nang International Fireworks Festival on June 3rd. – Photo: VNS
The event's organising committee named the three teams after the third night of performance on Saturday, stating that the finalists thrived in design, topic, uniqueness, music, creativity and performance.
On Saturday night, the Australian and Italian teams lit up the Han River bank stage, as thousands of locals and tourists sat dazed by the two hour spectacle.  
The three teams will compete in the final performance on June 24 for the championship.
The festival, which opened on April, has drawn the participation of eight teams: Sugyp SA team from Switzerland, Da Nang-Viet Nam, Fireevent Die Feuerwerker from Austria, China's Dancing Fireworks Group, Pyrotex Fireworx team from the UK, Howard&Sons Pyrotechnics from Australia ,and Italy's Martarello
The festival, entitled Shining Ngu Hanh Son, or Marble Mountains, was held annually from 2008 until 2013, then biennially from 2015.
Teams from the US and Italy have won twice, while Canada, China and France clinched the title once.
The 2017 performance theme was based on five elements: metal, wood, water, fire and earth as traditional philosophy.
The 2017 fireworks festival preludes the 2017 APEC (Asia-Pacific Economic Co-operation) Summit in Da Nang in November.
Da Nang received an award for Asia's Leading Festival and Event at the World Travel Awards ceremony, and was named among the Top 10 Holiday Destinations in Asia by Smart Travel Asia – an online tourism magazine for Asia last year.
Last year the city hosted 5.6 million tourists, with 1.67 million being foreigners. 
Source: VNS