VietNamNet Bridge – For many, Nha Trang evokes images of the sea, or memories of holidays spent on the beach. Nha Trang has always been a popular destination for vacationing Vietnamese, but with air travel becoming ever cheaper and easier, international tourists are getting in on the action.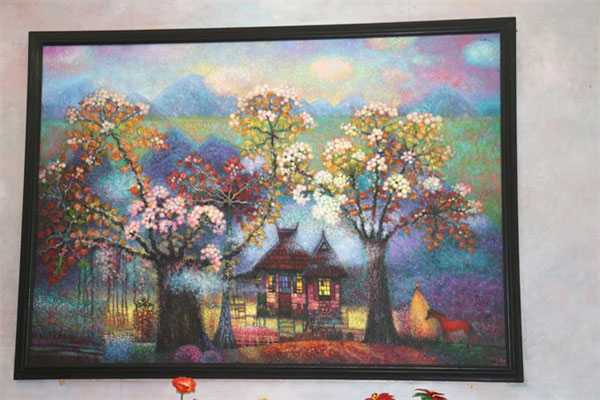 Northern-nostalgia: Le Hiep's Teacher's Pagoda in Ha Tay has a magical light. 
Visitors to Nha Trang expect a relaxing time, however, a group of local artists is looking to change that. The plan is to provide a more cultural experience to sun-and-sand-seeking holidaymakers.
"I would like to add Nha Trang to Viet Nam's art scene," says Herbert Laubichler-Pichler, as we begin an Art Tour from The Anam, where the Austrian is currently General Manager.
If you were to say this to any Ha Noi-based artists, they'd respond with surprise. "Art? In Nha Trang? The city doesn't even have an art school!"
See the artworks, meet the artists
"At first I was looking for a new and exciting idea our guests may like to explore," says Laubichler-Pichler. "I know from my years of experience that European guests in particular are very interested in culture and art."
He researched the tours currently on offer at other resorts, finding a selection of fishing excursions, cooking classes, and visits to local markets. "So I wanted to create something new."
From a meeting with Mai Loc, a photographer from whom he had bought many photos, the idea of the Anam Art Tour started to take shape.
After befriending many members of the local art scene, Herbert, as the artists prefer to call him, slowly established himself as a cultural guru. "I felt strongly about my idea as I got to know promising connections, and I knew guests at the resort could purchase pieces from local artists, and in that way support them," he told Viet Nam News in an e-mail.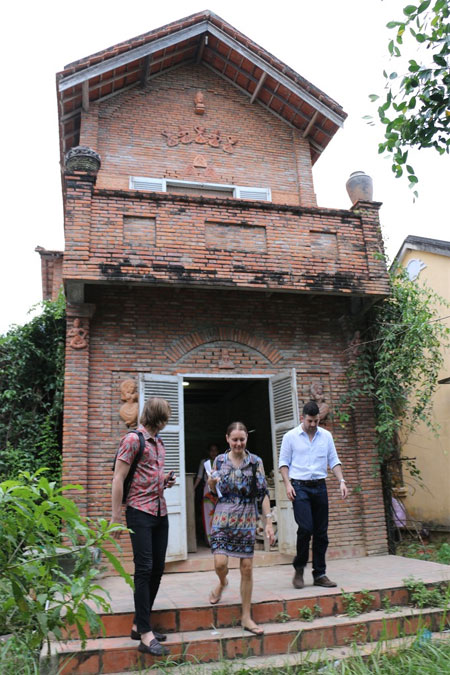 Terracotta: Xuan Hung's atelier is decorated with his artworks. 
Herbert's position at the five-star resort certainly allowed him to speak for his international arrivals. But from a local viewpoint the city already had a local chapter of Viet Nam's Fine Arts Association.
Bui Van Quang has been an active painter for most of his life, and is the Chairman of the Viet Nam Fine Arts Association's chapter in Nha Trang. He has had his work exhibited at numerous national exhibitions in the 1990s and 2000s and at arts centres in Ha Noi and HCM City. His works have also been shown in Germany, France, Russia, South Korea, and China.
 "Though it's based in Nha Trang and most, if not all, of the members live and work in the city, the group represents all artists living in the greater Khanh Hoa Province," Quang says. "We'd like to recruit more artists living in other communities, but it seems all of them live in Nha Trang."
Nha Trang is the main city in Khanh Hoa Province. If the Fine Arts chapter bears the name of Nha Trang, it will show up more in web searches.
"It's a great idea," Quang says about Herbert's Anam Art Tour. "It's very encouraging for us artists.
"I've worked as an artist for several decades now," he says in a telephone interview from Nha Trang. "And from a government management point of view, I find it very difficult, if not impossible to do this."
He explains that his chapter provides a network for local artists, helping to involve them when there are public or social campaigns. But it's hard to keep exhibiting artworks at one place on a regular basis.
"We do not have an exhibition space," Quang says. "I know that the artists have a lot of work piled up in their studios, but they have nowhere to show their latest pieces."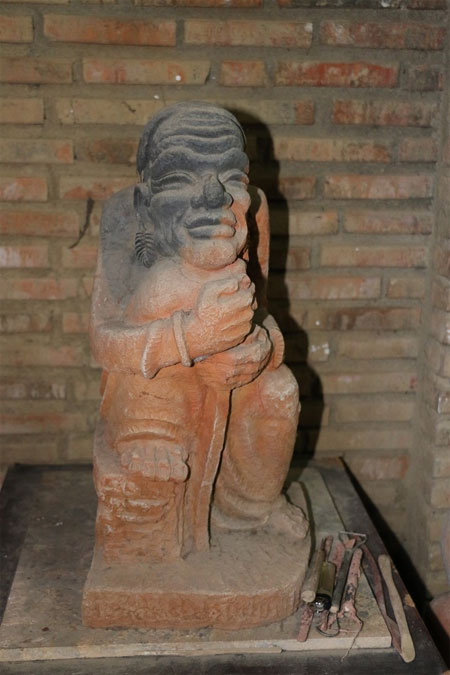 Magic of fire: Xuan Hung's sculpture is fired in his own kiln built in the garden of his atelier. 
Quang, in his role as Khanh Hoa Fine Arts Chapter Chair, works tirelessly to put artists and their work together and host exhibitions in Nha Trang and HCM City. Under his guidance they have held joint exhibitions with French and Russian artists in Nha Trang.
Quang and his wife Hong Van founded The Rainbow Gallery, the first private gallery in Nha Trang, in 1996.
It was a joint effort between Hong Van and Olga Zotova, a Russian art critic and teacher. The collaboration produced "The Handshake", an exhibition that toured Nha Trang, HCM City and even Russia in 2013.  
With significant effort, Quang managed to take 30 artworks from Nha Trang to Vladivostok in Russia's Far East.
"I was very touched with how we were greeted in Vladivostok," he says. "All the artists we met were very gracious, friendly and helpful. We brought only canvases and they measured and made us frames there to hang our works for the exhibition," Quang says.
"My heart melted at how they treated art and artists," he says.
Graduating from the Hue Fine Arts College, Quang says all arts schools in Viet Nam train students academically, just to set the artists on a creative path.
"The artist creates for his own sake, from his own feelings. He takes inspiration from life, and then transfers it to the public via their work," Quang says.
 "With the current state of the arts in Viet Nam," he says, "I mean for the average artist, it's very hard to showcase work to the public. The number of art galleries has decreased; many of them suffering because of economic difficulties."
"So many artworks are just collecting dust in attics," he says.
"Now that visitors to Nha Trang can actually see art on a regular basis, it's just wonderful."
Hospitality: HLP from the Anam hosts an art tour at his townhouse in Nha Trang every Wednesday. 
Reaching out to the wider world
Viet Nam's other established art centres already have a reputation. The big cities have established scenes and art schools.
Nha Trang doesn't have an art school, so the city's artists come from across the country and create a great mix of differing styles and perspectives. Artists in Nha Trang were trained in Ha Noi, Hue and HCM City, bringing with them the characters of the land and people.
"First of all I can see that many artists in Nha Trang have a very good education and techniques," says Laubichler-Pichler.
"Most of them have graduated from the best art universities in the country and have done exhibitions in Viet Nam and abroad. The Khanh Hoa Arts and Literature Association is well organised. They help and respect each other. Although there is naturally competition between the artists, they are good friends and very supportive of each other.
"Second, the art is still affordable and since it is not as well known as that of Hue or HCM City, a wider clientele can enjoy it.
"And third, the density of art you can find here. In one day you can see so many different styles, there is literally something for everyone to enjoy.
 "I very much like that the art is so diverse. Often artists stick to more traditional styles, however here it is very creative. The art society embraces a lot of artists, young and old, male, female, and this makes for a compelling mixture," writes Laubichler-Pichler in his e-mail.
A trained hotelier from early childhood, Laubichler-Pichler says his love of art began in London when he visited the city's galleries.
"My home base is Vienna and here again I like to visit galleries as often as possible. My eldest daughter, for example, is working for a famous Austrian Gallery, the Alpertina in Vienna, and every time I go home we visit the latest exhibitions. I also developed, together with a company called Contemporary Art Advisors in Vienna (http://www.contemporaryartadvisors.com/) an art concept for a high end luxury chalet in the Austrian mountains, in Lech," he says.
"Since our guests come from all over the world, the local art will be sold to many different countries. Rainbow manager Hong Van and I have plans to connect with more artists in Viet Nam. We are working on some very interesting and exciting ideas to bring local and foreign artists together. The plans are in an early stage, however I am sure many visitors will be very interested in them."
"I hope we will get further assistance from the state," Fine Arts Chapter Chair Quang says.
"Our fellow painters in Vladivostok that we met, were given a house for themselves. Downstairs is an exhibition space, upstairs it's offices and studios, for art only. The rent is put towards sponsoring regular exhibitions. So it comes full circle.
"Next year, there will be an art festival in Krasnoyarsk in Russia in July, and we would like to bring our artworks there."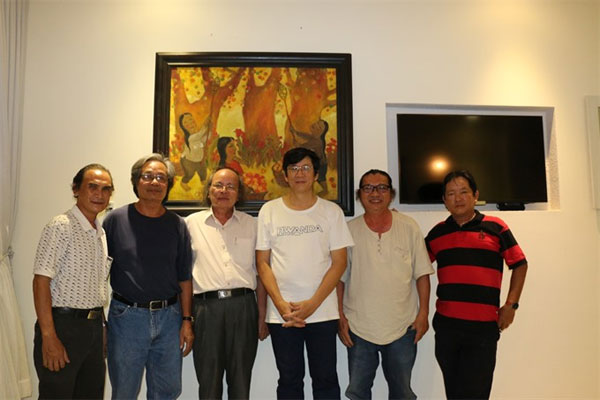 Gang of six: From left Bui Van Quang, Le Huynh, Nguyen Huu Bai, Le Hiep, Xuan Hung and photographer Mai Loc.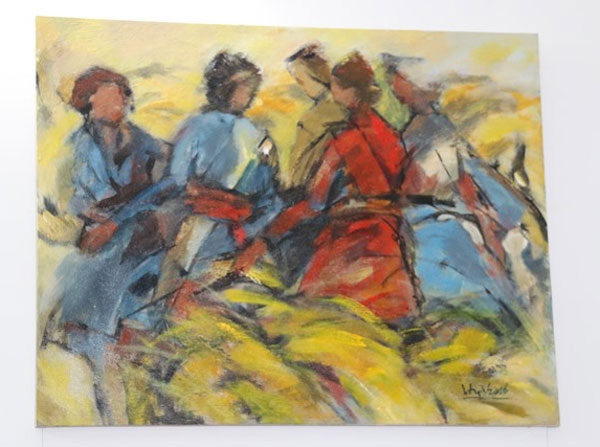 Lots of movement: Harvest time, Le Huynh, oil on canvas.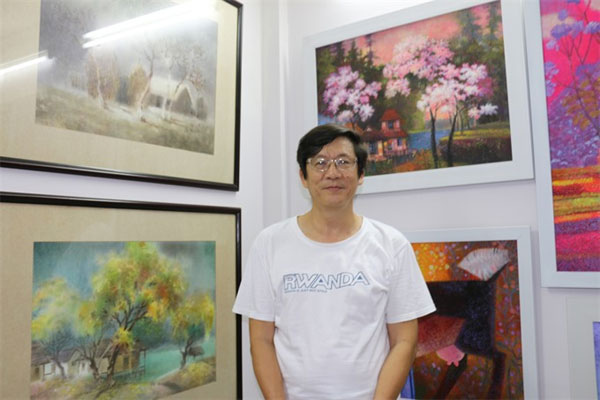 Northern charm: Le Hiep paints what he sees with lots of bright colours.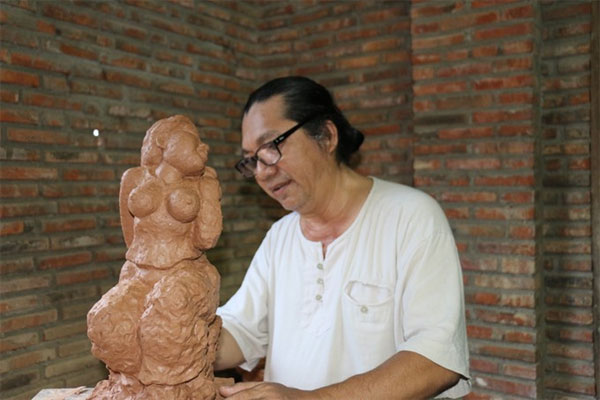 Art of Clay: Xuan Hung shows off his Cham-inspired work. -- — Photos: My Ha/VNS  
Nguyen My Ha
VNS