VietNamNet Bridge – Viet Nam can offer many different reasons to fall in love for tourists and expats.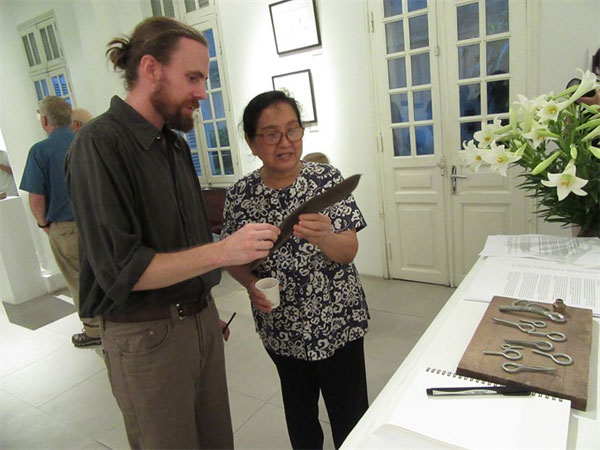 Dan Drage shows one of his artworks on display to his Vietnamese art teacher Le Kim My who taught him the technique of creating watercolour paintings on silk. 
For American couple Dan Drage and Kimberly Drage, it's the people of Viet Nam that have made their 10-year stay here so enchanting.
"In the US, when we go outside, we can not meet people. Most of them are in their houses or in the car. They do not talk to each other. And people do not trust each other very much. But in Viet Nam, even though the country is changing, people are sincere and everyone trusts each other and appreciates each other.  They are sentimental. I enjoy it very much", said Dan Drage.
A long-time love story
After 10 years living in Ha Noi, the Drages can speak Vietnamese almost as fluently as locals. 
They relocated to Ha Noi in 2006 as Vietnamese language students, studying for two years at Ha Noi University.
However, their love story with Viet Nam began much earlier. Kimberly Drage first studied Vietnamese in 1999 when she worked at the World Relief association in California to help Vietnamese immigrants coming to California to learn English.
Seduced by the beauty of the language, she decided to continue to studying Vietnamese when she pursued her postgraduate degree at university in the US.
After marrying Dan, she decided to go to Viet Nam with her husband.
"Kimberly was fascinated by Vietnamese people, the language and the culture of Viet Nam, so she wanted to come here. Together, we studied the language and discovered the Vietnamese culture. It is a very difficult language but we studied it with love and passion," said Dan Drage. 
In 2010, they joined the German NGO Allianz Mission, and continue to work alongside the local team to help impoverished families in northern mountainous regions of Viet Nam. Dan Drage is fortunate enough to be able to spend half his time with the NGO and half his time making art.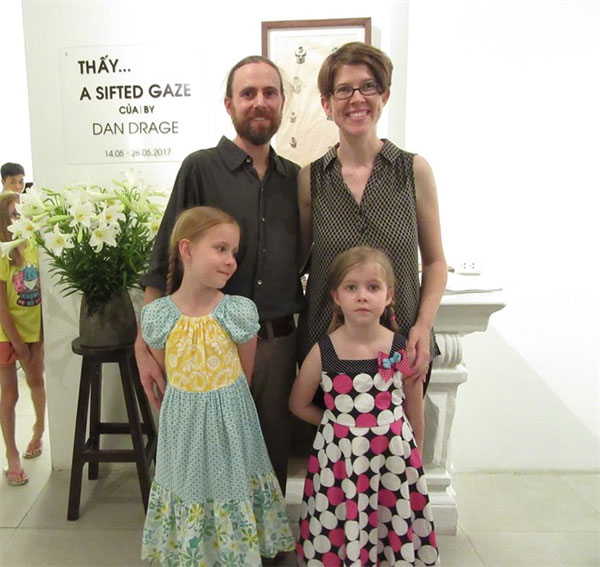 The couple Dan Drage and Kimberly Drage pose with their two daughters at the exhibition. — Photos: Bach Lien/VNS
Exhibition of watercolour painting on silk
Dan Drage wowed the public on Sunday with his original watercolour paintings on silk which are on display until May 28 at Manzi Art space, located at 14 Phan Huy Ich Street.
Including a series of sculptures and silk paintings, the exhibition entitled A Sifted Gaze invites audience to see everyday objects in a new way, in the value of their form, in their repeating patterns, in the interplay between the individual objects and in the collective whole which they create.
At the exhibition's opening, in fluent Vietnamese, he thanked his family for support and in particular his Vietnamese teacher Le Kim My who taught how to make watercolour paintings on silk.
Graduating from Milligan College in 2001 with a degree in Visual Arts and Humanities, Dan Drage studied painting watercolours on paper.
"But I didn't know about the silk, so I wanted to study it in Viet Nam. I had My as my teacher for a short time and then I practiced myself", he said.
He became friends with My's daughter, artist Vu Kim Thu, who encouraged him to do this exhibition.
"I want to thank My and Thu for believing in me before I believed in myself," said Dan Drage.
 "He was very talented and I only showed him some basic techniques of watercolour paintings on silk. After he practiced himself. It was a great time working with him," My said.
Dan Drage's father flew from the US to attend the exhibition and said he also loves Viet Nam and has come to the country five times to visit his son and to go sightseeing.
The couple has two daughters and they also speak Vietnamese.
"Before, with my husband, we used to speak Vietnamese with each other to talk about things that we do not want our children to hear, but now we can't do it any more, as our daughters understand Vietnamese very well," Kimberly Drage said, laughing.
The young woman said that she and her family enjoy life in Ha Noi, except for going to the morning market.
"I am afraid of having to buy things at expensive prices. I am not good at negotiating prices. If I had to go to markets every day and negotiate prices, it would be very tiring for me. So I buy things at supermarkets and ask someone else to buy things for me at the market", she said with big smile.
Their family will soon relocate to Scotland for a year while Dan completes a masters' degree in art and theology at the University of St Andrews.
But they said they will come back to Viet Nam.
"We enjoy life in Viet Nam as people are kind to each other."
Kimberly Drage said that she loves walking the streets of Ha Noi as she loves its colours.
"With the green leaves and the houses' walls being yellow and mossy, and mouldy, Ha Noi is charming with its ancient and romantic beauty," she says, adding that she has also a Vietnamese name: Kim Lien (golden lotus), as it is quite similar to her actual name and because she loves lotus. 
VNS