VietNamNet Bridge – Two veterans in their 70s living in the central coastal city of Nha Trang have collected hundreds of memorabillia and documents on President Ho Chi Minh and exhibited them for free.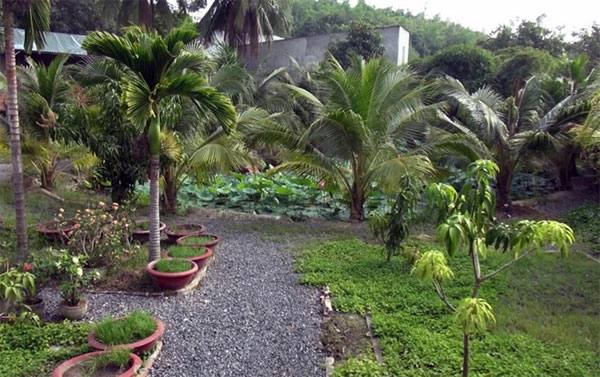 Tranquil: Phuoc's private museum is surrounded by a garden of various trees. — Photos: Phan Sau/ VNA/VNS
In his house in Vinh Hoa Ward of the city, Vu Khac Dai has more than 5,000 paintings, photos, books and newspapers on President Ho in his personal library.
Born in the northern province of Ninh Binh, Dai joined the army when he finished 10th grade.
In September 1969, he was selected as part of the guard troop for the President's funeral in Ha Noi.
"I cannot forget that honour, I thought I should do something dedicated to President Ho to pass on to future generations," he said. "When I returned from battle in Laos, I started to collect memorabillia on the great leader."
His small library has become a popular destination among locals. Some veterans who visit the library add more materials.
"Some people ask me for some of my exhibits as gifts but I only let them copy the material because some of the items are so rare they are priceless," he said.
Beside printed materials, there are books that Dai copied by hand including Nhat Ky Trong Tu (Prison Diary, a poetry collection by Ho Chi Minh).
He has divided his time between compiling materials for his private library and giving talks at veterans' and youth union's meetings.
Selling home to build museum
Another veteran in the same province, Bui Xuan Phuoc, from the central city of Da Nang, is another President Ho enthusiast.
He joined the army to fight in the Quang Nam-Da Nang battle fields during the American war. After the country's reunification in 1975, he worked at the Phu Khanh Provincial Museum (Phu Khanh was the former name of today's Phu Yen and Khanh Hoa provinces).
"I just wanted to set up an exhibition to express my adoration to President Ho and help old and young people understand the revolutionary path he chose," Phuoc explained.
When he retired in 1994, he travelled to meet his old comrades and asked for their help in collecting material for the museum.
At present, he possesses more than 100 items, objects and images including a large photo of the President at the moment of his death.
The original photo measures only 18-24cm donated by a family from the central province of Phu Yen in 1995. A member in that family used to work in the Presidential Palace in Ha Noi.
"At that time, there wasn't a studio in Nha Trang City that could enlarge the photo," Phuoc said, "I had to go to Ho Chi Minh City to make a bigger copy."
In 1997, he started to build the exhibition hall at his home with money from selling a house in Nha Trang and some loans. Construction was completed three years later.
 "People advised me to save the money for my old age," he said, "But when they saw the museum, they admired me and even donated some money to finish the construction."
The museum covers 2,000sq.m with an exhibition hall on President Ho, a statue of soldiers, a statue of a heroic mother and a fountain. The construction is surrounded by a garden of various trees, a lotus flower lake and a fish pond.
Phuoc has also built a meeting hall for gatherings. He intends to complete an exhibition on Champa civilisation soon.
Though they are in 70s, Dai and Phuoc have passion to gather memorabillia on the late President.
Ngo Mau Chien, deputy chairman of Khanh Hoa Province's Veterans Association, lauded their efforts.
"Their collecting and construction originated from their hearts and inspired others," he said, "In the future, the association will organise visits to the museums for veterans in and outside the province."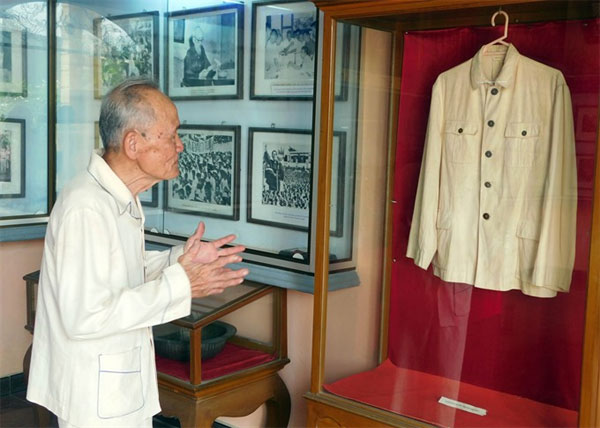 Reverential: Some of Bui Xuan Phuoc's objects commemorating President Ho Chi Minh.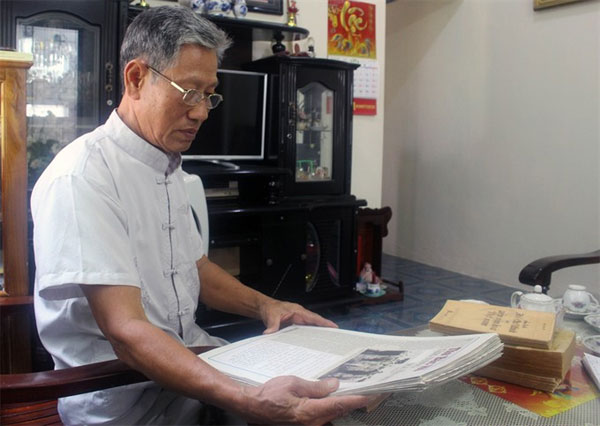 Meticulous: Vu Khac Dai gathers documents on President Ho Chi Minh.
VNS