The first wax statue museum of Vietnamese celebrities has received few visitors, with the owners facing huge losses.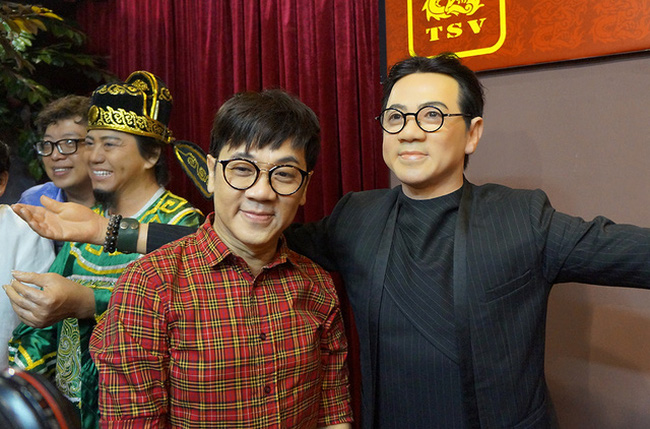 Some Vietnamese artists besides their wax statue
Speaking with Zing Newspaper, the museum's owner, artisan Thai Ngoc Binh said that he and two friends, sculptor Nguyen Van Dong and his wife Nguyen Thi Diem had so far spent nearly VND30 billion (USD1.33 million) on the museum. 
"We started the project many years ago because of our love for the artists and want to have a place to honour them," the artisan revealed. "We had gone to see and learn about the waxwork making technique in several countries. And we first planned it would cost VND 17-25 billion but now the total investment has climbed to VND 30 billion. We hope it will become an attraction to art-lovers who come to admire their idols and enjoy various art activities here."
However, the museum has failed to attract visitors during the first month after a noisy inauguration on April 11.
"We've been receiving only 100 visitors a day," Binh said. "Tickets are being sold at VND100,000 (USD4) but we often have to offer discounts to attract regular visitors. And so we've earned just VND150 million, which just covers half the monthly operational costs for the museum."
Despite the gloomy situation, the artisan is still optimistic about the project which they have pursued for dozens of years.
"We have plans turn this museum into an art space which will host regular shows, culture and art exchanges, and seminars but this will need more time," he said. "We hope that we can attract more visitors then. Now we'll focus on fixing and building more waxworks. By the end of this year we'll increase the number of featured artists to 150."
More than 100 wax statues of Vietnamese celebrities are on display at the museum which is located at Hoa Binh Theatre in Ho Chi Minh City.
The celebrities are famous artists in various aspects and multiple generations. Each sculpture stands in front of a description of their biography and career achievements in both Vietnamese and English.
dtinews