A mural painting created by artist Nguyen Thu Thuy and her colleagues from the New Hanoi Art Company located in Da Nang International Airport won the bronze medal at the 10th International Design Awards (IDA), the awards jury announced on May 11.
Thuy also brought home a consolation prize for her 'Love Heart for Hanoi', a heart-shaped sculpture decorated with millions of ceramic tiles.
The mural at Da Nang airport covers a pillar that is 7.4m in height and 6.4m in diameter featuring images of flowers and tropical trees.
The work, made with paints produced by the French-based industrial paint producer Guard Industrie, was inaugurated in March this year as the first painting as part of an art project to transform Da Nang airport into a tropical garden.
The project was highly appreciated by the judges for creatively and successfully applying materials in building and industrial construction into community arts. The use of flowers and green trees helps to create a fresh and environmentally-friendly feel for viewers, thus meeting criteria set for the IDA's Design for Society and Design for Environment category.
Earlier, Thuy was given an honourable mention at the eighth IDA in 2015 for her lotus-shaped fountain at Mai Xuan Thuong flower garden.
In addition to the three prize winning works, Thuy is also the creator a number of significant ceramic projects such as the four-kilometre ceramic mosaic mural on the wall of the dyke system of Hanoi; a 2.3x1.9 metre map of Vietnam; and six ceramic paintings of Truong Sa (Spratly) archipelago.
The IDA, established in 2007, is held annually in Los Angeles, USA, with the aim of recognising, honouring and promoting legendary design visionaries and uncovering emerging talents in architecture as well as interior, product, graphic and fashion design on a global level.
This year's competition attracted more than 1,000 entries sent from architects and designers from 52 countries throughout the world. Winners of this year's event will be honoured at a ceremony scheduled on June 10 at the A+D Architecture & Design Museum in Los Angeles.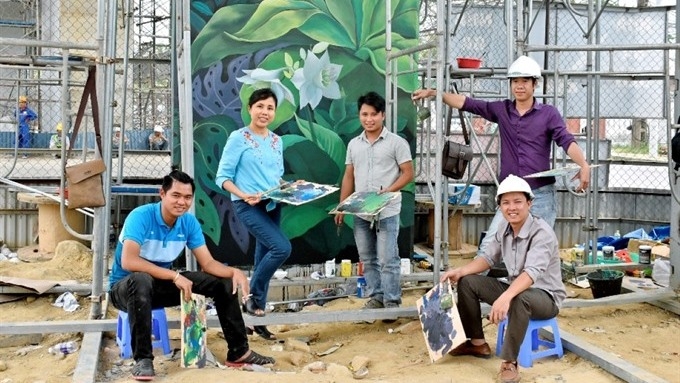 Group of artist from New Hanoi Company work at the airport.


A mural painting at Da Nang Airport






'Love Heart for Hanoi', a heart-shaped sculpture by painter, Nguyen Thu Thuy which won the 10th IDA consolation prize








Painter Nguyen Thu Thuy and her Hanoi Lotus Fountain Project at Mai Xuan Thuong flower garden, which was given an honourable mention at the eighth IDA in 2015

Nhan Dan