VietNamNet Bridge – Two major Vietnamese contemporary artists, painter Le Thiet Cuong and sculptor Dinh Cong Dat, have teamed up to surprise art lovers with an interior décor collection.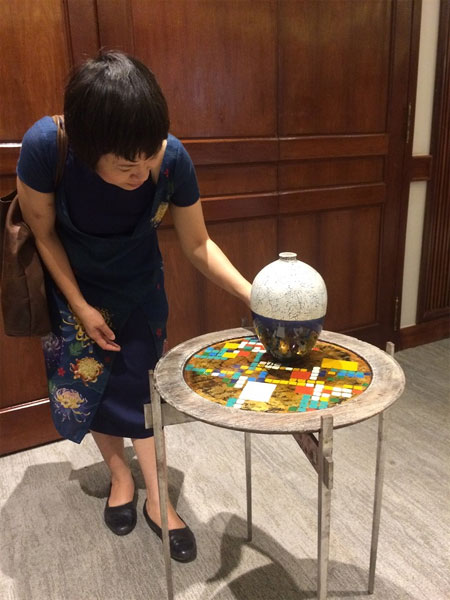 Think piece: A visitor contemplates objects at the exhibition Duo Design. — Photos: Thuy Hang/VNS
The collection features several objects using the two most popular materials in Viet Nam – lacquer and ceramic. The works are on display at the exhibition Duo Design at the Press Club in Ha Noi.
Although the objects are made to be used, they deserve to be regarded as artworks.
Among the objects is an iron and yellow-painted chair belonging to the 49-chair collection by painter Cuong. Created in 2001, the chairs are perpendicular and horizontal structures without any bend or curve, painted with bright and strong colours. 
According to the painter, the chair collection is a study of ratios: the ratio between warm and cold colours, between block and line, between solid and empty components.
The painter, who is well-known for his minimalist artworks, also presents a collection of sole ceramic-and-lacquer pots, including the one entitled Hat Gao (A Grain of Rice), which won the Good Design Award – ASEAN Design Selection 2003. Cuong created other pots with the idea inspired by Vietnamese fruits such as areca nut, papaya, and loquat.    
Artist Dat has brought to the Duo Design several items, which originally are old wooden interior objects such as jewellery trunk, sofa and food tray. However, he has created a "new life" for all those old items by adding beautiful details.
In an act of inspiration, he changed the arm rail with the ones made from lacquer and painted in an eye-catching neon-pink colour. He adorned old food trays with gold-inlaid patterns and lacquer paint, then used the trays as table surface. He turned the round chopping boards into beautiful side tables by adorning them with hand-painted patterns and adding table legs.
Although each artist has his own way to present ideas about art and design, the duo share a common message: design plays a very important factor in any object, for display or for use.
"In fact, there are very few households in certain Vietnamese traditional villages including Huong Canh ceramic village, Phu Vinh bamboo and rattan village, Quat Dong embroidery village, Van Phuc silk village, maintaining their ancestor craft job due to the competitive pressure caused by flooding Chinese products in term of price and design. This is a heartbreaking fact," Dat said.  
"That's why, through this exhibition, we would like to call on everyone involved in the craft industry to improve their conception about the design of their products. This can help revive traditional jobs," he added.
Today, at 2pm, the two artists will share their thoughts and experiences on design with the public. The talk will also take place at the same venue of the exhibition.
The free entrance Duo Design opens to public until Saturday. Press Club is at 59A Ly Thai To Street.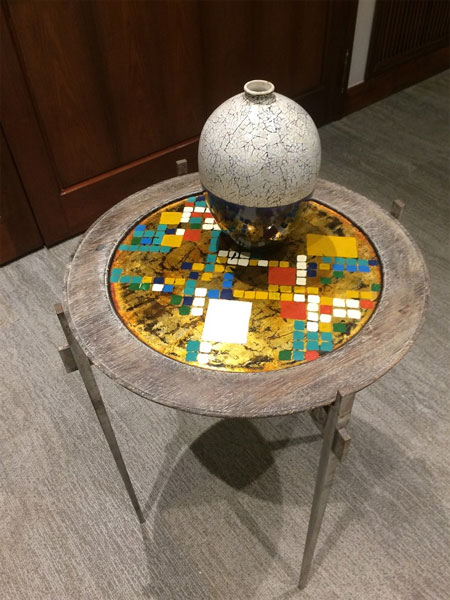 Found art: A table created by sculptor Dinh Cong Dat. The table top made from an old food tray.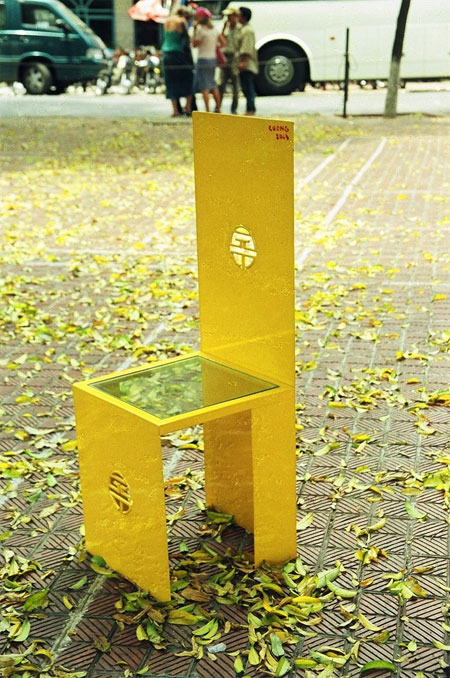 Not too comfy: An iron chair among the 49-chair collection by painter Le Thiet Cuong. — Photo courtesy of organiser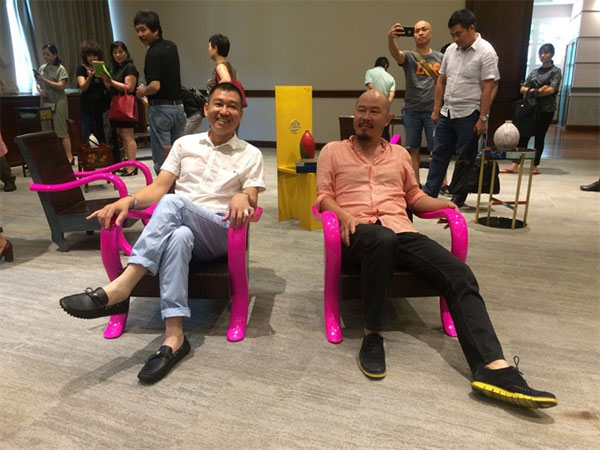 Art friends: Painter Le Thiet Cuong (left) and sculptor Dinh Cong Dat sit on the sofas created by Dat. He changed the arm rail with the ones made from lacquer and painted by the eye-catching neon-pink colour. 
VNS