Associated Press (AP) photographer Nick Ut presented his iconic photo 'Napalm Girl' to the Vietnamese Women's Museum on May 6.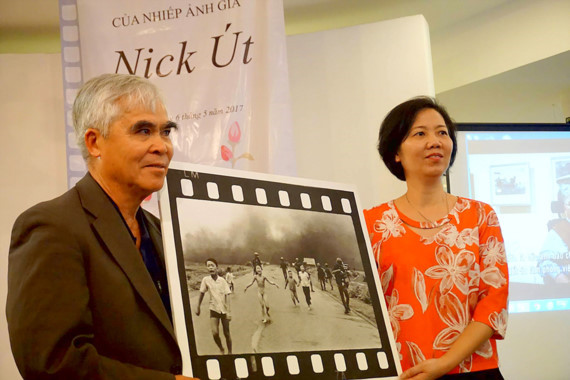 Photographer Nick Ut presents his iconic 'Napalm Girl' photo to Women's Museum
The photo was among a series of five images presented by Nick Ut to the museum. They were taken on June 8, 1972 in Trang Bang District, Tay Ninh Province featuring terrified Vietnamese children, including nine-year-old Kim Phuc, in the centre running down the street after their village was set ablaze with napalm.
Nick also presented the museum with a camera he used while working as a war correspondent in Vietnam at the time.
'Napalm Girl' captures the hardship and horror of the war conducted by the US in Vietnam, helping change the world's look at the Vietnam War and boost the anti-war movement in the US.
The image was ranked 41st among top 100 influential photos in the 20th Century. It not only brought Nick Ut the prestigious Pulitzer prize in 1973, but also has changed the fate of Kim Phuc from a victim of the war to becoming a Goodwill Ambassador of the United Nations.
Speaking at the handover ceremony, photographer Nick Ut said that although many museums in the world want the photo for their exhibition, he wanted to bring them back to Vietnam.
No place is better than the Vietnamese Women's Museum to exhibit a photo portraying a woman and telling a story about a woman, he stressed.
Nick Ut, whose real name is Huynh Cong Ut, was born in 1951 in Long An province. The Vietnamese-American photographer spent 51 years working as an AP journalist in Los Angeles and just retried from the AP in March of this year.
Nhan Dan