The traditional Lunar New Year Festival (Tet) is the second biggest event for Kho Mu ethnic people to welcome the approach of Spring with a new crop.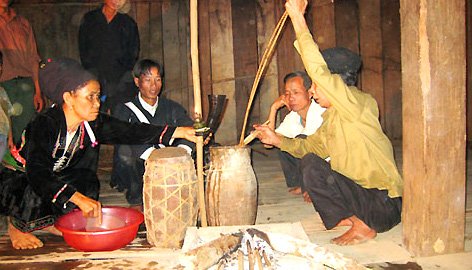 Kho Mu people, who are living in the northwestern region, usually prepare alcoholic drink and chicken for ritual on New Year's Eve.
They will use the chicken leg in a fortune-telling session to forecast good and bad lucks in the new year. The chicken blood is reserved as a sacred item to offer the ancestors. On New Year's Day, the household members will paste the blood on their legs and pray for prosperity.
Kho Mu people sing a lot during the Tet holiday all wishing for happiness, good health and bumper crops. Quang Van Muon from Ten hamlet, shares "We usually stay at home to welcome Tet. On the first day, we visit our neighbors and relatives. This is a good opportunity to talk to each other, sing and stay united."
Cu Thi Len, a young Kho Mu woman, says that she sings a lot on New Year's Eve to wish for the new year of prosperity and bumper crop. "All the songs are joyful," she confides.
Luong Thi Phuong, a local artisan, explains, "The household owner's joy is to receive wishes through songs by villagers. The songs provide fresh impetus for us to boost production in the new year."
Luong Thi Nun, 60, says she is very fond of singing. "After 2 days of singing, our throats get sore but nobody wants to leave. The sing-along makes our life all the more meaningful."
The festival is full of music, singing and dancing performed by Kho Mu people in their best costumes. The festival continues until mid lunar January when the new crop begins.
VOV