Vietnam boasts a diverse, rich culture of 54 ethnic groups. As Vietnam integrates internationally, preservation of its cultural heritage should be part of its sustainable development strategy.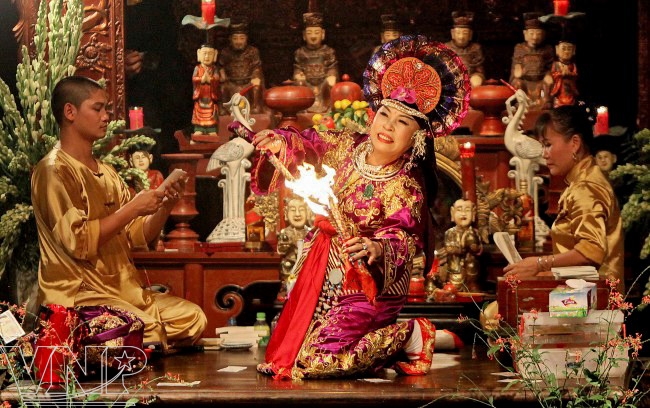 A "going into trance" ritual of Mother Godess Worshipping 
Vietnam has a vast cultural treasure of 40,000 tangible heritages and 60,000 intangible heritages. 
Dr. Nguyen The Hung, Head of the Department of Heritage at the Ministry of Culture, Sports, and Tourism, said the national sustainable development strategy includes incentives for individuals, social groups, and businesses to get involved in preserving heritages.
He said "Cultural heritage and sustainable development are interrelated and interdependent. Cultural preservation means sustainable development, a task to be carried out regularly. The State should complete its legal system, continue its preferential policy towards artisans, and prioritize the training and management of culture."  
Dr. Nguyen Trong Chuan, former Director of the Institute of Philosophy, said "A modern society cannot achieve sustainable development without culture and what is inherited from previous generations. Culture is one of the 4 pillars of sustainable development, in addition to economics, society, and environment. Cultural heritage provides momentum for national development and plays a crucial role in socio-economic development."
Dr. Vu Minh Giang, Vice President of the National Heritage Council, offered his view, "Once culture is considered a special resource, it should be tapped wisely. Human resource development and training is very important. Vietnam has followed the world's inevitable trend of culture socialization. Over the years, many relics have been restored thanks to social funds. We need to revise the Law on Heritage soon to promote heritage and contribute to sustainable development."
Vietnamese culture managers are enhancing the perception of community-based cultural heritage, considering culture an endless and priceless resource of the nation. 
Dr. Dang Van Bai, Vice President of the National Cultural Heritage Council, said "We should change our awareness of cultural heritages and turn them into centers of historical and cultural education and attractive tourism destination."
The best way to preserve culture is to return culture to its creators as UNESCO puts it. 
Dr. Luu Tran Tieu, President of the National Cultural Heritage Council and the National Heritage Council, said "It's important to maintain the vitality of heritages and expand the role of cultural heritages in society. The community should be involved in preserving, promoting, and creating cultural heritages."
VOV5