VietNamNet Bridge – Artisan Nguyen Van Cong has dedicated his life to preserving the ancient craft of embroidery, and has made a name for himself as a master of painting with thread. Trung Hieu reports.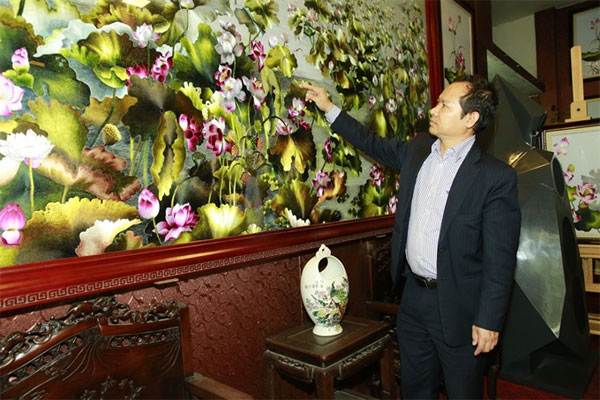 Work of art: Artisan Nguyen Van Cong shows off a large embroidery painting. 
Nguyen Van Cong, 45, was born in Hau Loc District in the central province of Thanh Hoa.
His shop on Ton Duc Thang Street in Ha Noi has been built and decorated to look like a traditional Vietnamese house.
"Embroidery work is usually done by women. But fate led me to follow this career," said Cong.
People in the embroidery business know Cong as a master of the art. The works he makes have his own distinct style; soft and seductive.
"Since childhood, when I saw mothers and older sisters meticulously embroidering towels and shirts for the young men who were going to join the army or go to work far from home, I felt really moved," he recalled.
Although he studied electrical engineering at Ha Noi University of Technology, his passion for embroidery led him to learn about painting from some friends who were studying fine arts.
"I decided to find my own way, and only traditional embroidery paintings helped me implement my passion – which is to make paintings from thread," he said.
Cong began his craft in 2008, and his first teachers were famous artisans Nguyen Cao Binh and Thai Van Bon.
After years of painstaking work, with his fingertips calloused from the needle – Cong has become a skilled embroiderer.
Then Cong discovered a sad truth.
He made many visits to traditional embroidery villages such as Quat Dong (Ha Noi), Xuan Neo (Hai Duong), Van Lam (Ninh Binh), and Minh Lang (Thai Binh) to study more about the craft, where he found that many artisans were quitting the profession.
"I saw that many embroiderers had no more passion for the craft. This made me sad and concerned, but I was determined to revive this traditional craft, based on the beauty of Vietnamese identity," he said.
Back to basics
"Over the last few years, many people have come to like imported embroidery products. As a result, traditional Vietnamese embroidery paintings have suffered.
"Many people still like Vietnamese embroidery paintings, but we don't understand or take steps to preserve it. That's why I decided to use the traditional themes to evoke everyone's love of our ancestors' craft," Cong said.
Vietnamese embroidery originated from feudal times. The thread was dyed using simple things like brown tubers, indigo and other kinds of leaves, resulting in vivid and colourful products.
Embroidery in Viet Nam has experienced ups and downs over the years, but has achieved very high aesthetic values, Cong said.
Before teaching techniques to his students, Cong explained to them the history and technical characteristics of pure Vietnamese embroidery.
As a result, his students are more in love with the country, and they put this sentiment into every stitch.
So far, he has taught advanced embroidery skills to about 80 workers.
But "love and passion are not enough", Cong said. "The ingredients that make up a traditional embroidered painting includes a mandatory rule that all embroiderers must understand. This is to use a kind of traditional silk fabric along with a type of special thread. The way to join the threads together is also very important to the professional embroiderers."
"Many of the novices don't know this, so their embroideries look crude and rough. Especially, following the traditional technique, we must embroider from left to right, from top to bottom, from inside outward. So, if you think traditional embroidery is simple, it is very wrong," he said.
Currently, Cong runs 10 workshops in Ha Noi and in some villages in nearby provinces, employing about 400 workers.
As Cong is a connoisseur of painting, the new painting samples that he created are always Vietnamese landscapes showing peaceful villages, banyan trees, and communal houses in the countryside.
Among thousands of embroidery paintings that Cong and his students created, many of them were bought by foreign clients to hang in major hotels or exhibit at museums and art exhibitions, helping to promote the images of the country and people of Viet Nam.
Cong pays a lot of attention to developing a type of two-sided embroidery paintings.
"This kind is not for hanging but to exhibit, because both sides are shown the precise and soft contours. The white spaces of the painting is the thin, penetrating silk that we can see through it. This is the essence and development of Vietnamese embroidery, that the other countries can hardly match," he said.
Only the master embroiderers can make this kind of product, because, just a needle path of deviation, or a non-standard joint may destroy the painting, he said.
As these art works take a long time to complete, each ranges from 3-5 million to hundreds of millions of dong.
But for Cong, money is not everything.
"I wish that we can help preserve the embroidery craft, which was almost lost. Moreover, I hope that one day embroidery will be taught in schools, so our students can practise their patience and understand more about our ancestors," he said.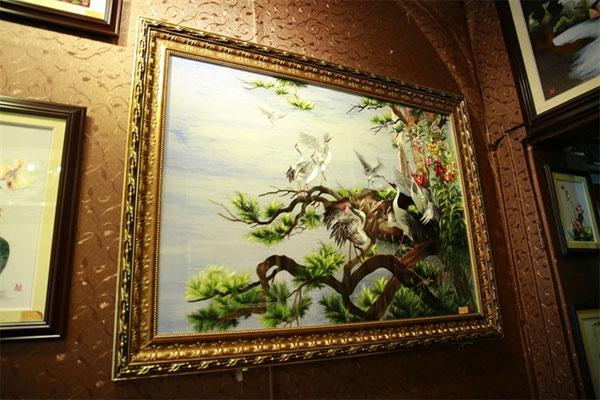 Natural scene: Embroidery paintings in Cong's shop.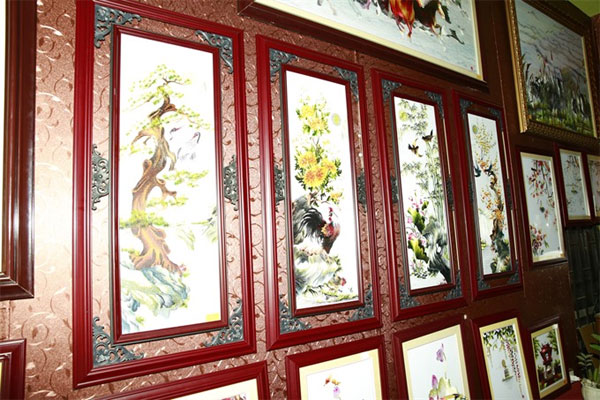 Special skills: Only master embroiders can make two-sides paintings.
VNS