"I love, I share" is the theme chosen to honour the French language through a film festival, concerts and writing contests for International Francophone Day, which falls on March 20.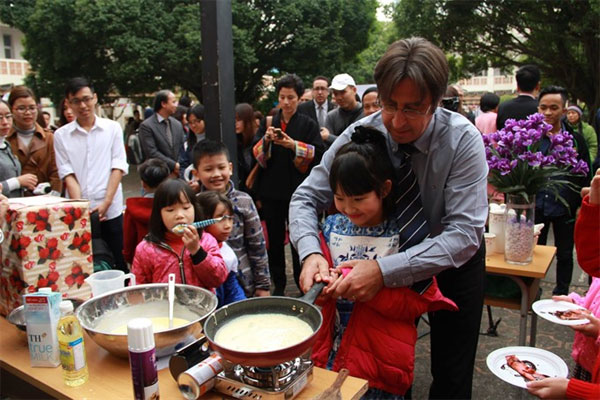 Cultural preservation: Eric-Normand Thibeault, Asia-Pacific director of the International Francophone Organisation (OIF), teaches children how to make crêpe on occasion of the International Francophone Day last year. 
The theme aims to encourage activities for young people and by young people, gathering Francophones through social networks.
"'I love, I share' with all those who chose to learn and teach and promote this common language. Speaking several languages will open doors and provide a bridge between peoples. Speaking French provides increased opportunities to study abroad and find jobs," Dr Eric-Normand Thibeault, Asia-Pacific director of the International Francophone Organisation (OIF), said.
"Celebrating Francophonie is also celebrating all languages and all cultures," he added. "The celebrations of International Francophone Day is an opportunity for us to honour the values of solidarity, cultural diversity and respect for cultural differences."
Viet Nam is home to the biggest number (674,000) of French-speaking people in Asia.
Concerts
To begin this month-long celebration, participants were invited to watch art performances, a fashion show and taste the foods of different Francophone countries on Saturday at Ha Noi University.
An official ceremony will take place on March 17 at the Ha Noi Opera House at 6.30pm, followed by concerts of artists from Romania (the group Doina Oltului) , Belgium (the trio L'Ame des Poètes-The Poets' Souls) and Viet Nam.
Artists from the Viet Nam Puppetry Theatre will stage Nhip Dieu Que Huong (Homeland Melody), which won the grand prize at the Harmony World Puppet Carnival in Bangkok in 2014 – the highest international award that Vietnamese puppetry performers have ever received.
French-lovers will also be treated to concerts by Canadian singer Melanie Gall on March 21 and Belgian singer Axelle Red on March 18.
A cultural day will also be held at the Viet Nam National University in Cau Giay District, on March 18 from 9am to 11.30pm.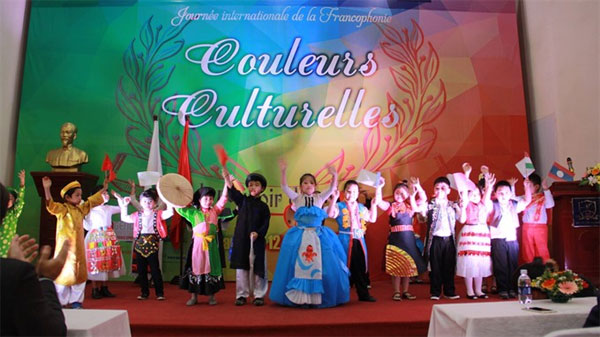 Large community: Vietnamese children sing French songs in Ha Noi during the celebration of International Francophone Day last year. 
Lovers of French culture will meet with key players in the Francophone community involved in education, culture and development co-operation. Groups of Vietnamese students will perform French songs and take part in diverse contests and games to enrich their French language and share their love of this language with other people.
Films
The highlight of the celebrations will be the 10th Francophone Film Festival which will showcase the cultural diversity of the Francophonie, from March 19 to April 2. It will kick off in Vinh City on March 18 with the French film Gus, Petit oiseau, grand voyage (Gus, Small bird, big voyage).
The festival will present 11 films from Viet Nam, France, Tunisia, Switzerland, Morocco, Belgium, and Canada.
The films, which have won prestigious prizes, will be screened in HCM City, Ha Noi, Hue and Vinh with Vietnamese subtitles, while the Vietnamese movie will have French subtitles.
In addition, several writing contests in French will be held, including the first ever slam contest in Viet Nam, and a journalism writing contest for young Francophones.
A wide range of other cultural activities is also being organised in Hue, Vinh, HCM City, Da Lat, and Can Tho.
More detailed information can be found on the website http://www.20mars.francophonie.org.
The date of March 20 was chosen as Francophone International Day to commemorate the signing in 1970, in Niamey (Niger), of the Treaty establishing the Agency for Cultural and Technical Cooperation (ACCT), today the International Organisation for La Francophonie.
Viet Nam was a founding countries of the International Francophonie Organisation in 1970. Over the years, the IFO has maintained active co-operation with Viet Nam including the exchange of training and technical expertise in a number of fields.
French is spoken by 274 million people in 80 countries across the world.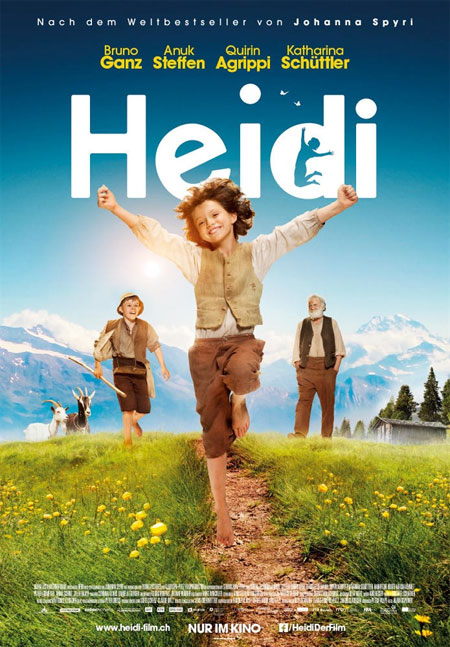 Swiss cinema: A poster of the award-winning film 'Heidi' that will be screened in Viet Nam during the Francophone film festival.
VNS