VietNamNet Bridge – International jazz musician Nguyen Le and traditional artist Ngo Hong Quang will celebrate their new album with a concert series in major Vietnamese cities by the end of this month.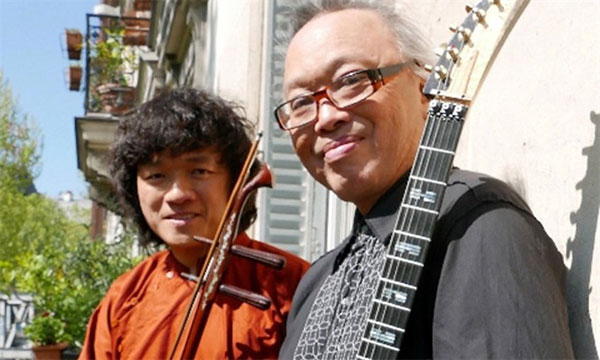 Modern classics:  Ngo Hong Quang (left) and Nguyen Le will perform in Viet Nam to release their Hanoi Duo album. Photo theguardian.com
The concerts will take place in Ha Noi on February 24 & 25, Hue on February 28 and HCM City on March 1. The collaborative album, entitled Hanoi Duo offers a wide and diverse panorama of Vietnamese music, from its roots to the future.
Quang plays Vietnamese traditional and new pieces and combines vocals with electronic music performed by Le in Hanoi Duo. The pieces were composed by Le, inspired by Vietnamese folk music and performed in different styles.
One piece by Quang was inspired by the Tay ethnic group, who mainly live in the northern moutainous region, played on electric guitar and influenced by the North African style of music. Another one, xam, based on the popular folk music in the north of Viet Nam, is performed in the blues style.
"I like the idea because it focuses on the creativity in Vietnamese folk music," said Quang.
Quang met Le when he was a guest playing with Le's trio in France. Thanks to several other meetings, they found that their music styles suited one another.
The album was released in Europe last month.
"There are jaunty folkish tunes, temple bells and ethereal melodies with titles like Heaven's Ground, but nothing arrives without surprises. One moment you are among mountain clouds, then Le unleases an electric storm," said the guardian.com.
Le feels connected with the cultural background of his Vietnamese family although he lives in Paris, where he was born in 1959.
He entered the music business in 1983. His impressive career really kicked off after he joined the French Orchestre National du Jazz in 1987. His first solo albums, released in the beginning of the 1990s, attracted a large and still growing audience.
Quang is known for projects that combine Vietnamese traditional music and western styles. He is doing a masters course in music composition at the Royal Conservatory in The Hague.
Le will play guitar and laptop whilst Quang will chant and play dan moi (Jew's harp); dan bau (monochord); dan nhi (two-chord fiddle) and some traditional others at the concerts. Guest performers such as A-list pop singer My Linh; percussionist Alex Tran; dan tranh (16-chord zither) artist Mai Le and Jew's harp player Duc Minh will perform at the concerts.
VNS