VietNamNet Bridge – Guitarist Tran Tuan An had a solo recital in Ha Noi last weekend. He won top prizes at international competitions, including first prize at the Hamilton International Guitar Competition in Canada in July; second prize at the Berlin International Guitar Competition in October, and first prize at a competition held by Society of American Musicians in 2013. He also won 39th Lincoln Academy Award in the same year.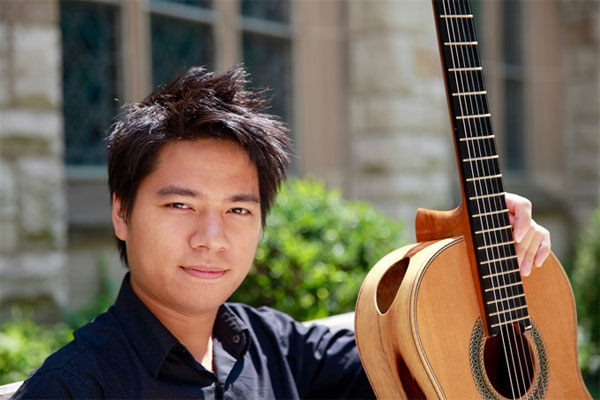 Guitarist Tran Tuan An.
An, born in 1992, graduated from the Viet Nam National Academy of Music, gained a master's degree from Yale and is currently doing his doctoral work at Northwestern university in Chicago.
Culture vulture interviewed An before he left this week for Chicago to continue his studies.
Were you satisfied with the performance?
I believe it was a successful recital. I received great feedback from the audience. I am grateful to the French Cultural Centre, L'Espace.  This was my second time playing here. My first was in 2014.
I played pieces by classical and contemporary musicians, including Vietnamese Dang Ngoc Long. The two pieces by Long are Mua (Rain) and Nui Rung Tay Nguyen (Central Highlands Mountain and Forest), which were actually the required pieces of the Berlin International Guitar Competition. The repertoire will be performed in the United States this year.
I like to blend many different styles into my concert programmes. I always include Vietnamese music as I believe it is important to show the audience where I come from as well as Viet nam's musical culture.
You have participated in many international competitions and won many top prizes. Which one do you remember most?
Every competition is a great learning experience. I remember learning from the other competitors how to practice as well as prepare. Every prize is notable and I am honored and grateful for each. The first prize at the Viet Nam National Guitar Competition when I was 12 was very special. I learned so much from just preparing for that competition at such a young age.
The competition in Canada is a good memory. It is held annually in the city of Hamilton, with a series of activities such as teaching guitar playing and concerts. The competition is very popular in the guitarist community in North America and it attracts many talents from around the world. I hoped I would be able to get to the semi-final round and that would have been great. I didn't think I could win the first prize.
The second and the fourth prizes went to Americans and the third prize was Canadian. I'm very happy because my parents were there supporting me.
One thing I remember the most about that competition is being stuck in traffic for two hours. I thought I would fail to meet the semi-final deadline. Luckily I made it but I had no time to prepare for my performance.
The first prize includes cash, a guitar and a chance to perform at the competition next year. The competition gives me opportunities to exchange and learn from talented guitarists from all over the world.
Could you say what is the greatest difficulty in becoming a professional guitarist and in your US studies?
I am the only musician in my family, though I have to say my family is very musical. We listened to music everyday when I was little. I still remember the sound from the Preludes and Fugues of J.S.Bach CD. I have to work hard in a highly competitive environment. When I went to the US I began to study at Nebvaska Christian High School. There were music lessons in the high school but not guitar so I just practised pieces I had learned in Viet Nam.
You got scholarships to study for advanced degrees. What do you want to become - a performer, a teacher or a researcher?
I want to become all of them. I believe they are related. I learn great things from teaching my students in the US and they help me become a better performer. And as a doctoral student, I plan to research a topic that will be helpful to guitarists all over the world, including Viet Nam.
Luckily, audiences are interested in my performances, possibly I'm from Viet Nam. US audiences are also interested in the origins of artists.
I hope to come back to Viet Nam in the near future. I am lucky because music is a common language connecting people, cultures and countries. I want to connect Viet Nam to the world through music. It is what I always think about when seeking to overcome difficulties on my musical road.
VNS