VietNamNet Bridge – The fashion show Diem Mot Thoi (Once Famous), a cultural programme offering insights into the country's culture and lifestyle, will be staged daily, all year long, at HCM City's Ao Dai (Vietnamese Long Dress) Museum.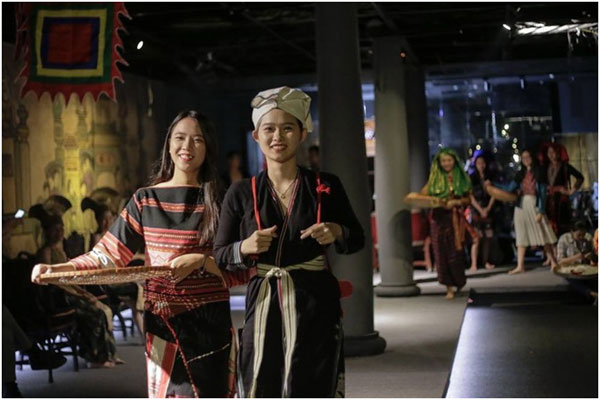 Daily glamour: The fashion show Diem Mot Thoi offering insights into the country's culture and lifestyle, takes place every night at HCM City's Ao Dai Museum in District 1. Photo from Diem Mot Thoi Facebook
The event was organised by Si Hoang, one of the country's first pioneers in fashion design, especially the ao dai. It will feature Hoang's 50 designs of the traditional dress between the 17th and 20th centuries.
A collection of traditional clothes originating from nation's 54 ethnic groups, collected and remade by the designer, will also be included.
The first show, called Diem Mot Thoi Am Vang Dat Nuoc (Once Famous Echo of the Country), left a very strong impression on audiences on January 3.   
The 40 models on the catwalk were accompanied by music from a dan da (lithophone) played by folk musician Tuan Truong.
"I have received support from my friends and cultural researchers to restage Diem Mot Thoi after nine years of its closing," said Hoang, adding that he hopes the show will become a popular event for visitors and artists who love the Vietnamese culture.
Earning his reputation by putting a new twist on the ao dai over two decades ago, Hoang is also a businessman. But the talented man said he was "still dreaming of catwalks".
"As I became experienced at decorating ao dai in the 1990s, I turned to painting and designing ceramics. In recent years, I have been involved in running a cultural park on 16,000 square metres of land in District 9 and the Ao Dai Museum in District 1," said Hoang, in a recent interview with media.
"I'm among a group of people, who, through their work, are trying to save the country's culture from being forgotten," he said.
The show's two performances every night will be at 6pm and 8.30pm at the Ao Dai Museum, 77 Nguyen Hue Street, District 1.  
Once Famous
Diem Mot Thoi was a tea shop offering fashion shows and Vietnamese tea served in traditional style. The luxury shop opened in 2002 and quickly became an essential part of life in HCM City for many residents.
During their tour to Viet Nam in 2004, Queen Sylvia of Sweden and her husband King Carl Gustaf XVI revealed their musical side when they played the parts of "cup clickers" during a performance of traditional Vietnamese music at Diem Mot Thoi. They also watched beautiful girls in ao dai at a fashion show.
Hoang's Vietnamese style shop, despite its expensive prices, attracted a number of foreign and local artists and businessmen. Hoang said his shop's design was luxurious because he wanted to "show customers his royal style".
His shop, which closed in 2007, was fashionable with the city's young people thanks to its snazzy decor and quality Vietnamese teas.
Weekend fashion shows are the highlight of the tea shop and customers could view ao dai in various colours and styles. They could even buy any design at a discount.
Graduating from HCM City Fine Arts College, Hoang worked hard to make his dream come true.  He decorated his first ao dai in 1989 when the country's first beauty contest Miss Ao Dai was held in HCM City.   
He painted flowers on ao dai which were worn by the competition's winners. His designs impressed judges and audiences. The trend of painting on ao dai was born.
VNS
Thu Anh