VietNamNet Bridge – A dance show aiming to raise funds for the programme Thien Nhan and Friends will be staged by 30 Vietnamese youth dancers in Friday night.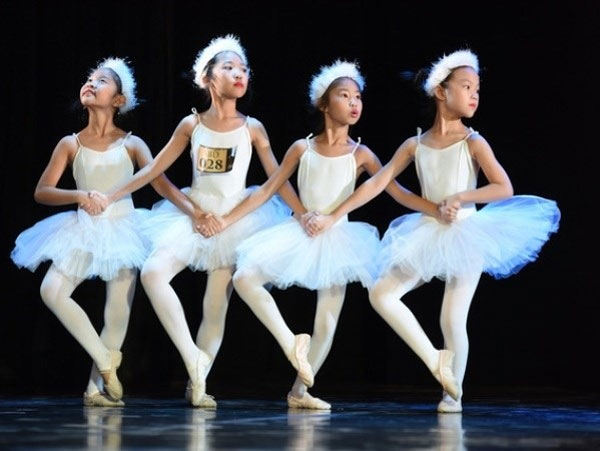 Little dreamers: According to organiser, I Have a Dream is to help to turn the children's dreams into reality. – Photo courtesy of AAA
Entitled I Have a Dream, the show gathers the best of a competition that selected talented kid dancers to join Russian professionals in The Nutcracker.
According to the show's organiser, the AAA Training And Communication Consultancy Company, I Have a Dream is to help to turn the children's dreams into reality.
"While some children will have chance to wallow themselve in the fairy world of a classical ballet, some other disadvantaged will gain their self-confidence once they received the free surgeries to have a healthy body," said AAA Company's general director Hoa Le.     
All the money acquired through ticket sales and donations will contribute to free surgeries for children with organ deficiencies.
The competition, launched in the beginning of September, drew hundreds of Vietnamese children across the country and abroad. Vietnamese ballerina Luu Thi Thu Lan, violinist Bui Cong Duy and music teacher Dang Chau Anh--all experienced teachers - were the judges.
After several tough selection rounds, 30 junior dancers who shined in different genres were chosen for a special and intensive one-month training course to prepare for the charity show as well as for the classical ballet. However, only 20 will be selected for the ballet, which will be performed by the Russian ballet theatre Talarium et Lux (Ballet and Light) in Ha Noi on December 3.
"We were surprised by their deep passion for dancing. All of them performed very well. They amazed us by their ability to express emotion as well as wonderful dancing technique," Lan said.
During I Have a Dream, the kid dancers will perform an extract from the famous ballet The Nutcracker. In addition, the repertoire will also feature performances of contemporary, folk dance, and dance sport.
The show will take place at the Star Galaxy Theatre, 87 Lang Ha Street.   
The Thien Nhan and Friends Programme, which is part of the Asia Injury Prevention Foundation, was established to help Thien Nhan, a three-day-old infant abandoned in a deserted garden in central Viet Nam, lost one leg and his private parts. He was adopted by journalist Tran Mai Anh, who has been by his side through multiple operations in the past nine years to help him lead a normal life.
The programme has invited doctors from Italy and America to participate in medical missions -- to consult and conduct in free operations for hundreds handicapped children nationwide. At the moment, the programme has received medical profiles of about 1,000 children with organ deficiencies.
VNS