VietNamNet Bridge – Many Vietnamese and international designers will attend Viet Nam International Fashion Week (VIFW) Fall/Winter 2016 at the National Convention Centre in Ha Noi on November 1-6.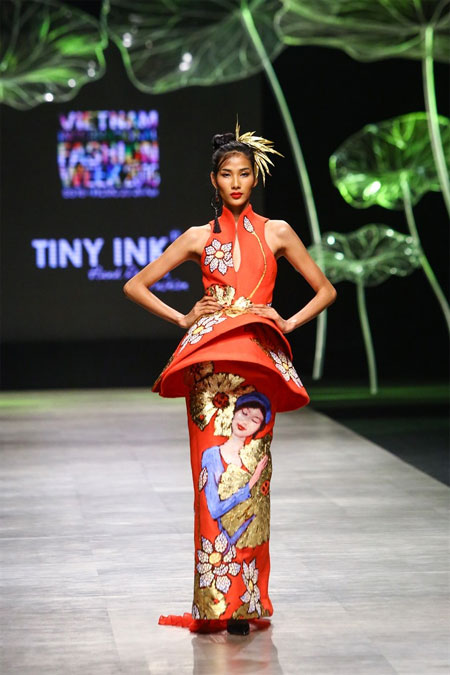 Vibrant: A model wears a design by Hoang Quyen, owner of Tiny Ink, during Spring/Summer International Fashion Week in April. — Photo courtesy of the organiser
The event, to be held for the first time in the capital city, will showcase the most innovative, creative and impressive collections of elite local and international fashion designers, including Nguyen Cong Tri, Phuong My, Giao Linh and Thuy Nguyen.
Giao Linh will showcase a feminine easy wear collection called Under the Moonlight, inspired by the 1970s era.
"The designs will look both sexy and on-point at the same time," Linh said.
Dinh Van Tho will highlight a collection of ao dai (Vietnamese traditional long dress) entitled Moc – Viet Nam (Simple Viet Nam). Famous beauty spots in the country, such as Ha Noi, Hue, Hoi An and HCM City, inspire his designs.
Hoang Quyen, the owner of Tiny Ink which was established in 2012, will introduce the latest designs inspired by the galaxy, sky and nature. Quyen pioneered the hand painting trend in Viet Nam, and her designs reflect creativity and unique ideas.
Nguyen Ngoc Le, the winner of the Viet Nam Emerging Designer Contest, will also introduce Village, a collection inspired by rural Viet Nam. The collection features materials like wool and linen. Le beat hundreds of other contestants by designing a mini collection in only 10 days, convincing the jury to name the designer the winner. This is the first time the contest has been held as part of VIFW.
Big names in the Vietnamese fashion industry will also attend the event. Fashion design star power will include Canifa with the collection Street Spirit by designer Le Ha, Luala with a collection inspired by nature and music by designer Vu Ta Linh, 21SIX with the collection Sandy Stormy, and I Hate Fashion with the collection The Memoirs by Victoria Huyen Nguyen.
International fashion designers and brands attending will include Julien Fournie (France), Joe Chia (Malaysia), Boys of Bangkok (Thailand), Frederick Lee (Singapore), Priyo Oktaviano (Indonesia), and Atelier Chardon Savard Paris (France).
Asia's Most Influential Designer of 2014, Joe Chia, will introduce a new persona collection called Chapter 8. Muted wine and taupe colours will paint the collection in a new direction, accompanied by oversized silhouettes and experimental cuts and tailoring. Fashioned from street influences, intricate draperies, and delicate embroideries, Chapter 08 is the beginning of a new expedition.
The collections will be presented by leading models, such as Thanh Hang – judge of Viet Nam's Next Top Model contest (VNTM), La Thanh Thanh – first runner-up of VNTM 2016, and many foreign models.
Launching platform for fashion
VIFW comes to Ha Noi after three highly successful HCM City seasons showcasing the most impressive collections by notable Vietnamese and international fashion designers and brands.
"From now on, VIFW will host two shows per year, with HCM City presenting the Spring/Summer collections and Ha Noi the Fall/Winter collections," said Le Thi Quynh Trang, the founder and president of VIFW.
"From its inception in 2014, the event has attracted millions of Vietnamese fashion-lovers and been highly regarded by the world's fashion critics and  followers," she said. "It has also been seen as a key development in Viet Nam's fashion industry, which is regarded as one of the most dynamic emerging fashion markets in the world."
"Thanks to VIFW, a number of local fashion designer names such as Hoang Minh Ha, Thuy Nguyen, Adrian Anh Tuan and Ly Giam Tien — as well as brands like Canifa, I Hate Fashion and Tiny Ink — have been popularised and gained a greater regional and international profile."
The participation of leading international fashion designers such as the Japanese "Queen of Bridal Wear" Yumi Katsura, notable Italian couturier Renato Balestra, French couturier Julien Fournié, the Korean King of Menswear, Songzio, and legendary Japanese designer Kenzo have brought global fashion talent to the runway and established VIFW on the world stage.
"We are delighted to see the increasing popularity of VIFW reflected by audience support and media coverage through local and international channels. It is a clear indication of the success of the platform and an essential motivation for us to evolve the concept and push Viet Nam's fashion boundaries forward by organising two dedicated fashion weeks per year," she said.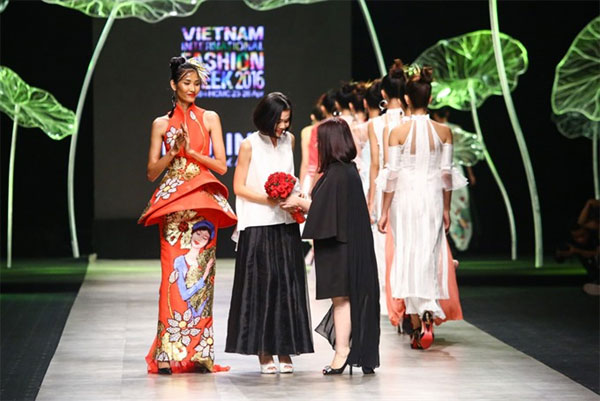 On the runway: Designer Hoang Quyen of Tiny Ink (centre) at the Spring/Summer International Fashion Week in April. — Photo courtesy of the organiser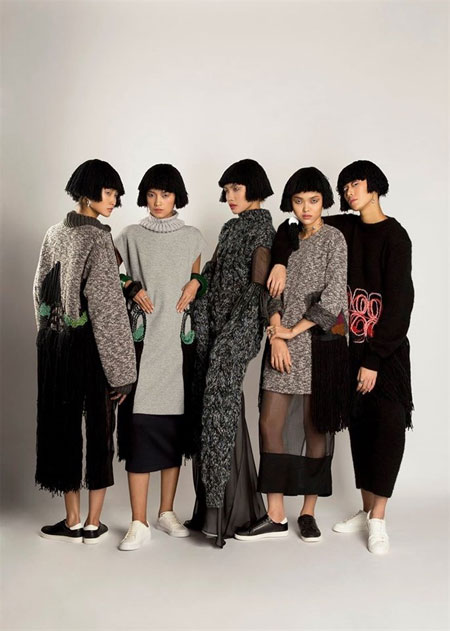 Black and gray reboot: Village, a mini collection by Nguyen Ngoc Le, will be introduced during International Fashion Week on November 1-6. — Photo courtesy of the organiser
VNS