VietNamNet Bridge – The Avalokitesvara Bodhisattva statue stolen from Me So Pagoda in the northern province of Hung Yen has been found by the side of National Highway 5B, Nguyen Dong Binh, head of Me So Commune, said.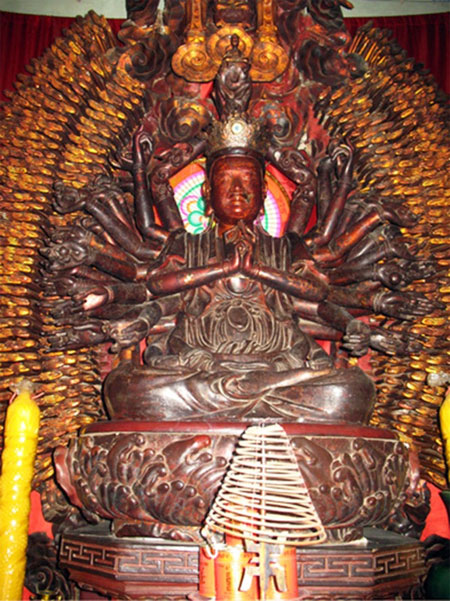 Back home: The Me So Pagoda Buddha statue before it was stolen. — Photo giacngo.vn
The Buddha statue has 1,113 eyes and 1,113 hands. It was stolen on September 29. The 1.93m-high statue was made in the early 19th century from jackfruit wood. It weighs more than 100kg. This is the second time the statue was stolen.
The case also attracted public attention because the statue has been praised as the most refined and beautiful Buddha of the three Avalokitesvara Bodhisattva masterpieces in the country. It's a holy object for local people.    
Binh said on Saturday the burglars broke off all the statue's hands to make it easier to carry. But they were afraid they couldn't escape with the statue, so they left it on the road after hiding it for several days.
Authorities will continue investigating to find the burglars. Meanwhile, local artisans and cultural experts are repairing the statue.
Source: VNS