VietNamNet Bridge – As the entertainment industry has become highly competitive, many performers and actors have shifted their focus to part-time jobs to supplement their incomes.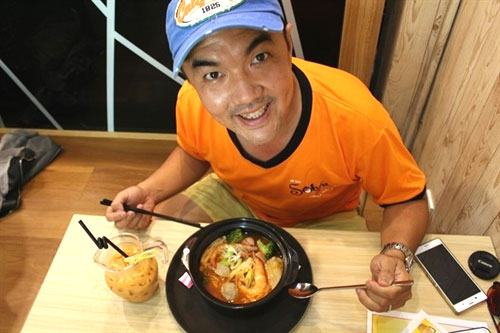 Theatre director and comedian Quoc Thuan recently opened a noodle restaurant in District 8. — Photo news.zing.vn
Singer Ly Hai, who was well-known in the 1990s for his pop songs, now runs a film studio in HCM City's District 10.
"Audiences, particularly teenagers, prefer new and young faces. I'm still singing but just perform in shows in the provinces," said Hai, who has 20 years of experience as a singer.  
"My second job helps me support my wife and four children," he added.
Hai's studio has worked with private film companies to produce TV commercials, music videos and films.
His company produced two films, Bi Mat Lai Bi Mat (Lost Secret) and Lat Mat (Face Off), both of which were blockbusters after one week of release last year.
"Lat Mat earned more than VND15 billion (US$672,000) after four days of its release. I'm very lucky because I can continue my art career in filming," said the 47-year-old.      
Composer Hamlet Truong, who found fame in the music industry five years ago, now works as a writer.
He refuses to take part in many music projects.
"I'm not familiar with the working methods of many singers now. They only need 10 days to complete a project while I'm careful and work hard in composing to create a quality production," Truong said.
Truong has written seven books and all of them became best-selling works.
His books such as Thoi Gian De Yeu (Time for Love) and Yeu Di Roi Khoc (Cry for Love) featuring love and women have impressed young readers.
His most known book, Thuong Nhau De Do (Love in Mind), co-written with Iris Cao, has been reprinted 17 times and has sold nearly 100,000 copies each.
Theatre director and comedian Quoc Thuan recently opened a noodle restaurant in District 8 to improve his income.
"Many of my fans have visited my restaurant because they want to support me. However, I understand that only quality food and services can help my business survive," said Thuan.   
About two decades ago, when Vietnamese commercial films dominated the market, movie stars like Viet Trinh, Ly Hung and Le Tuan Anh earned huge salaries and had exciting lives.
When their names appeared in a film, it meant big profits for the filmmakers. But now, TV shows, cheaply made and hugely popular, are hurting the industry.
Movie fans may be surprised to learn that Ly Hung has joined a song and dance troupe touring the south while Le Tuan Anh owns a restaurant.
"I don't take part in films now because there are no suitable roles. I dare not sing in HCM City because my voice is 'not special'," Hung said.
Viet Trinh is a cosmetic supplier. She spends many days doing business in provinces like Binh Duong and Song Be.
"I hope I'll have a role in a new film. But the opportunity seems difficult for me," said Trinh, 44, who is still very beautiful.
Trinh was famous in the 1990s after playing a role in the TV series Nguoi Dep Tay Do (The Beauty of  the Western Capital) depicting the operations of a beautiful intelligence agent, under French colonialism.
She played the lead roles in more than 50 films.
Some artists have failed to develop their businesses after leaving their career.
Meritorious Artist Nguyen Chanh Tin went bankrupt in 2014 after losing billions of dong in film projects in which he worked as a producer and director.  
He opened a restaurant and worked as a concert speaker before becoming involved in filmmaking.  
Tin was well-known in the 1980s for his lead role in the multi-part film Van Bai Lat Ngua (A Card Game Opened for Betting).
The film features intelligence operations of a Viet Nam Army officer Nguyen Thanh Luan in US-occupied southern Viet Nam.  
In an interview with local media, Tin, 64, who was one of the most successful artists in the country's film industry, said: "Doing business is not a game. I have earned 'blood lessons' from my business."
VNS
Thu Anh