VietNamNet Bridge – A bilingual version of the Korean fairy tale A Lazy Boy who Becomes a Cow has been published in Korean and Vietnamese and was recently presented to avid readers in Ha Noi.
It follows Vietnamese fairy tale Cay Khe (Carambola) as the second book in a collection of 10 bilingual fairy tales in Vietnamese and Korean which is expected to be completed soon.
Plans call for the popular Vietnamese stories Thanh Giong (Saint Giong), Mi Chau-Trong Thuy, Truong Chi, Trau Cau (Betel and Areca), Ong Cong-Ong Tao to be published as part of the collection.
The books are illustrated with drawings by famous Vietnamese painters including Luong Xuan Doan, Nguyen Van Cuong, Tran Tuyet Nga.
A Lazy Boy who becomes a Cow was also translated into English and will be sent to the world's largest book fairs next year in Bologna, Italy and Frankfurt, Germany.
On this occasion, the Korean Cultural Centre in Ha Noi will offer the Viet Nam National Library 500 books which will be shared among libraries in Viet Nam's 64 cities and provinces.
* Awards galore at TV festival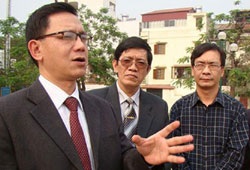 Top of the box: The television series Chu Tich Tinh (Provincial Chairman) produced by Viet Nam Television won the silver prize at the 31st National Television Festival. — File Photo

Top television works produced by State-owned and private television stations were awarded at the 31st National Television Festival yesterday, Dec 22.

Seven out of eight categories were awarded gold prizes by the jury panel including children's programming, documentaries, short reports, science and educational programmes, talk shows, ethnic programmes and music shows.

Television series made by Viet Nam Television, a television studio in the southern province of Vinh Long and HCM Television shared silver prizes.

Produced by local television stations and focused on social issues of public concern, the short reports category saw prizes go to television stations in Yen Bai, Quang Ngai, Can Tho, Binh Phuoc, Lao Cai, Da Nang, and Gia Lai.

Four gold awards went to the science and educational programmes and documentary categories.

Over 700 entries were submitted to the festival by television stations from around the country.

Individual gold prizes went to best actor, Nguyen Mai A; best directors, Doan Le and Nguyen Rang Dong; and best cameraman, Trinh Minh Tuan.

The works reflect the country's political, social, economic and cultural achievements as well as current issues such as hunger and poverty, corruption and the campaign to emulate President Ho Chi Minh's moral example, said a member of the festival organising team.

Fifty-seven silver prizes and 147 certificate of merits were also awarded.

VietNamNet/Viet Nam News