VietNamNet Bridge – Since its inauguration in 2012, Dong Que (Countryside) Museum in Nam Dinh Province has established its own trademark among private museums - which have been mushroomed over the past years - since it allows visitors to explore the life in the countryside of the past.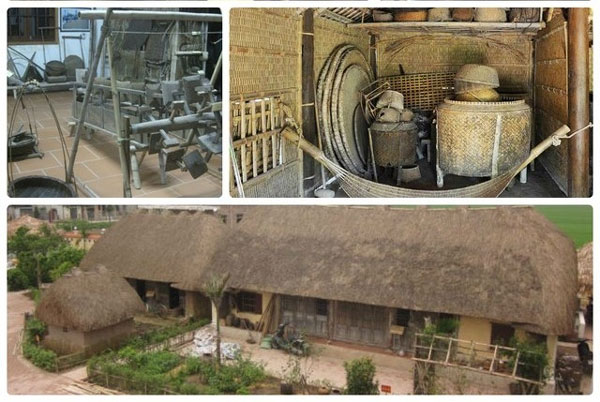 A typical house of middle peasant class (lower picture) and objects on display at Dong Que Museum
Located in Binh Di Village, Giao Thinh Commune, Giao Thuy District, the Countryside Museum is a popular address for visitors' to Nam Dinh Province.
The museum was established by retired teacher Ngo Thi Khieu, who was born in Giao Thinh Commune. During her working visits as a teacher, she liked collecting daily utensils of residents in the Tonkin region.
"Since the 1990s, I have believed that we need to preserve objects that people used regularly in the olden days, particularly farmers, so that younger generations can learn that such objects existed," she said.
Knowing about Khieu's good intentions, many people have brought Khieu daily objects that were seen in rural areas, such as water buckets, rice mortars, different types of brooms, bronze and wooden trays and fishing baskets.
The donors say that they want to contribute to helping their descendants remember their roots, particularly those who are living and working far from their homeland. Thanks to their support, Khieu's collection has become rich in both quality and quantity.
At the same time, she also realised the lack of books and magazines for students and people in Giao Thinh commune. She longed to open a small library which would display her collection as well as books and publications for the public.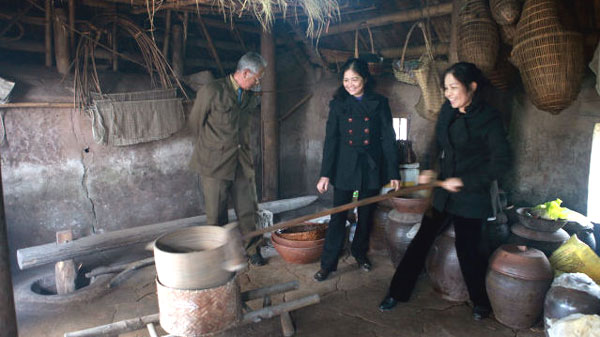 Visitors trying an old wooden rice milling machine (Photo: hanoimoi.com.vn)
The more she gets involved in the work, the more she learns about the value of things she has collected. As her collection grew beyond the space of her house, she found that it would be better to open a museum rather than a small display room, which could not provide enough space to showcase all of the objects.
Appreciating the project, leaders of the Giao Thinh commune People's Committee decided to lease her 6,000 square meters of land over 30 years at a discounted cost to build the museum.
Khieu then consulted historians during the construction of the museum. The construction comprises five major areas.
The first is the replica of a typical thatched-roof house of the poor peasants and their small kitchen. The second recreates the living space of middle peasant class, with a one-story house and a kitchen house, which look out onto a courtyard and a small garden. Inside the house has a place for wine brewing, a granary, a loom, and a rice-hulling mill.
The third space displays the house of landowner who once lived in a spacious tiled-roof house with a well-furnished interior. The fourth one is the replica of a typical house of residents in the coastal areas in Nam Dinh province.
The fifth site is a four-story building, which sits in the centre of the museum, showcasing war mementos; daily utensils and agricultural equipments made from wood, bamboo, and metals; coins and paper currency collections. One storey of the building is a library displaying books, newspapers, magazines and publications.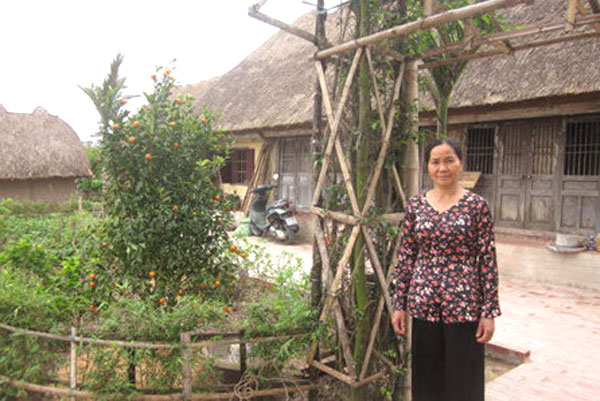 Retired teacher Ngo Thi Khieu, owner of Dong Que museum, in front of the replica of a middle peasant's house (Photo: VOV)
Since its inauguration, the museum has greeted hundreds of visitors each year - many of them students from schools in other provinces. To keep the museum an interesting for tourists, teacher Khieu has overcome a number of obstacles, particularly financial obstacles, to maintain the museum's operations.
Despite the difficulties, Khieu still feels that her efforts have been awarded and she is happy to see that her museum has is garnering the interest of more and more tourists.
Visiting the museum, Nguyen Van An, a former revolutionary soldier from Ho Chi Minh City, said that he had heard about the museum a long time ago, and had always wanted to visit the site.
"I admire Khieu's goodwill in establishing the museum, which shares a lot about the life I once lived that not many youngsters today can image," he said.
Sharing the same opinion, Tran Van Nen said that the museum has succeeded in creating a special place for tourists. From a fishing pond, different houses, to a luffa trellis, all remind visitors of the past.
Nhan Dan