VietNamNet Bridge – A new book featuring Viet Nam's 75 most outstanding contemporary artists will be published in November, as part of AIA Vietnam Eye, a celebration of Vietnamese contemporary art.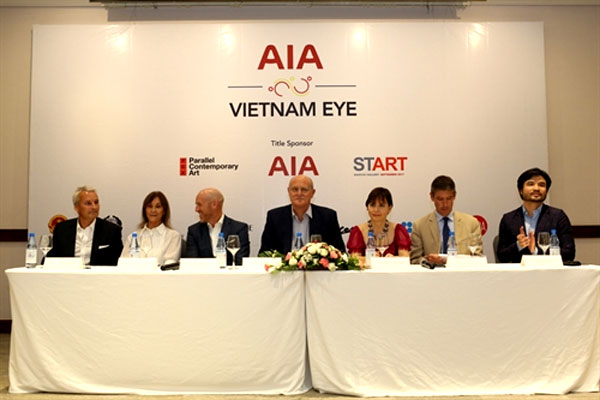 Artsy: Organisers of the programme AIA Vietnam Eye - known as the largest celebration of Vietnamese contemporary art presented this project during a recent press conference. Photo courtesy of the organising committee
The book is expected to be an encyclopedia of Vietnamese contemporary art.
Alongside information on each artist, it will include essays on Vietnamese contemporary art, offering an in-depth look at the country's artists.
Two local advisors - Tran Luong and Vi Kien Thanh, director of the Department for Fine Arts, Photography and Exhibition of the Ministry of Culture, will assist the curators in this project.
The book will be edited by Serenella Ciclitira, co-founder of the non-profit organisation Parallel Contemporary Art. Ciclitira has is an art history graduate from Trinity College, Dublin and has worked with artists and galleries throughout the world.
AIA Vietnam Eye will also feature a two-month exhibition of Vietnamese artists' contemporary work in Ha Noi from November 2016 to January 2017, along with educational forums and workshops featuring artist presentations in Ha Noi and Ho Chi Minh City.
Following the exhibition in Ha Noi, 23 selected contemporary artists will exhibit at one of London's most prestigious spotlights on emerging artists and new art scenes, START art fair at Saatchi Gallery in September 2017.
"In the very complex cultural & political Vietnamese environment, artists are exploring issues of identity, of personal and collective memories, of socio-political and cultural changes relying on the power of visual art to communicate locally and we hope through AIA Vietnam Eye also with a wider global audience," said Ciclitira.
AIA Vietnam Eye is the eighth project in the Global Eye Programme. This programme was established in 2009 by David and Serenella Ciclitira in order to nurture artistic talents across Asia's emerging art scenes.
Viet Nam has developed rapidly in the last ten years with a new generation of contemporary artists who balance cultural and social issues with a contemporary outlook.
"It is a nice coincidence that AIA Vietnam Eye happens at the same time as the country celebrates 30 years of renewal (doi moi). The art of Viet Nam has undergone a difficult but no less interesting journey through those 30 years as the country integrates to the world.
Learning has never been easy, and it is worth looking back as much as looking forward as generations of artists in and from this land evolve," said  Minh Do, founder of SOI (Viet Nam's pioneering information portal focusing on fine arts), one of the curators of the exhibition.
The book and the exhibition are expected to offer an overview of one of the newest and most exciting scenes in the global art world.
The event is organised by the non-profit organization Parallel Contemporary Art in collaboration with AIA Viet Nam Life Insurance Co Ltd (member of AIA group).  
The initiative is supported by the British Council, the British Ambassador to Viet Nam Gilles Lever and the Italian Ambassador to Viet Nam Cecilia Piccioni.
VNS