VietNamNet Bridge – An art collector set out to bring back hundreds of early- to mid-20th century paintings by Vietnamese artists. To do so, he has spent years travelling the world and attended prestigious auctions. Van Dat reports.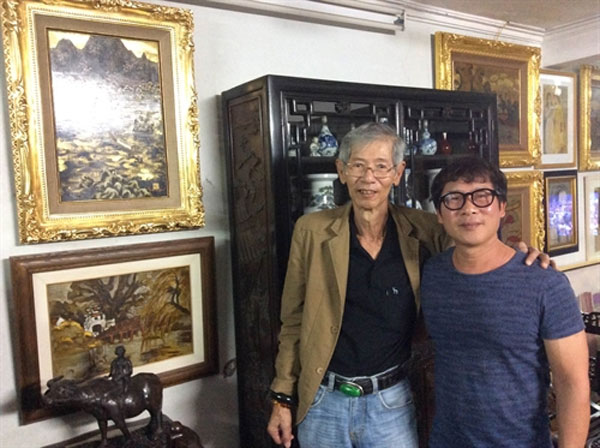 All that glitters: Le Pho's Cho hoa (Flower Market) in a gold-plated frame, which Nguyen Minh bought from the Walley Findlay Galleries in New York, at an auction held by Leslie Hindman Auctioneers in 2014. Photos: Van Dat
Some would say the three-storey house of Hanoian Nguyen Minh is a mess – every wall, including those in the bathrooms, bedrooms and kitchen, are covered with artworks.
However, these aren't your ordinary artworks.
The collection, amassed over many years for a rather large sum, bought from individuals and at auctions, includes works by renowned artists and other former students at the former Indochina College of Fine Arts.
At the house on Phan Dinh Phung Street in Ha Noi, more than 200 rare paintings line the walls.  
Le Pho, Vu Cao Dam, Mai Trung Thu, Bui Xuan Phai, Nguyen Cao Thuong, Pham Hau are among the artists whose works were heavily influenced by French impressionism and other styles at the time.
Many of the Vietnamese students were from wealthy families and had the spare time to study and pursue a career devoted to art.
Minh, 62, has spent more years buying the works, mostly at international art auctions.
Not having enough space, he built a "warehouse" attic of sorts near his ceiling, a separate space where many of the paintings are stored.  
Only close friends and distinguished guests are invited to see the works.  
Minh so loved the paintings that he mounted them in gold-plated frames.
During a recent meeting in Ha Noi with his friend Tira Vanichtheeranont, a Thai collector, who has bought hundreds of Vietnamese paintings, Minh spoke excitedly about the artworks that he has purchased, including 60 pieces from Tira. Both share the same love of collecting, but for different reasons.
Minh is mostly motivated by his desire to bring back to Viet Nam the works of his fellow citizens. Tira just loves art, and especially, Vietnamese art.
Asked why he did invest money to buy art instead of luxury cars and houses, Minh said he was uncomfortable when he saw a Vietnamese painting at auctions in other countries.
"I felt strange emotions in my heart at the time. I was determined to buy them to bring them back to the place they were created," said Minh. "I could only see them through magazine and books."
"I often visited Hong Kong and Singapore to buy antiques. In April 2013, while at an auction at Sotheby's in Hong Kong, I saw the Vietnamese paintings Cho ben bo bien by Nguyen Tuong Lan, Co gai ben binh hoa lay on by Le Pho and Hai chi em by Vu Cao Dam," he added.
Some of the prices were too steep, and Minh had to walk away, disconsolate that he could not buy the pieces.              
"I decided to terminate my plan to buy another house, and use my money to collect paintings. When I cannot buy a favourite painting, I have sleepless nights," he said.
Minh was born to a family that has long traded and collected antiques.
He continued in that career and then began buying dozens of rare paintings from well-known Vietnamese art collector Bui Dinh Than.
Tira, the Thai art collector, said in 2008 during a meeting in Bangkok that Minh showed him 200 paintings by painters Mai Van Nam, Phan Thong and other artists.
After persuading Minh to sell some of the paintings, Tira began collecting Vietnamese paintings for his gallery in Thailand.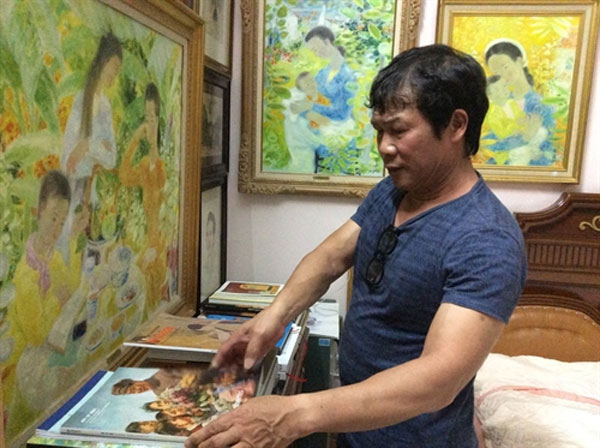 Covered: Minh stands beside Le Pho's Diem Tam (Dessert), which he bought in May last year at Freeman's Auction in the US.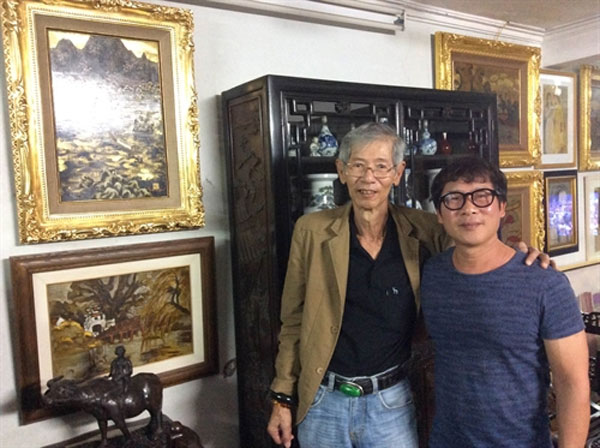 Information exchange: Art collectors Nguyen Minh and Tira Vanichtheeranont meet in Ha Noi at Minh's house, lined with valuable artwork by Vietnamese painters, many of whom studied at the Indochina School of Fine Arts. 
In 2012, the Thai collector used his relationship to help Minh bring back to Viet Nam two valuable paintings that had been bought in Thailand.
He also helped Minh to buy the painting Den cua Han, luoi cua Hoi by Nguyen Van Ty and Den Ngoc Son by Dinh Minh from private collector Peter Paris, who had bought them while working as a trade counselor at the Embassy of Italy in Ha Noi.
After retiring in Bangkok, Paris's wife Nilkamhaeng Passama decided to sell their art collection.
Upon hearing the news, Tira bought the paintings and then helped Minh bring two of them back to Viet Nam.
With Minh's effort, artworks by Le Pho, Vu Cao Dam, Mai Trung Thu and Le Thi Luu representing the Vietnamese spirit have returned to their rightful place after a half century of being kept in other countries.
Where will the paintings go after Minh dies?
Minh said he would sell his paintings to respected Vietnamese collectors because his son has little interest in carrying on the family business.
"I will try to prevent the paintings from being sold to people in foreign countries again," he said.
Thai collector Tira, who still owns many Vietnamese paintings, said he hoped Minh would buy his Vietnamese art collection after he passes away, as his children are also not interested in antique or art collection.
 VNS