The excavation of a 14th century citadel in the central province of ThanhHóa kicked off yesterday (April 15).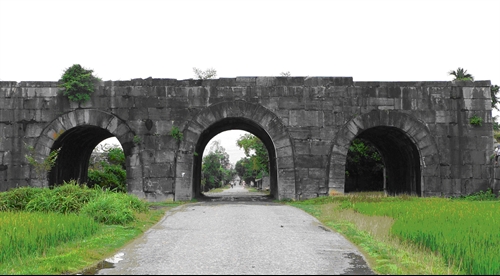 An excavation has just started at Ho Dynasty Citadel, Viet Nam's capital under the Ho dynasty (1398-1407). Photo mientrung.vanhien.vn
The excavation, carried out by experts from the Viet Nam Archaeology Institute on a total area of 2,000sq.m at the canal area north of Ho Citadel, will last until August 15.
Objects unearthed during the excavation will be preserved by the Ho Citadel Heritage Conservation Centre. The centre will then propose methods to preserve the objects to the Minister of Culture, Sports and Tourism.
After the excavation, the local department of Culture, Sports and Tourism and the institute will report the results to the Department of Cultural Heritage.
The Ho Dynasty Citadel was Viet Nam's capital under the Ho dynasty (1398-1407). Located in VĩnhLộc District, the citadel measures 870m by 883m and was built in 1397. It is the only citadel in the country built entirely of stone and remained nearly intact throughout the nation's history.
It was recognised as a World Cultural Heritage Site by UNESCO on June 27, 2011. According to experts, the structure is an outstanding example of a new style of construction for a Southeast Asian imperial city.
VNS