VietNamNet Bridge – Master of Culture Huu Ngoc's life is a bridge that connects Vietnamese culture with the world. Though he is nearing his 100th year, he still has a great passion for writing and research.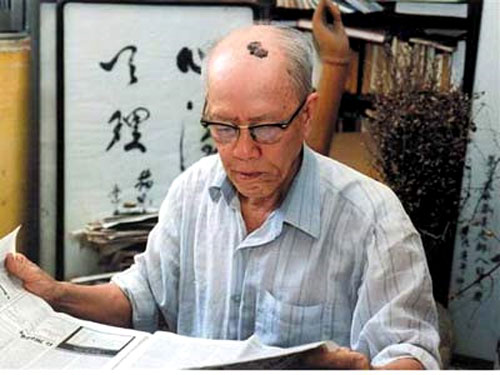 Culturist Huu Ngoc
Huu Ngoc was born in 1918 in Bac Ninh Province. He has a profound knowledge of French, English, German, and ancient Chinese.
Ngoc wrote regularly for more than a decade for the column "Chronique" in Le Courier du Vietnam and Vietnam News.
Each of his pieces is a little story that takes the readers from one surprise to another in the rich Vietnamese culture. He is a culturist whose research covers Vietnamese culture, Oriental culture, and the cultures of Western countries.
Born and raised in Thuan Thanh, Bac Ninh province, a cradle of Vietnamese culture, Huu Ngoc showed a great passion for culture from a young age. Later, he had many opportunities to travel, which gave him an opportunity to introduce Vietnamese culture to international friends.
Ngoc has given talks about culture to thousands of foreigners who have shown a special interest in the formation, development and characteristics of Vietnamese culture.  
Mr. Huu Ngoc said "The most important thing is to talk about culture in an interesting and informal way. I still remembered talking to a group of 100 Australian education officials about Vietnamese culture. Afterwards they said they really loved Vietnam. It is necessary to adopt the presentation to different listeners. Specific examples and comparisons between cultures are the keys to making it interesting".
Some say Huu Ngoc is "a cultural importer and exporter". He never considers himself a culture expert, just someone who enjoys culture, has traveled a lot, and has written and conveyed his passion to others who want to know different cultures.
Huu Ngoc has written more than 30 books, including a prized book entitled "A Sketch of Vietnamese Culture" in French and English. The book was given by the Vietnamese Government as a special present to the heads of state at the 7th Francophone Meeting in Hanoi in 1997.  
Since 1997, Ngoc has expanded it into a book of 1,200 pages with a new title "Wandering through Vietnamese Culture". Ngoc considers his writing a journey and wants readers to accompany him in exploring Vietnamese culture. Ngoc's latest book is "Huu Ngoc accompanies a century of Vietnamese culture".
American writer Lady Borton, a close friend of Ngoc, said "I think the book "Huu Ngoc accompanies a century of Vietnamese culture" is Ngoc's most intimate. It includes stories about several with whom Ngoc has direct or indirect relations, like Phan Boi Chau, the great Vietnamese revolutionary. The book also contains Ngoc's writings about the Vietnamese landscape".
In the book, Huu Ngoc shares his knowledge of Vietnamese culture in different periods of history and its interactions with foreign cultures. Beside sketching Vietnamese and foreign friends of his age, Vietnamese culture is also depicted through his own experience and journeys.
Nguyen Thi Thu Ha, Director General and Editor in Chief of the Information and Communication Publishing House, said "The book includes all of Ngoc's writings about his own experience, people he has met, people whose cultural ideology he learnt from. Those people include politicians like President Ho Chi Minh, writers, poets, artists and musicians".
Huu Ngoc has been awarded the "Exploit" and "Independence" Order by the Vietnamese government, the "North Star" Order by the Swedish government, the "Academy Palm Leaf" and "Golden Language" Order by the French government, and many other noble titles.
VOV5