Former director of National Library receives French order
Former director of the National Library of Vietnam (NLV), Pham The Khang, were presented with the French Order of Literature and Arts at an awards ceremony in Hanoi on March 9.
Speaking at the ceremony, French Ambassador to Vietnam Jean- Noёl Poirier hailed that during his working term as the NLV director from 2000 to 2009, Khang made positive contributions to promoting the French language and culture to Vietnamese readers as well as boosting effective co-operation between the national libraries of the two countries.
He also contributed to the building of the NLV's electronic search system for nearly 60,000 French book titles published between the 17th and the 20th centuries.
The individual effort of Pham The Khang helped strengthen solidarity, co-operation and friendship between Vietnamese and French people as well as between the two culture ministries of the two countries, the Ambassador noted.
The French Order of Literature and Arts was initiated in 1957 to honour outstanding individuals for their initiatives in their fields and their contributions to popularising France's literature and arts to the world.
The accolade has been awarded to a number of well-known Vietnamese figures including director Le Manh Thich, designer Minh Hanh, choreographer Nguyen Cong Nhac, writer Nguyen Huy Thiep, and translator Duong Tuong.
Saigon Outcast to celebrate St Patrick's Day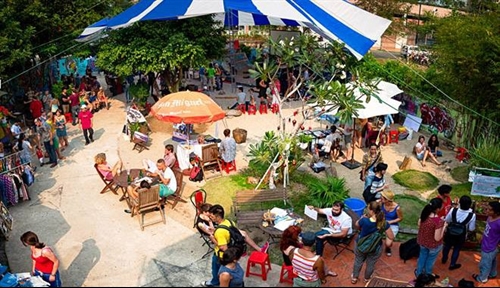 A festival celebrating St Patrick's Day will be held on March 19 at Saigon Outcast.
The "Saigon St Patrick's Day Festival" will include traditional Irish food and drinks, face paintings, raffle prizes, a bouncy castle, and "best-dressed in green" competition.
There will be traditional music by Comhaltas Ceoltóirí Éireann, an international organisation founded in Ireland in 1951 to preserve traditional Irish music and culture, and a performance of Irish dancers.
Proceeds from the event will go to the Christina Noble's Children Foundation and Irish cultural events in Vietnam.
The festival will be held from 3pm to 10pm at 188/1 Nguyen Van Huong Street in District 2.
Chef of 1911 restaurant hosts demonstration
On Saturday, female chef Duong Hai Anh from the fine-dining restaurant 1911 will present a cooking demonstration on European dishes, decorated by flowers.
Entitled Food & Flower, the workshop will be about the importance of food décor to an eating experience.
Anh, who is also a food blogger, penned the cook book Miếng Nhỏ Đậm Đà (Tasty Bite-sized Food), which presents simple restaurant recipes that can be easily prepared at home. She along with her team recently won a Vietnamese cooking competition, which aims to select a team to compete at the International Catering Cup 2017 in Lyon, France.
The Food & Flower workshop will take place at Module 7 Studio, 83 Xuân Diệu Street, from 3-5pm. People can register filling in the form on bit.ly/dang_ki_food_and_flower. Entrance fee is VNĐ200,000.
HN walking tours to visit temples, craft sites
The Friends of Vietnam Heritage (FVH) will host a city walking tour for visitors to discover Quan Thanh Temple on Saturday.
Attendees will visit the temple – an old, important temple that is almost purely Taoist - and learn about its 3.7-tonne, 350-year-old bronze statue of Tran Vu, Hanoi's "Protector of the North".
The group will then walk to the nearby Chau Long Pagoda, and then to Ngu Xa island on the east end of Truc Bach Lake to visit the Than Quang Pagoda and Ngu Xa, where they will learn about the history of bronze casting, a famous craft in this area.
The tour will be from 9am to 12.15pm and costs VNĐ170,000. Registration: Stella, stellaciorra@hotmail.com (01662979605).
Next Wednesday, March 16, there will be another walking tour to visit Dong Xuan  Market from 9am to 12pm. This walk commences at Bach Ma Temple on Hang Buom Street and travels through some of the streets of the Old Quarter, highlighting the concept of the "36 trade streets" where each street is named after the product or service originally sold there.
In addition, the tour will visit a communal house, the last remaining city wall gate and the Huyen Thien Temple.
Cost: VND70,000. Registration: Loan, phuongloan2704@gmail.com.
Dutch hardcore band to play in HCM City
No Turning Back, a hardcore band from the Netherlands, will come to HCM City on March 20, ending its tour around Asia from March 3-20 to promote their latest album Never Give Up.
Formed in 1997, the four-member band has conquered countless hardcore festivals, and released eight full-length albums.
The concert will also feature Vietnamese hardcore artists and bands like Knife Sticking Head, Titanium, In Your Eyes, DJ Ivy, and the Singaporean band Overthrown.
The show will begin at 7pm at Saigon Ranger, 5/7 Nguyen Sieu Street in District 1.
Pre-sale tickets costing VNĐ180,000 are available at Bam Skate Shop and Bounce Shop in District 1, and Hồi Ức Café in Phu Nhuan District. Tickets at door are VNĐ200,000.
Revealed Recordings to play two shows in VN
Revealed Recording, a Dutch record label established in 2010 by electronic music producer and DJ Hardwell, will host shows in HCM City and Hanoi on March 25 and 26, respectively.
The two-day show will highlight electronic music producers and DJs from Revealed Recording like duo Sick Individuals, Julian Calor, Ummet Ozcan, Headhunterz, Joey Dale, and Manse.
They will be supported by resident DJs like SlimV, Huy DX and Kruise.
The event will take place at Queen Hall, 5 Nguyen Tat Thanh Street in District 4 in HCM City, and Ultra Music Club in Hanoi. Tickets priced from VNĐ325,000-700,000 are available at www.ticketbox.vn.
IDECAF to hold French-language film fest
The French Language Film Festival will be held at the Institute for Cultural Exchange with France (IDECAF) from March 16-21.
The festival will feature nine French-language feature films, animation films and documentary films from Canada, Egypt, France, Switzerland and Wallonie-Bruxelles.
IDECAF is at 28 Le Thanh Ton Street in District 1. Admission is VNĐ40,000. More information on the festival and screening schedule can be found at www.festivaldufilm.francophonie.org.vn
Northern flower festival attracts visitors with fireworks, parades
The 2016 Ban Flower Festival will commence on Sunday with a firework show at the Victory Monument in Dien Bien Phu.
The city has begun preparations for the festival with more than 300 ban flower trees on display in the city streets.
The festival is expected to attract thousands of domestic and foreign visitors. Numerous cultural activities are to be held during the festival, including a ban flower photo contest, traditional dance performances from ethnic groups, street parades, exhibitions and folk games.
The ban flower, also known as Bauhinia Variegata, is found in the northern mountains of Vietnam and blossoms during spring.
Photo exhibition celebrates 65 years of Nhân Dân newspaper
An exhibition entitled "People – Photos on Old-Time Newspapers" was launched yesterday to celebrate 65 years of the first publication of Nhan Dan (People) newspaper.
The exhibition was attended by Vo Van Thuong, a member of the Politburo.
More than 21 painters and illustrators, who joined hands in creating the face of Vietnam contemporary arts, such as Dang Xuan Hoa, Hong Viet Dung, Thanh Chuong, and Le Thanh Son, in addition to Le Thiet Cuong, Nguyen Thi Hien, and Nguyen Thi Hong Phuong, also presented their works at the exhibition.
Most of the artists, who have emerged through their dedication for contributing, illustrating and beautifying the monthly Nhan Dan, had their works and unique personalities expressed in each photo, and surprised the audience.
The meticulous trio of painters such as Le Thanh Son, whose radiant and vivid style of art is adored by art lovers; Pham Luan, who usually paints pictures that exhibit warmth, and Dang Xuan Hoa, who created a big sunflower with old newspapers, created a strong impression on viewers.
Vi Kien Thanh, director of the Arts, Photography and Exhibition Department of the Ministry of Culture, Sports and Tourism, said the exhibition was a unique event replete with meaning.
"Works of art displayed here were made with cheap materials such as old newspapers but created amazing and priceless social impact. The lives from each paper, articles and old memories will be prolonged after this exhibition," Thanh added.
K9 - Da Chong historical site to welcome people across the country
The memorial house in honour of President Ho Chi Minh on the K9 - Da Chong historical site in Ba Vi District, Hanoi will be opened to welcome visitors both at home and abroad from March, 2016.
The Deputy PM also asked the Ministry of Defence, along with relevant ministries and agencies, to work closely with the Ho Chi Minh Mausoleum Management Board to preserve relics relating to President Ho Chi Minh's revolutionary life.
The relic site is located about 70km from downtown Hanoi to the west on the Ba Vi mountain range.
The memorial site holds historical and political significance and introduces visitors to the revolutionary life of President Ho Chi Minh, as well as his contributions to the revolutionary cause of the nation.
In May 1957, President Ho Chi Minh decided to choose it as a place to work and rest for the Party Central Committee.
Many decisions and instructions of the Party Central Committee were issued here, contributing to the liberation of the South and the national reunification in 1975.
VNA/VNS/VOV/SGT/SGGP/TT/TN/Dantri