VietNamNet Bridge – People who visit Khmer villages in the Mekong Delta are impressed by the high towers and curved roofs surrounded by palm trees of the pagodas.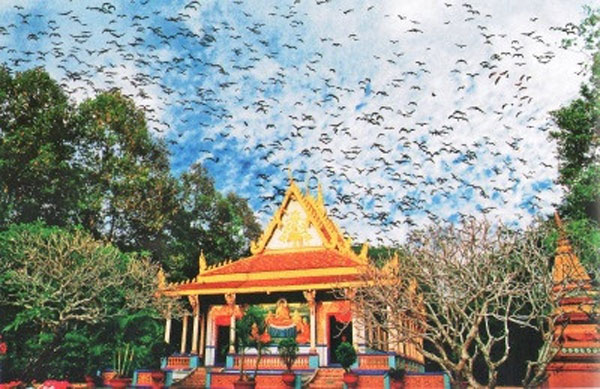 Doi pagoda in Soc Trang province
The 600 Khmer pagodas in the Mekong Delta constitute a unique cultural space of Vietnam's southern region.
Khmer pagodas are religious centers and also places for community festivals and places where people come to study.
Ly Let, a member of the Vietnam Fine Arts Association, talks about the architecture of the Khmer pagodas.
"The main worship hall is elaborately decorated. They mainly worship the Bodhisattva. There are statues of cobras with 3, 5, or 7 heads.  The pagoda tower has three roofs engraved with images of dragons," he said.
Many of the 600 Khmer pagodas in the Mekong Delta were built hundreds of years ago and have been recognized as national historical and cultural relic sites.
Soc Trang province has the largest Khmer population in the Mekong Delta and the most Khmer pagodas. Worthy of note is Doi pagoda, which was built 400 years ago.
It is widely known as Doi pagoda, because its garden is home to thousands of giant bats. Visitors to the pagoda are often greeted by traditional Khmer music played by the pagoda's art troupe.
Tra Vinh province has some 140 Khmer pagodas, second in number only to Soc Trang province. The most popular pagodas are Vam Ray, Nodol, Hang, and Ang.
Nodol pagoda is called Stork pagoda by the locals because several varieties of storks live in the pagoda. The pagoda is a famous education center. Thousands of monks and lay people were trained here. Many people consider the head monk their teacher and spiritual father.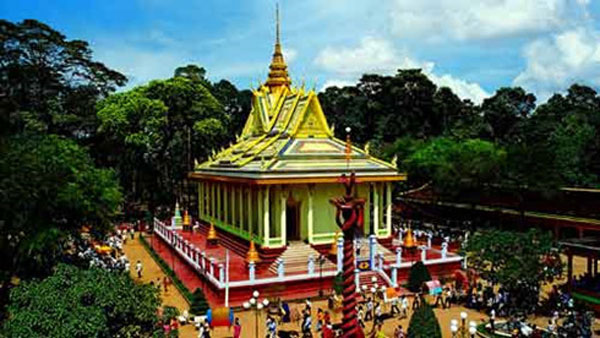 Hang pagoda in Tra Vinh province
Doctor Lam Kuoi works at Soc Trang general hospital. He noted, "I'm grateful to the monks here who brought me up and supported my study. They also taught my brothers and sisters, who then returned to work for our hometown."
In the summer, 136 pagodas in Tra Vinh province conduct Khmer language classes for children from grade 1 to 5.
Most Venerable Giang Thanh, head of Chroi Ton Sa pagoda, shared, "Besides language, we also teach them morality, social etiquette, and tradition. We teach them the basics of our traditional music, dance, art, and costumes so they can help preserve our culture."
A Khmer village usually has a pagoda with 5 to 30 monks. Some larger pagodas have as many as 100 monks.
Ly Xinh, Deputy Head of the Ethnic Minority Affairs Department of Can Tho city, said, "Can Tho city has 12 Khmer Theravada pagodas. Pothisomson pagoda in O Mon district is recognized as a national historical and cultural heritage. The local authority supports the pagodas in fostering the Khmer religion, culture, traditions, and language."
VOV5