VietNamNet Bridge – Four young writers have been nominated for best male and female writers of the year in the online Tiki Book Awards 2015, an annual event launched by one of the country's leading online bookstores, Tiki.vn.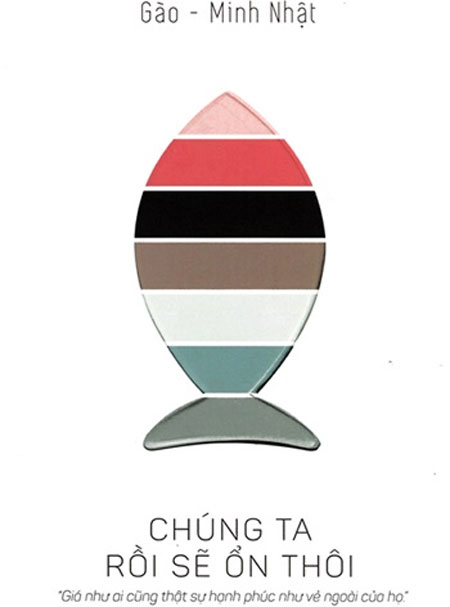 We'll be fine: The cover of female writer Vu Phuong Thanh's Chung Ta Roi Se On Thoi, nominated for the best book of the year in the Tiki Book Awards 2015 competition launched by the online bookstore Tiki.vn.
Vu Phuong Thanh, 27, also known as Gao, has received 57 per cent of total votes for the best female writer.
She has passed the best-selling author Nguyen Ngoc Tu, winner of the 2008 Southeast Asian Writers Award, who has received 19 per cent of the votes.
Thanh's latest book, Chung Ta Roi Se On Thoi (We'll Be Fine), published by the Viet Nam Writers Association in September, sold more than 16,000 copies in the first two weeks of its release.
The work features young urban women, their loves and lives.
Chung Ta Roi Se On Thoi is also competing for the best book in the contest.
Thanh has more than 2 million followers on her Facebook page.
Another writer, Phan Y Yen, 30, is also competing for the prize, earning 18 per cent of the total votes.
Yen has released her fifth book, Tinh Yeu La Khong Ai Muon Bo Di (No One Refuses Love), about women and love. The book includes eight short stories and 27 essays and other kinds of writing.
Both Thanh and Yen have offered a new writing style since beginning their career five years ago.
Their works feature the views of young women, who want to discover the world and more about themselves by travelling.
Some of their short stories have been reprinted several times and have been well-received by young readers, particularly women.
Nguyen Ngoc Thach, who is competing for the best male writer, has earned 35 per cent of the total votes. He follows his older colleague, veteran author Nguyen Nhat Anh, who has earned more than one per cent compared to Thach.
Thach, 28, is leading his competitor, Tony Buoi Sang, who is behind at 15 per cent.
Thach became familiar with young readers in recent years, but blogger Tony Buoi Sang, although new, has become a phenomenon.
The blogger's latest book, Cafe Cung Tony (Having Coffee with Tony), was released in October and sold more than 100,000 copies.
He has over 500,000 followers on his Facebook fanpage.
"I love reading books written by young authors like Thanh and Tony Buoi Sang. Their language is simple and meaningful. Their works feature issues that we want to be involved in," said Nguyen Ngoc Tuong Vi, a first-year student at the HCM City University of Law.
"The nominations show the success of young writers. It also reflects the reading trends of young readers today," Pham Minh Thuan, general director of the HCM City Book Distribution Company (Fahasa), said in an interview with local media.
Last year, the Tiki Book Awards competition attracted more than 800,000 voters. The final winners will be announced in late December.
VNS