Hai Phong native and reigning Miss Universe Vietnam Pham Thi Huong will represent the nation at the upcoming Miss Universe 2015, according to announcement by the Performing Arts Department.
Pham Huong ranks 2nd at Miss World Sports
Photos: Pham Thi Huong crowned Miss Universe Vietnam 2015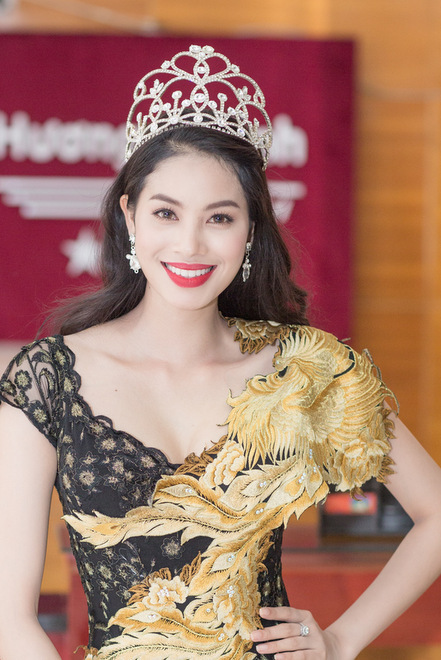 In addition to her responsibilities as Miss Universe Vietnam, Huong, 24, currently works as a lecturer at the Saigon College of Arts, Culture and Tourism in Ho Chi Minh City. She grew up in the northern port city of Hai Phong.
She will fly to the US on December 1. The final round of Miss Universe 2015 pageant is set for December 20 at the Planet Hollywood Resort and Casino in Las Vegas, the US.
Photo exhibit on ASEAN's world cultural heritages
An exhibit featuring 33 photos of world cultural heritages in ASEAN countries was held in Hanoi with 161 entries on world cultural heritages in Vietnam and other countries in the regional bloc.
The exhibit also includes installations, books, photo albums, and video clips to help visitors learn more about world cultural heritages in ASEAN nations.
Nguyen Kim Thanh of Bac Giang province said, "Each country has a distinctive culture. The photos make me curious and want to explore those heritages."
The event will close on November 25.
Event honours local tea traditions
Tea time: Tea master Cao Son demonstrates a tea ceremony at the House of Heritage last night. The event dedicated to Vietnamese tea traditions is being held at the venue until Monday. — VNS Photo Thuy Hang
An event dedicated to Viet Nam's tea traditions was kicked off yesterday at the House of Heritage in Ha Noi's Old Quarter.
At the event's opening, tea master Cao Son, said: "Viet Nam is among the world's top 10 tea producing countries. We have more than 40 different tea varieties as well as several festivals honouring Vietnamese tea culture. For centuries, tea has been the most popular beverage, reflecting the country's quintessential culture. Vietnamese people have elevated their custom of tea drinking to the tea culture."
He also said tea has become the beverage of choice and a way of life as people often gather to drink tea and enjoy each others' company.
"Tea is not only served during and after the meal, but also is served to welcome guests as a form of hospitality," Son added.
Participating the event, visitors can enjoy a cup of hot tea while enjoying a Vietnamese space adorned by sophisticated bird cages, refined tea sets, elegant flower vases, and Ha Noi A's decorative lacquer items, which all were made by traditional craft villages around Ha Noi.
Discussions on Vietnamese tea traditions will be held during the event.
In addition, calligraphy demonstrations, ca tru (ceremonial singing) performances are also on the event's agenda.
The free event, which runs until Monday, will celebrate the Day of Viet Nam's Cultural Heritage, November 23. The House of Heritage is at 97 Ma May Street.
Mass tea production in Viet Nam began in 1880, when the French developed the first plantation in the northern province of Phu Tho. The industry quickly expanded, and within 50 years the Vietnamese were exporting their product to Europe and Africa.
Int'l cultural exchange centre for Phu Quoc
Prime Minister Nguyen Tan Dung has approved a project to build an international culture, art and literature exchange centre in the southern province of Kien Giang's Phu Quoc Island.
The project with capital of VND70 billion (US$3.1 million) includes a multipurpose conference room and other support facilities on a 30,000sq.m area. The centre will be built from 2016 to 2020.
Prime Minister has assigned the Alliance of Arts and Literature Association of Viet Nam, the provincial People's Committee, the Ministry of Planning and Investment, the Ministry of Finance and other relevant agencies to carry out the project.
Indian women set up association in HCM City
The Indian Women Association in HCM City (IWA), an informal group of talented Indian women, has been formed with the objective of further strengthening the India-Vietnam cultural relationship and friendship.
Supported by the Indian consulate in the city, it will also provide a forum for Indian women to showcase their talents and exchange constructive ideas with Vietnamese women.
Many Indian women living in HCM City are professionals and experts in various areas including IT, management, and leadership.
The association will be inaugurated at Sofitel Plaza today.
Vietnamese model manager to judge Miss World Korea
Vietnamese model manager Vu Khac Tiep has been officially invited to become a member of the judging panel of the upcoming annual national beauty pageant Miss World Korea 2015.
The closing ceremony of the pageant will be held today at Alpensia Ski Resort, in the county of Pyeongchang, South Korea to select a national representative for Miss World 2015.
"Miss World Korea is the national contest of South Korea. Therefore, I am honoured to be a part of this event. I am very glad as this is an opportunity for me to introduce my model agency to the international market. Through this event, I can learn more about event management in South Korea, and apply it to Viet Nam," says Tiep.
Painting exhibition opens at Asia's Leading Luxury Resort
A painting exhibition titled ""Where Art Meets Luxury" opened at the Asia's Leading Luxury Resort 2015, InterContinental Danang Sun Peninsula Resort on November 20.
The event displays 25 art works in various styles and materials including water colour, oil and silk painting by artists of the Lotus Gallery.
The exhibition showcasing the rich culture of local art through the high-quality both traditional and contemporary paintings by Vietnamese talents aims to create opportunity for art lovers to learn more about the country's fine arts.
Founded by Madame Nguyen Thi Xuan Phuong who was conferred France's highest civilian honor, the Ordre national de la Légion d'honneur (Legion of Honor), Lotus Gallery is home to a large collection of artworks of dedicated local artists. Dedicated for the love of art, Madame Phuong and the gallery have been introducing artistic charms of Vietnam to the world through a numerous exhibitions around South East Asia and Europe since 1991.
The display will run until November 27.
The InterContinental Danang Sun Peninsula Resort (IDSPR) has just been crowned as the Asia's Leading Luxury Resort 2015 at the World Travel Awards Asia and Australia Gala Ceremony 2015 at the InterContinental Grand Stanford in Hong Kong (China) in October.
The resort was aslo recognized as the Asia's Leading Hotel Dining and Entertainment Experience 2015, 2015 Vietnam's Leading Resort and 2015 Vietnam's Leading Spa Resort.
VOV/VNS