Some 30 disabled female models will grace the catwalk at the "I Am Beautiful. You Too!" fashion show in Hanoi on November 21, showcasing original pieces that fuse Western and Asian design styles.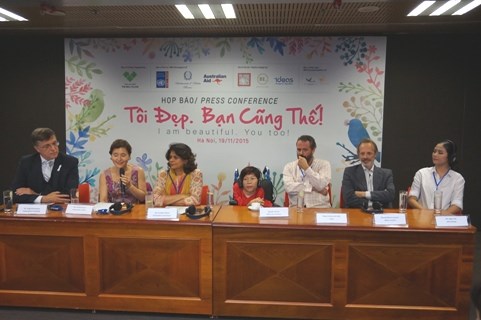 Nguyen Thi Van (centre) at the press conference on November 19 (Photo: thethaovanhoa.vn)
No matter who one is – man or woman, poor or rich, with or without disabilities – people have the right to be respected and express their own values, Nguyen Thi Van, director of the Will to Live Centre, said at a press conference on November 19.
Held along with activities to celebrate the International Day of People with Disabilities (December 3), this is the first fashion show for disabled Vietnamese women. It aims to change the stereotypical idea of beauty and promote a new perception of beauty stemming from diversity and difference.
The show is organised by the Will to Live Centre with the support of the UN in Vietnam, the Australian an Italian Embassies in Vietnam, Australia's Flinders University, and fashion brands Chu La (Spain) and Bianco Levrin (Italy).
Da Nang and Ho Chi Minh City are the show's next destinations.
Da Lat Flower Festival to bloom next month
The 2015 Da Lat Flower Festival will be celebrated from December 29 to January 3 to promote the city, which is famous for tourism and flowers.
The sixth biennial festival, titled "Da Lat – Multitude of Flower Colours" this time, will feature many tourism and cultural activities, including a flower exhibition, a flower carnival, a trade fair, art performances and a flower painting contest for children.
Located 1,500m above sea level on the Langbiang Plateau, Da Lat has beautiful lakes, waterfalls, forests, gardens, and other beautiful landscapes. Xuan Huong Lake in the city centre, which is surrounded by pine trees, lawns, and flower gardens, is a favourite place to walk, ride a horse and bike.
Exhibition on Truong Sa, Hoang Sa opens in Hanoi
An exhibition titled "Vietnam's Hoang Sa, Truong Sa – Historical and Legal Evidence" displaying maps and documentation on the Hoang Sa (Paracel) and Truong Sa (Spratly) archipelagoes opened at the B52 Victory Museum in Hanoi on November 20.
The event, organised by the Ministry of Information and Communications (MIC) and the High Command of Capital Hanoi, is part of a public communication campaign to affirm Vietnam's sovereignty over the archipelago area.
It helps keep alive patriotic traditions, national unity and a sense of responsibility for Vietnamese generations. It also raises awareness among sectors and people from all walks of life and armed forces in the construction and protection of the country.
The documentation, documents, objects, publications and nearly 100 maps on display at the exhibition belong to many local and international scholars.
The exhibition shows that Vietnam has explored and exercised sovereignty over the Hoang Sa and Truong Sa islands, and other islands in Vietnam's territory. It has been a continuous, long and peaceful process and has been recorded in many historic materials that belong to Vietnam and other countries – especially documentation and maps drawn and published from the 16th century to present day.
The MIC has organised more than 40 exhibitions on the Hoang Sa and Truong Sa archipelagoes.
Vietnamese artists perform in Laos ahead of its National Day
Thirty artists from the Theatre of Vietnam Music, Dance and Song; the Vietnam Circus Federation; and Lang Son Art Troupe performed at a music show in Vientiane, Laos on November 19 for the 40th anniversary of its National Day (December 2).
Present at the event were Lao Deputy Prime Minister Phankham Viphavan; Lao Minister of Information, Culture and Tourism Borsengkham Vongdala; and Vietnamese Ambassador Nguyen Manh Hung.
Music performances featuring Vietnam-Laos and Hanoi-Vientiane ties, musical instruments played by Lang Son Art Troupe and circus acts by the Vietnam Circus Federation were put on stage to cheers from the audiences.
The Vietnamese artists will perform at another show in Vientiane.
VNA