VietNamNet Bridge – Singing groups from across the country will gather to celebrate the fifth National Festival of the Traditional Then Singing of Tay, Nung and Thai ethnic groups, which will take place in the northern province of Tuyen Quang from September 24 to 26.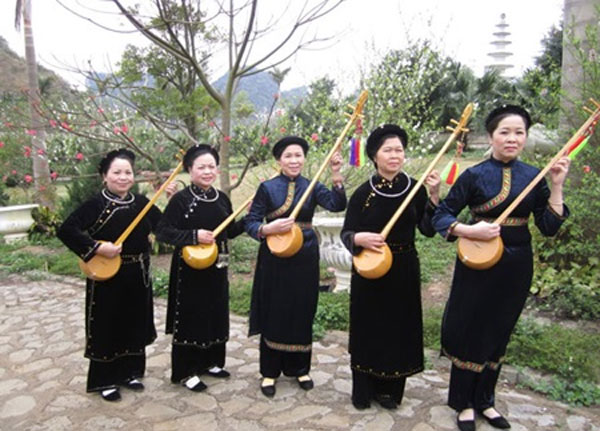 Guitar heroes: Then singing is a unique form of art of the ethnic minorities in northwestern Viet Nam. The fifth National Festival of the Traditional Then Singing will take place in the northern province of Tuyen Quang later this month. — Photo dantocviet.vn
The festival aims to introduce and promote then singing and othe unique forms of art of the ethnic minorities in the northwest of the country to both domestic and international visitors.
The event also demonstrates the concern about preserving and developing the national culture of authorities, as well as creates a chance for then singing artisans to meet and exchange experiences in an effort to preserve folk singing.
Seven activities will take place during the three-day festival, including the opening ceremony, performances of then singing, an exhibition with the theme of Then – Tay, Nung, Thai Viet Nam Cultural Heritages, an international conference entitled Preserve and Promote Values of Then Singing Heritage of Tay, Nung, Thai Ethnic Groups in Viet Nam, an agricultural and trade fair 2015 in the northwest of Viet Nam and a closing ceremony of the festival.
The highlight of the event is Thanh Tuyen Festival 2015, which is initially the mid-autumn festival of the residents in Tuyen Quang City.
After 10 years since its first celebration, the festival will be celebrated in provincial level, with a processionof hundreds of lanterns along the street which will attract thousands of tourists.
It also creates opportunities to introduce to both domestic and international friends about the land, people and cultural values of the province.
Tuyen Quang is home to 64 then singing clubs with nearly 1,000 participants.
There are two types of then singing: Then Ky Yen (praying for good things) and Then Le Hoi (then festival).
The first is performed at rituals while the latter form is to bring cheer and drive away sorrow and hardships in life and is normally used in rituals to pray for good crops, enter a new home, or cap sac (coming-of-age).
The style of singing is traditionally accompanied by a gourd lute called dan tinh – the soul of the music.
The province has worked with the Viet Nam National Academy of Music and other northern provinces of Cao Bang, Bac Kan, Lang Son, Thai Nguyen, Lao Cai, Lai Chau and Bac Giang – where the music is also practised – to compile a dossier towards seeking UNESCO recognition of the world cultural heritage.
According to Pham Dinh Tan, a spokeman for the Ministry of Culture, Sports and Tourism, more information and images about then singing will be supplemented to introduce more widely the heritage to international friends, via promotion activities and Viet Nam's cultural days in foreign countries.
VNS