VietNamNet Bridge - "Dieu Con Mai" (Things Everlasting) Concert, held by VietNamNet Newspaper, will come back to the stage to mark the 70th Independence Day on September 2 after a one year hiatus.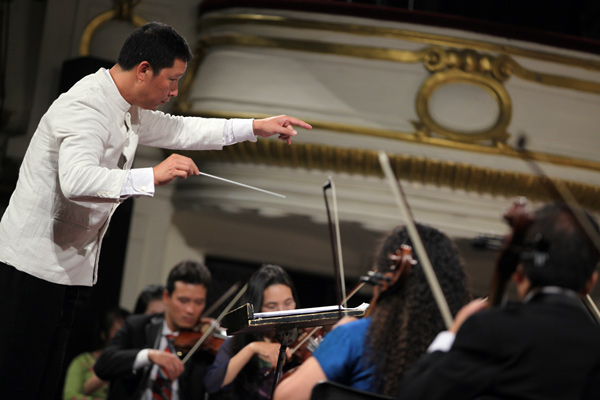 Conductor Le Phi Phi performed at "Dieu Con Mai" Concert in 2013.
The concert will feature the voices of famous Vietnamese singers accompanied by instrumentalists from the Vietnam National Symphony Orchestra under the baton of conductor Le Phi Phi.
The artists will bring audiences choruses, arias and ballads on the country's revolutionary period, and extracts from symphonies of well-known Vietnamese composers including Do Nhuan, Ho Bac and Do Hong Quan. Folk songs adapted to symphony orchestra and newly-released compositions will also be introduced at the event.
The annual concert, launched in 2009, takes place every Independence Day at the Hanoi Opera House, No 1 Trang Tien Street, Hanoi.
With an aim to popularise Vietnamese symphonies and chamber music - particularly those highlighting the country's construction, defence and Doi Moi (Renewal) process - and inspire patriotism among Vietnamese citizens, 'Dieu Con Mai' has become one of the most anticipated musical events of the occasion.
This year's concert has been elevated to a national-scale event with the Ministry of Information and Communications acting as the steering committee and MIC Minister Nguyen Bac Son as head of the committee.
PV