VietNamNet Bridge – The National History Museum, the largest museum in Vietnam, has a total investment of up to VND11,277 billion ($520 million), not including the cost of designing the museum contents and display, according to the Ministry of Construction's report in 2012. This project was approved by Prime Minister Nguyen Tan Dung in 2006.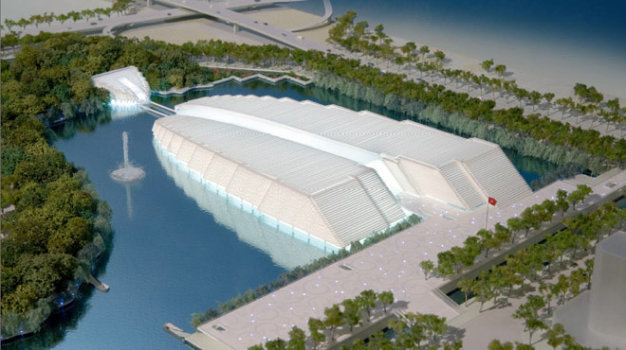 The sketch of the National History Museum.

The government website has reported that Deputy Prime Minister Hoang Trung Hai recently assigned the Ministry of Construction to work with the Ministry of Planning - Investment and the Ministry of Finance to make a plan of investment for the construction of the National History Museum.
According to the plan, the National History Museum is established on the basis of the current Museum of History and Vietnam Revolution Museum. This will be a modern work and the nation's largest museum.
The work will preserve and promote the historical - cultural value of Vietnam, serving the needs of scientific research and learning.
According to the roadmap, the work will be built from November 2012 to May 2016, at the West Lake new urban area, Hanoi, on an area of nearly 10 hectares.
The work consists of four categories: the main building; the memorial monument of celebrities; the outdoor exhibition area; and the ancillary technical items.
Particularly, the main building will be built on an area of over 20,000m2, with a basement and six floors, including the artifact warehouse; the center for preservation and restoration; the hall, seminar rooms, studio rooms in service of research, study ...
The Ministry of Construction is assigned as the investor. The Ministry of Culture - Sports and Tourism will manage and be the investor of the component project (including the content and form of displays).
Many people said that the investment in this museum is huge, which is enough to build many other public works. Museums are available in almost all provinces and there are many museums in cities and most of them operate ineffectively.
They cited the Hanoi Museum as an example. This museum was inaugurated in 2010 to celebrate the 1,000th anniversary of Thang Long – Hanoi. Worth more than VND2 trillion, this museum does not welcome many visitors and it is degrading.
Many people worry that with a big public debt, if Vietnam keeps building such big works, the country's budget will be more in trouble.
$1 = VND21,500
T. Van