It's perhaps not too surprising that rice has been found to have other purposes than just filling your stomach.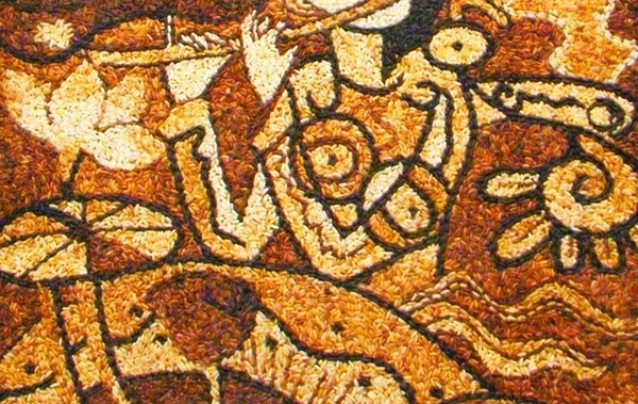 Rice is now being used in a new type of artwork - rice painting.
Vietnam is without a doubt a country of rice. It's a key part of people's diet, eaten twice a day on most days as a staple for breakfast, lunch or dinner or even as a snack. Showing just how important it is, rice is even now being used in a new type of artwork - rice painting.
Given their uniqueness, such paintings have become quite fashionable among art aficionados. The detail and colours in the paintings are all made from rice. Artists must be meticulous in selecting the type of rice and then roast or dry it to create different colour shades. It is believed that the natural colours of roasted rice are varied and lively and last far longer than most other materials.
Vietnam, however, can't claim to be the cradle of rice painting. The first such paintings first appeared in India, while in Vietnam it only really started to take off in tourist attractions like Hanoi, HCMC, Hoi An and Dalat since around 2010.
'Many foreigners believe that Vietnam is a land of piracy,' said 38-year-old rice painter Nguyen Khac Phuc from Quy Nhon city in south-central Binh Dinh province. 'It's true.' He claims be have been among the first to make rice paintings in Vietnam, but then many people had the same idea so he opened his own gallery in Quy Nhon. He is also renowned in the art of sand painting.
The rising popularity of rice painting is also helped by tourists who value the artworks as souvenirs. According to Phuc, foreign tourists not only look for souvenirs that are reasonably priced but also seek something that represents their experience in Vietnam. 'They buy these paintings because they want to decorate their homes with something in a Vietnamese style, but at a fair price,' he said.
Art of rice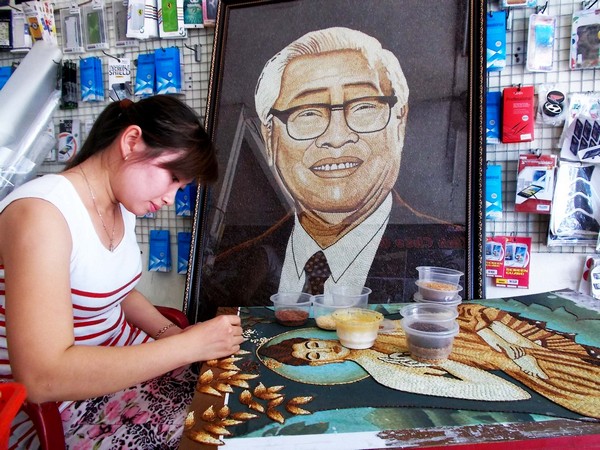 Turning rice into art, he went on, is an interesting way to promote Vietnam's rice exports, as the country is one of world's richest agricultural regions and the second-largest rice exporter worldwide (after Thailand) and the world's seventh-largest consumer of rice. 'Promoting rice it is not about it being food but also about it being an artwork,' he believes. 'People around the world will be able to see Vietnam's wet rice civilisation and admire our culture.'
Phuc opened his first gallery of rice painting in Quy Nhon in 2011 and soon afterward many local people and tourists became more interested in the unusual materials and were impressed by how successfully he expresses his ideas in both classical and modern styles.
After sketching a painting on a wooden block comes the important task of sticking the tiny rice grains on with a special type of glue. Each grain is carefully chosen and arranged to make full use of the desired effects of light and shade, making the finished work look almost 3D. A professional artist will take three days to complete a painting of 30x30 cm and almost ten days for a larger one of 80x100 cm.
There are three types of rice chosen as materials, of which ordinary rice is chosen for thin details, sticky rice for large, wide details, and broken rice to make small details and smooth paintings. Each painting features hundreds or thousands or even tens of thousands of rice grains.
Rice paintings traditionally feature three main colours: black, white and brown, with a variety of 22 other shades such as pale ivory and yellow. The subjects of the paintings can be quite diverse, from calligraphy, landscapes, animals and flowers to religious scenes and portraits. The paintings are also an inexpensive alternative to gemstone or hand-embroidered paintings. Each medium-sized rice painting costs from VND1,075,000 ($50) to VND3,225,000 ($150), depending on the sophistication of the painting as well as the skill of the artist.
Rice painting process
Each artwork is handmade and unique, as it comes directly from the artist's heart and soul. Completed rice paintings need to pass through various steps, from selecting materials, roasting the rice, grafting the rice and protecting the picture with a chemical coating.
*  The first and foremost stage of rice painting making is selecting the rice: ordinary rice is used for thin details, sticky rice for big, wide details, and broken rice for small details and smooth paintings. The rice must have been harvested from the most recent crop.
*  Roast the rice separately on a weak flame for one hour or more. Skilled artists can create dozens of different colours by manipulating the flame. During the process it's imperative that the rice not burn or crack. It takes at least six hours of roasting to have black grains.
*  Remove any broken or damaged rice.
*  Sketch an outline of the picture on a wooden block.
* Arrange and graft the grains on the already sketched wooden frame.
*   Spray an adhesive layer onto the surface of the painting to fix each grain in place.
*  Dry under the sun for two or three days to make the rice adhere to the wood.
* Apply a varnish treatment and chemical substance to the painting to prevent mould and termite infestation and preserve the colours.
The Guide