VietNamNet Bridge – As contemporary art accepts all things as materials, rice is not only the staple food but also a unique art material. Through the skillful hands of artisans, roatsted rice grains are combined together into paintings about landscapes and people in Vietnam, and graft rice paintings become an art specialty imprinted with Vietnamese soul.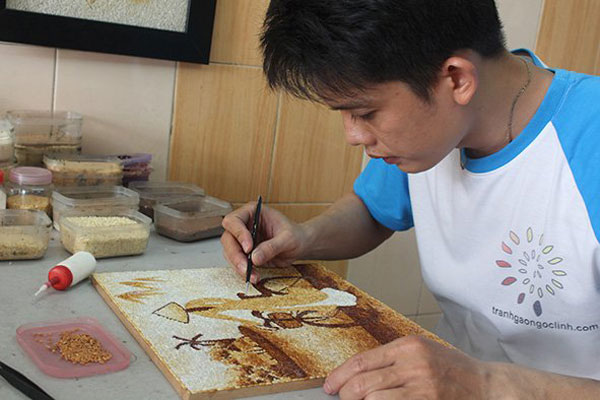 Artisan Duong Huu Cuong makes a roasted rice painting.
Born later than other art genres, fried rice paintings have become popular recently, especially for foreigners who want to look for exotic, local and special gifts for their friends and business partners.
To make a rice painting, the first thing artisans have to do is to collect grains carefully in order that the grains must have the same size and are not broken. The next important step is roasting the grains into dozens of color tones from pale ivory to yellow, light brown, dark brown and black.
A roasted rice painting
"Roasting the grains requires makers to stir regularly on the suitable fire levels," said artisan Duong Huu Cuong, owner of Ngoc Linh rice painting shop in District 5 of HCMC, who has nearly ten years' experience in this craft. He added that he can make over 20 color tones of roasted rice.
The most important step is to combine the colors of the grains in a harmonious way so that when matching them together they will turn out a desired artwork.
"Rice paintings appeared some years ago but thanks to their uniqueness and high artistic value, they have gradually carved a niche in the market," said Cuong. He also added that the art needs artisans to be skillful, devoted and patient.
"A beautiful fried rice painting not only requires a harmony of color, tight grain arrangements and a beautiful layout but also has its own soul, transmitted by artists. Therefore, it needs an aesthetic sense through the color combination and liberal, romantic mind of the artist," a co-worker of Cuong in Ngoc Linh shop said.
Rice paintings are made in diverse themes from landscapes, portraits, religious themes, calligraphic art, abstract themes and animals. Some artisans also make works by their own style with rice clocks and lamps.
Rice paintings are sought after by many including office workers and tourists, especially foreigners who want take them home as special Vietnam gifts..
However, to make complex landscapes with cottages, rivers, people with conical hats, flowers and birds or landmarks like Ben Thanh Market, Notre Dame Catheral of Saigon, One Pillar Pagoda and Sword Lake or to bring the personality for the characters in portraits from millions of tiny grains manually, artisans need at least a couple of days or weeks to finish a work, depending on the size and the level of difficulty.
Rice is preferred by mice and insects, so artists have to spray chemical substances to the painting to prevent mold and termite infestation as well as preserve colors. "I am proud of making this craft as each collage is not a combination of the artist's skill and passion but also a presentation of our pride for Vietnam's people and landscapes," Cuong said. That is why he often instructs anyone who wants to practice this genre, especially students.
SGT