VietNamNet Bridge - The construction of a huge cultural work known as Van Mieu (temple of literature) in the northern province of Vinh Phuc has led to severe criticism in Vietnam in recent days.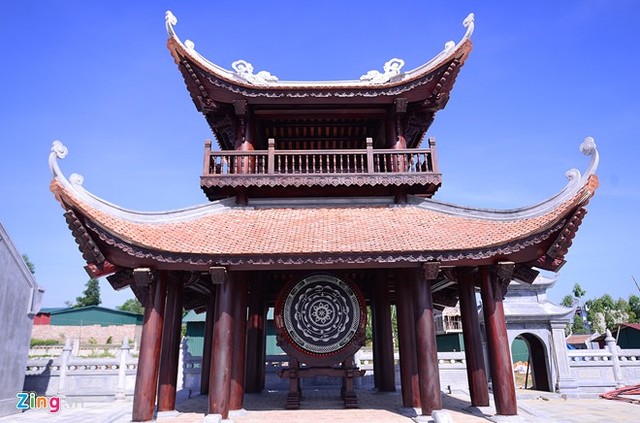 This project costs VND271 billion (US$12.4 million) and is fully funded by the province's budget. The work, which covers 42,000 square meters, started in 2012 and is expected to be completed this year.
The local authorities have set up a center with around 10 staff to make preparations for the management and operation of this work.
Vinh Phuc has more than 1,000 cultural relics, with dozens of them recognized as national relics, which have not been well maintained and conserved, while a number of urgent development investment projects are running short of investment capital.
However, the local government has spent VND271 billion on a massive temple which is lavishly built of stones and wood and engraved in traditional styles.
Explaining why the province decided to build such a costly temple, Tran Manh Dinh, director of the culture department, told VietNamNet that the project had been approved before he took the helm of the department.
People from other parts of the country could have cultural places like Van Mieu to visit when coming to Vinh Phuc, he said, adding students could also come to pay homage before they sit university entrance exams.
Prof. Ngo Duc Thinh, former director of the Institute of Cultural Studies, said temples of literature of the past were cultural structures designed to promote learning among people but many of them were devastated over time. However, reconstruction of such temples needs to be taken into serious consideration.
However, he said that using hundreds of billions of dong for constructing a new Van Mieu at a time when the country is still grappling with economic woes is a waste of money even if the money comes from other sources than the State budget.
Prof. Tran Lam Bien from the National Cultural Heritage Council expresses concern over the ease of setting aside a staggering VND271 billion for a new, provincial-level temple of literature.
Professor Nguyen Chi Ben, also from the National Culture Heritage Council, this is a sign of wastefulness as capital is badly needed to develop many other urgent projects like schools, housing and hospitals.
While experts disapprove of the province's construction of Van Mieu, the public casts doubt on the investment cost which they say is too high.
Former chairman of Vinh Phuc Province Phung Quang Hung, who retired last month, told VietNamNet that many projects need funding but the province decided to construct Van Mieu.
In addition to the criticism of the huge investment cost, strong debate is going on over who should be worshiped at this Van Mieu.
Meanwhile, the investor, the province's Department of Culture, Sports and Tourism, is still undecided over this matter though, according to the original plan of Vinh Phuc, the temple would be used to worship Chinese philosopher Confucius, which has attracted sharp criticism as Vietnam has many philosophers and scholars who deserve to be worshiped.
To cope with this criticism, the province says it would hold seminars with researchers before a final decision is made.
Historian Duong Trung Quoc said on VietNamNet that Vinh Phuc did not consult historians when they made the decision. The structure could still be used as a learning promotion center and a worshiping place for eminent Vietnamese educators, including Chu Van An.
Prof. Ngo Duc Thinh said that cultural structures are not necessarily as grand as what is under construction in Vinh Phuc since hefty funding is not a yardstick of the value of a cultural construction work.
Some pictures of Van Mieu in Vinh Phuc:
VNN/SGT/Zing