Participants at a workshop on film and TV copyright protection said on Thursday that they were surprised at the extent of infringements happening in the domestic market.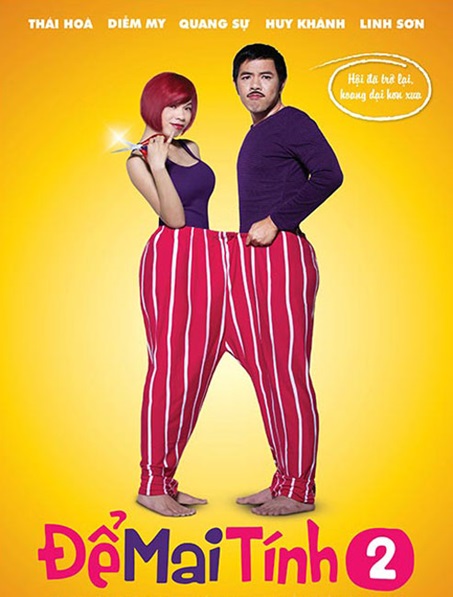 De Mai Tinh 2 (Fool For Love 2), was illegally uploaded on the internet the same day it was first screened on K+.  
For example, the release of Bui Doi Cho Lon (Life in Lon Market) had been prohibited, but its "draft" had been uploaded on to the Internet and the culprit has not yet been officially announced, they said.
Another film, Chang Trai Nam Ay (The Man in the Past) was being distributed on the Internet, even as it was being screened in cinemas.
A particularly striking violation was that of De Mai Tinh 2 (Fool For Love 2), the first Vietnamese film screened in the cinemas to be shown exclusively on K+ channel. On the very first day that it was shown on TV, the film was available on online film websites with the HD version and even K+'s logo.
"We discovered (the violation) and contacted the two big websites, Youtube and Dailymontion, to discard the film from their system just 15 minutes after it was first posted on the internet," said Trinh Thi Thuy Lien, K+ representative, in an interview with Phap Luat Thanh Pho Ho Chi Minh (HCM City Law) Newspaper.
"We can easily cooperate with such prestigious websites to discard the films at once but we have difficulties working with small websites or those with host computers located abroad.
"There are still many websites illegally showing Fool For Love 2, which we are still investigating," Lien said.
Ngo Bich Hanh, Deputy Director of the BHD Company, said the domestic industry has seen many films go bankrupt because of copyright infringements, like the one produced by actor Nguyen Chanh Tin, or another made by the family of late director Do Quang Hai Au.
The meeting heard that infringements are not only committed by those who secretly film in the cinemas, but also buy those who working in film production.
It was pointed out that films like Ngay Nay Ngay Nay (Lost Dragon) and Canh Dong Bat Tan (Floating Lives) were uploaded on the web during their post production stage, even before they premiered in the cinemas.
Irrespective of when and at what stage the infringement is committed, film producers and distributors are hit hard and hit first.
Actress Nguyen Ngoc Hiep, director of the Hang Phim Viet (Viet Film Company), said it was very difficult to figure out the stage in which a film is released illegally. The draft version of the film can be leaked even if the might even be dispersed when the film is under censorship.
The meeting called for greater co-operation between film producers, distributors and relevant management agencies to prevent and control copyright infringement. State agencies should also severely punish this crime and launch public awareness campaigns on the issue, participants said. 
VNS