VietNamNet Bridge – The first e-books appeared when the internet was born. Most of these books were out of copyright, and of course, the viewers didn't have to pay any fees. With the appearance of smartphones, and especially tablets in 2010, the e-book market has experienced rapid development, particularly in developed countries.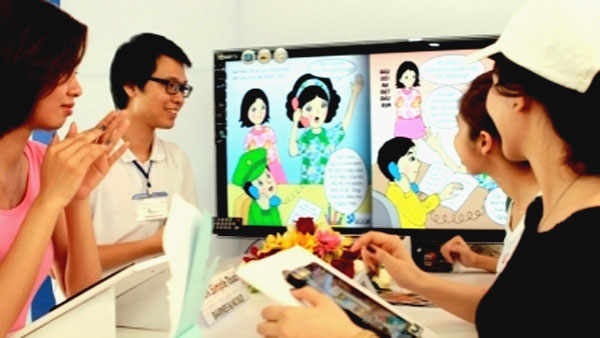 Young readers pay much attention to e-books. 
Experts predicted that by the end of 2014, e-book sales worldwide would exceed US$10 billion. In the US, by 2017, e-book sales revenue will surpass that of print books.
In Vietnam, since 2011, the copyrighted e-book market has begun to develop with the participation of five enterprises: Ybook (owned by the Youth Publishing House), Sachweb (Ho Chi Minh City General Publishing House), Komo (Phuong Nam Book), Alezaa (the Vinapo Online Service Company) and Sachbaovn (Lac Viet Computing Corporation).
Many people have been very optimistic about a sudden breakthrough in the book publishing market. Others even expect e-books will make important contributions to improving the reading culture among the younger generation, simply because e-books can be read anywhere, at any time and can be easily stored on convenient electronic devices. The expectation is growing especially as high speed internet service has become more popular while the price of tablets is cheaper and cheaper.
However, in Vietnam, all five e-book enterprises are facing a lot of challenges. While the big profits that e-book technology can bring has been clearly recognised in other countries, e-books in Vietnam only make up less than 1% of the book market share. Some enterprises have chosen to invest at an indifferent level, while some even think about quitting their business.
There are some difficulties and barriers to the development of the e-book market in Vietnam. First, in order to produce an e-book, a lot of technical stages must be handled. The cost to digitize a 200-page book is no less than VND100 million. In some countries, e-books are supported by many social resources, digital centres and sponsors, while in Vietnam, all enterprises must be self-reliant. Capital is a headache for many publishers.
Second, the payment for e-books is not convenient. There are only a small number of Vietnamese using credit cards or online payment on a regular basis. Paying online, by registering an account on a publisher's website, is a new and unfamiliar process for most Vietnamese customers. As a result, the main form of payment for e-books today is scratch cards, and the providers' service charge is 20%, which is still very high.
Third, illegal e-books and copyright infringement in Vietnam are two problems facing many book companies. Many publishing houses have not yet entered the market because of issues related to copyright protection. Many book readers say they can download all kinds of e-books, both copyrighted and illegal ones, for free from the internet.
There are two solutions to solving these problems: applying security techniques at the highest level and handling infringement cases by law. With the first solution, enterprises have to invest heavily in infrastructure, especially at the stage of e-book file encryption in order to avoid cracking or copying. However, this is only a temporary solution — encryption techniques are made by human, and can be cracked by humans. On the other hand, the higher security technology may make it more complicated and inconvenient for readers. Youth Publishing House director Nguyen Minh Nhut considered selling e-books at a very cheap price, about VND2,000 per copy to discourage those who intend to commit acts of piracy.
However, even at such low prices, illegal e-books still bring greater advantages and convenience to readers than legal ones. To get a copyrighted e-book, customers have to register an account on a publisher's website and pay fees online via their bank or mobile phone. On the other hand, it only takes a few clicks on an e-reader to get illegal e-books — copyrighted e-books have no chance to compete with their illegal counterparts.
The second solution is seriously dealing with the problem by law, which is commonly enforced in developed countries. State management agencies should closely monitor and support stronger sanctions against individuals or network providers violating the law. Unfortunately, for many different reasons, laws in Vietnam appear to have little effect on illegal e-books and copyright infringement.
Some Vietnamese lawyers say they have faced many difficulties enforcing copyright protection laws due to the lack of legal e-books in the market, making it necessary for people to look for illegal e-books to satisfy their demand. The weakness in copyright management also means readers cannot find out to whom the copyright belongs to, the writer or the publisher.
As mentioned above, the e-book market is growing rapidly and becoming an important economic sector. In the process of global economic integration, the playing field is being broadened with almost no protective barriers. Domestic e-book publishers have begun to worry about the involvement of the large number of foreign e-book enterprises.
If the laws do not prove effective, there will be no way for Vietnam's e-book market to move forward unless publishers sacrifice their profits and provide cheap, high-quality e-books as well as simple payment methods. Furthermore, Vietnamese readers should move from downloading free and illegal e-books to paying for copyrighted ones with a fair price.
Nhan Dan