For passionate collectors and traders, old money never loses its value and beauty.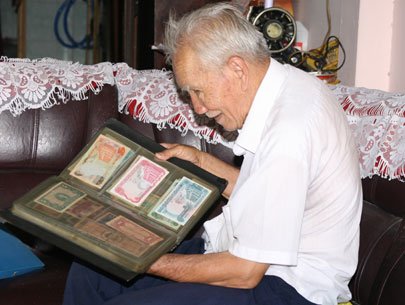 An old man shows his collection of old money. (Inset) French Indochinese money.
In Vietnam, collection and trading of old money come with two groups - banknotes and coins.
Luu Ha Nam, a senior resident in HCMC's Phu Nhuan District, says the trading of old cash is kind of an odd job. "When you want to sell old money for legal tender, no one wants to buy. But when you want to keep it in your collection, a lot of people insist on buying it at any cost," he says.
"Majoring in fine arts, I am really fond of looking at what other people might describe as worthless because these old notes and coins manifest different unique cultures."
His favorite is a series of notes he refers to as "Uncle Ho" money. Only a small amount of this currency produced by four printing presses at hidden workshops in Ha Tinh Province went into circulation.
Even though there are many colors and categories of "Uncle Ho" notes, few of this type can be found on December 29 due to its poor durability. Therefore, each note costs millions to dozens of millions of dong.
Unlike Nam, Tran Hoang, an old cash collector in District 3, says he only prefers collecting old money but does not sell it.
"Collecting ancient money is my passion because it gives me an insight into different cultures in the past. I will keep these treasures for the next generations so that they can understand and appreciate historical and cultural value," says Hoang.
Vietnam went through a number of historical periods, thus producing a wide range of old currencies that catch great interest of local and foreign collectors and traders. However, the amount of old money has gradually dropped because local traders prefer selling to foreigners for higher prices, Hoang notes.
SGT/VNN