Madam Phung's Last Journey, a truthful and honest look at the transgender community in Viet Nam, played to sold-out rooms in HCM City and is eagerly anticipated by audiences in Ha Noi.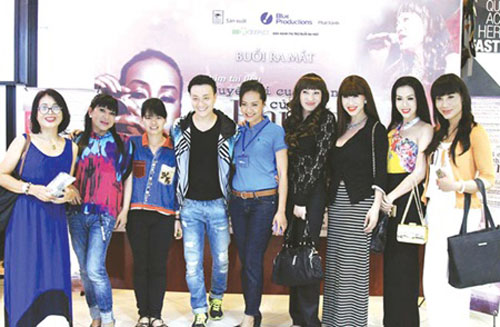 Director Nguyen Thi Tham (third left) and Ngoc Phung (fourth right) at the premiere of the Madam Phung's Last Journey in HCM City.  
Office worker Truong Hong Ngan has already booked tickets for the first screening at the French Cultural Centre (L'Espace) in Ha Noi on December 29. She heard about the documentary from a colleague and decided to see it after reading positive reviews in online newspapers.
"My colleague met the director," Ngan said. "She was impressed after talking with the director and urged those working in our office to watch the film."
Directed by Nguyen Thi Tham, Madam Phung's Last Journey is one of the rare Vietnamese documentaries to focus on the country's gay community. It follows one of the traveling transvestite singing troupes popular in the south of Viet Nam. There are more than 100 such troupes in the country, mostly in remote areas. Most of the troupes' members are gay and lack awareness about health care.
Tham started the film in 2009. After being accepted into the troupe, she followed them to shoot this, her first feature-length documentary.
The documentary was first screened at HCM City's Literature and Arts Association and Idecaf stage. After watching it, transgender singer Cindy Thai Tai started to cry.
"I was impressed by the documentary because I was the victim of transgender discrimination. I understand and feel great sympathy for the characters in the film," the singer said.
The premiere was also attended by two singers from the troupe, Ngoc Phung and Ai Khanh, who spent time talking and taking photos with the audience.
Main characters Bich Phung and Hang could not attend the screening because they died while the documentary was in post-production.
"Phung was the person who was most keen on watching the film. Their death caused a lot of distress for a long time," Tham said.
As a transgender person, Phung faced discrimination from society and could not get a stable job.
"Discriminated against by people around them, they dream of living as women who are loved by men and have children," said Tham. "Deep inside they are normal people with emotions of love and hate. They live together and obey the law."
Distributor Blue Productions originally planned to screen the documentary only 16 times in HCM City. However, they organised more shows to meet increasing interest.
"I decide to distribute the documentary because it is a really good film," said actress Hong Anh, the company director. "Our company distributes independent films to support young filmmakers. We aim to make short films, art-house films and documentary films more popular because they have not been shown in the cinema system."
Blue Productions hopes the documentary screening will improve the quality of life for the lesbian, bisexual, gay and transgender (LBGT) community.
"It's great for me and the distributor as well that the documentary has been warmly received by audiences. It is a good sign for independent films in Viet Nam," said director Tham. "Many other characters in the documentary have not had the chance to watch themselves on screen. I hope to screen the documentary free for all the country's traveling troupes."
The documentary will be screened at Ha Noi's French Cultural Centre. There will be three screenings every day from December 29 to January 2 at 5pm, 6.45pm and 8.30pm and six on Saturday, January 3. Tickets cost VND40,000 (US$1.8). To book them, call 0906 051 256 or 0908 003 319.
VNS/VNN