VietNamNet Bridge – Stamp collection is a popular hobby in Vietnam that attracts many people from amateurs such as students and retirees to professionals. They collect used stamps with postmarks or new stamps without postmarks, or both to their liking.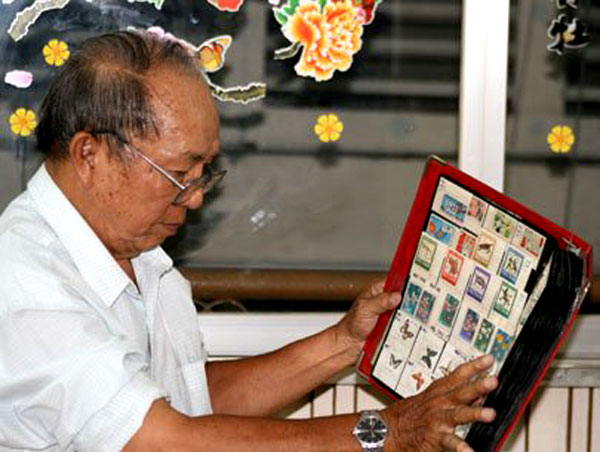 Do Thanh Kim and his valuable collection.

An elderly man identified as Duc in HCMC's Go Vap District says a lot of people prefer collecting stamps. Anyone can easily possess a collection of their own. However, there are not many collectors having striking stamp collections.
Stamp collection also depends on socio-economic influences. As a result, not a few people have to sell their collections while other collectors on the other hand have a chance to get access to these collections on this account, Duc added.
Another enthusiast named Le Minh Phong says, "I began collecting stamps when I was a child. For the past 10 years, I have frequented news organizations to search for stamps because these places have a lot of letters from readers."
"I do not actually care about whether they are used or new stamps. I collect all because I have a great passion for this hobby," says Phong.
Stamp collectors in the city all know veteran collector Do Thanh Kim, a consultant of the Viet Stamp Club. Kim has collected stamps since 1958 and now possesses many inspiring collections. Some have offered to pay him over VND20 million for a collection but to no avail.
Kim has received many certificates of merit from the organizers of Viet Stamp exhibitions.
At first, Kim's wife thought he was crazy because he spent a lot of money buying what she described as useless. It was not until 1970 that a man had come to Kim suggesting buying one of his valuable stamps for US$1,300. His wife could not believe her eyes when a man was ready to spend this large amount of money on a little stamp. Afterwards, she threw support behind his stamp collection hobby.
SGT/VNN