VietNamNet Bridge - Of the 121 contestants of the Miss World 2014 beauty pageant, Nguyen Thi Loan was named in the top 25.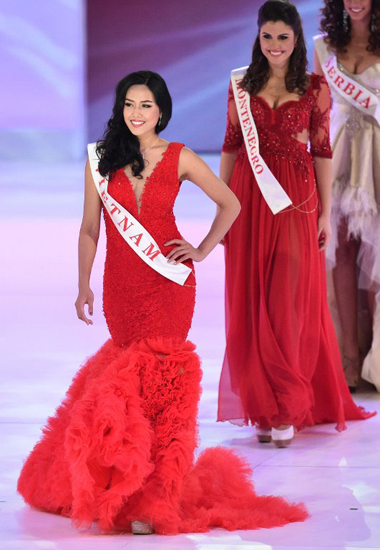 The final night of Miss World 2014 took place in London, England last night. After the winners of the sideline competitions were announced, the names of 25 candidates who moved forward to the next round were named, including Nguyen Thi Loan of Vietnam.
In the finale, Nguyen Thi Loan wore a red evening gown designed by Le Thanh Hoa. She looked confident and brilliant with loose natural hair.
This result was quite unexpected to Vietnam because she was not in the top five of all sideline competitions.
The Top 10 was announced later without the name of the Vietnamese representative.
Nguyen Thi Loan, born 24/07/1990, used to be a volleyball player and studied at the Hanoi University of Trade.
She is 1.76 meters tall and weighs 58 kg, with body measurements of 90-63-93. She once won the Miss Sea title and was in the top five of the Miss Vietnam 2010 pageant. She also ranked third in the Miss Ethnic Vietnam beauty contest in 2013.
Besides Vietnam, the Top 25 included contestants from Bolivia, Brazil, China, Dominican Republic, England, Mexico, Guyana, Hungary, India, Indonesia, Malaysia, South Sudan, Kenya, Netherlands, Philippines, Australia Russia, Scotland, South Africa, Sweden, USA and Trinidad & Tobago.
Miss South Africa, 22-year-old Rolene Strauss, was crowned Miss World 2014. She is the third South African Miss World, the country having held the title in 1958 and 1974. Miss Hungary, Edina Kulcsar, was the runner-up and Miss United States, Elizabeth Safrit, came third.
Miss Malaysia won the talent competition in a live sing-off with Miss Scotland.
In the Beauty with a Purpose section, the judges gave equal first place to Misses Brazil, Guyana, India, Indonesia and Kenya.
Miss Finland topped the sporting competition; Miss United States was the multimedia winner; Miss Bosnia and Herzegovina won the top model round and Miss Sweden triumphed in beach fashion.
The 10 contestants who topped the final scoreboard were from India, South Africa, England, Guyana, Brazil, Hungary, Kenya, United States, Mexico and Australia. They were joined by Miss Thailand, who won the people's choice award, voted for by people around the world through a mobile phone app.
The judges chose Miss Hungary, Miss Australia, Miss South Africa, Miss United States and Miss England as their top five before picking their top three.
The event also featured a special 20-year award for 1994's Miss World, Bollywood star Aishwarya Rai.
T. Van