VietNamNet Bridge – Days after noted Vietnamese artist Le Pho's View from the Hilltop set a new auction record, art collector Nguyen Minh still has a lingering feeling of regret.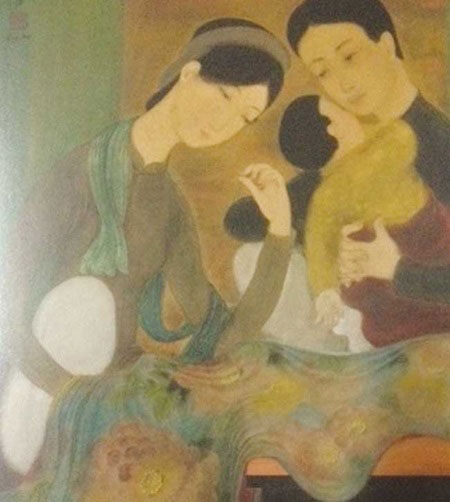 Six figures: The Quiet Moment (above), which Le Pho painted in 1938, was sold for US$378,300 at the Christie's Asian 20th Century and Contemporary Art auction on November 22 while Nguyen Phan Chanh's The Betel Nut Seller (below) from 1931 was sold for more than $409,000. As many as 87 paintings were up for sale including three by Pho and Chanh.
Minh couldn't match the final bid of US$840,000 during the November 22 auction at Christie's International in Hong Kong. However, he felt proud to see an artwork by a Vietnamese painter sell for such a high price.
"When the auctioneer struck the last hammer, everyone in the auction hall stood up and applauded for minutes. It seemed everybody there was astonished because they hadn't expected Le Pho paintings to exceed $500,000," Minh recalled.
Le Pho (1907-2001) was widely regarded as one of the greatest Vietnamese painters of the 20th century, according to Jean-Francois Hubert, a senior consultant in Vietnamese Art at Christie's International in Hong Kong.
"After returning to Viet Nam upon the completion of his studies at the Ecole des Beaux-Arts in Paris (National School of Fine Arts, Paris), Le Pho taught and inspired a new generation of painters in Viet Nam at the Ecole Superieure des Beaux Arts de l'Indochine (Indochina College of Fine Arts) in Ha Noi," Hubert said.
At a 2012 Sotheby's auction in Hong Kong, Pho's Le Rideau Mauve (The Purple Curtain) fetched more than $373,500, the highest-ever price for a Vietnamese artwork. One year later Nguyen Phan Chanh's artwork La Marchand de Riz (The Rice Seller) set a new record of $391,000.
Pho has auctioned more work than any other Vietnamese painter. In 2007, the US-based Leslie Hintman Auctioneers valued the painter's Woman in Garden between $30,000 and $50,000. His smaller paintings sell for $6,000-8,000.
"Le Pho's core work was based on a search for meaning, and he actively sought this in the various art forms he was exposed to during his time in Paris," said Hubert from Christie's.
"Vietnamese culture and aesthetics however, played a key role in the development of his own distinct style. It was the positive, constructive and fruitful confrontation between the West and the East that led to the beauty and excellence of Le Pho's body of work."
Reserved manner
Although both Christie's and Sotheby's see high potential for Vietnamese art, they still make reserved offers during auctions.
Work by the artists who graduated from the Indochina College of Fine Arts after Pho, including Chanh, Duong Bich Lien, Mai Trung Thu and Vu Cao Dam, draws a lot of attention at international auctions. Nevertheless, during regional auctions in Hong Kong, Singapore, Macau, Shanghai, Indonesia and South Korea, Vietnamese paintings are often set at a lower price.
Many curators say that this is not because "Vietnamese painters are untalented, but the Vietnamese art market is uncontrollable. Art by Vietnamese painters in the 20th century is often faked whilst contemporary artists have their works imitated or even reproduce their own works," reported Sai Gon Giai Phong (Liberated Sai Gon) newspaper.
In 2008 when Sotheby's in New York put up for sale five paintings by Bui Xuan Phai, the painter's son Bui Thanh Phuong immediately denounced four of them as fake.
The fake painting Cheo was sold for $19,300, the highest price for a painting drawn on newspaper by a Vietnamese artist. The copier did not copy any particular painting by Phai but rather drew on several.
"The fundamental mistake of the copier is that he was unaware that Bui Xuan Phai's paintings were of high generalisation. Phai never described anything in the paintings in too much detail. For example, in many paintings, he did not paint the eyes, nose or mouth of cheo (popular theatre) actors," Phuong said.
Another fake painting of Phai, Cheo Actors, was sold by Sotheby's in 2008 for the sky-high price of $124,200.
"Local art collectors often compete for small fish in a small pond, but have to leave the control of market share in the hands of foreigners in large, international playing grounds," said artist Phuong.
"They come to Viet Nam, buy fake paintings of many artists and then resell them at auctions at a price like the original ones. Consequently, international art collectors and dealers do not have enough belief in Vietnamese paintings for fear of the copyright issue."
VNS/VNN