Bun Cha listed top 10 world's best street food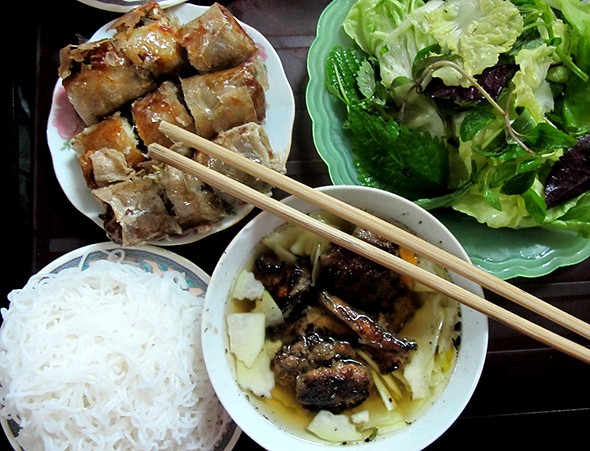 National Geographic has named Vietnamese dish Bun Cha as top 10 world's best street food.
Bún Chả is made from rice noodles with barbecue pork, often combined with Nem (spring rolls).  It demands a special fish sauce with sliced green papaya and fresh herbs.
Among other delicious cuisines include momos of Nepal, baozi of China, Doubles cake of Thailand, Dahi Vada (deep fried fritters soaked in savory yogurt) of India,  Donuts with spiced honey of peru, and Balut of the Philippines.
Nguyen-era royal records on display in Thua Thien – Hue
An exhibition of royal administrative documents, which dated back to the Nguyen dynasty (1802 - 1945), opened in central Thua Thien – Hue province on November 21.
As many as 153 ancient documents classified into 9 categories was on display, shedding light on the era's political, diplomatic and military affairs to socio-economic and cultural issues.
Notably, there were 16 administrative documents on the Nguyen Dynasty's enforcement of territorial sovereignty over Hoang Sa (Paracel) archipelago.
This is the second time that an exhibition of this kind has been co-organised by the Hue Monuments Conservation Centre and the National Archives Centre I, marking the upcoming Vietnam Cultural Heritage Day (Nov. 23).
The collection of royal documents, bearing the seal and handwritings by the Nguyen kings, was recognised as documentary heritage of the Memory of the World Programme in Asia-Pacific by UNESCO on April 14 this year.
Week showcases Vietnam's sea and islands
An art show on November 21 at the Vietnam Culture and Arts Exhibition Centre in Hanoi kicked off the opening of the Vietnam Sea and Islands Culture and Tourism Week festivities.
At the opening, Deputy Minister of Culture, Sports and Tourism Vuong Duy Bien said the celebration aimed to raise awareness of the need for higher levels of investment to develop the economic potential of the nation's sea and island localities to their fullest.
The event has gathered representatives from culture, sports and tourism departments in 13 cities and provinces throughout Vietnam including Hai Phong, Thanh Hoa, Nghe An, Ba Ria-Vung Tau and Kien Giang.
A wide array of activities have been organised including an exhibition entitled "Culture Heritage, Vietnam Sea and Islands Tourism", which highlight the tangible and intangible value of sea areas throughout Vietnam.
An exhibition of artifacts recovered from an ancient ship that sank at Cu Lao Cham, including more than 240,000 ceramic objects from Chu Dau in northern Hai Duong province dated back to the 15th century has also been planned.
In addition, an art and photo exhibition has also been set to display 60 paintings by Hanoi artists on sea and islands and more than 100 photos on Vietnamese culture.
A number of museums have also sponsored an exhibition entitled "Building and Protecting the Nation's Sea and Islands".
The event runs to November 24.
Downtown Ha Noi to feature Italian fashion exhibit
A unique fashion exhibit featuring the 22 latest designs of noted Italian designer Raffaella Curiel will go on display here from November 24 to December 7.
The exhibit will highlight the eclectic socialism of Curiel's artistic creative resources and the creation of a rich collection using an unforgettable style.
Fashion was in the blood of Curiel from the time she was born near Trieste in 1943. Her mother Gigliola owned an atelier in her native city that was notorious among aristocrats of her time.
She was the first to take the Italian ready-to-wear fashion to the United States with "Curiellino", a casual dress that women could wear all day long.
The Italian Embassy in Viet Nam is organising the exhibit, which will coincide with the visit to Viet Nam of Italian Deputy Minister for Foreign Affairs and International Co-operation Benedetto Della Vedova.
The exhibit will run at Casa Italy, 18 Le Phung Hieu Street.
Vietnamese and foreign designers talked type
Vietnamese and foreign experts met in "Designers talk type" within the context of the "Typography" exhibition which was held in the Goethe Institute in Hanoi on November 22.
The event was participated by three designers who have spent their professional lives working closely with typography as they each gave short, illustrated talks followed by a panel discussion with questions from the audience. The designers discussed what creating with typography meant to them.
They included Richard Moore, Chief Creative Director of Richard Moore Associates: "Playing with Type", Hiep Ha Zung, Visual Artist and Instructor at FPT Arena: "Typography with Living Standard", and Dam Ca Pham, Designer and Instructor at the Vietnam University of Fine Art and Hanoi Architectural University: "A very short history of typography in Vietnam".
The "Typography" exhibition displayed 200 winning works of the 60th International Typography competition of the New York Type Directors Club. The competition attracted 1,700 entries from 43 countries over the world.
Winners of climate change photo contest announced
The Cultural Development and Exchange Fund (CDEF) under the Embassy of Denmark announced winners of the Talent Prize 2014 "Climate Change in Photography" during its closing ceremony on November 21.
The event was also organised by Ashui Vietnam Corporation and The Thao Van Hoa (Sport and Culture) newspaper.
The competition received a total of 250 entries since its launch five months ago.
The photo "Destruction by human-beings" by Mai Thanh Chung won the Grand Prize whilst "Panorama of the street after the rain" by Dao Duc Thanh was selected as the best photo taken with a smartphone.
"Behind the city" by Pham Doan Tuan was awarded "The People's Choice".
Danish Ambassador to Vietnam John Nielsen said the annual Talent Prize is set to award outstanding young Vietnamese artists within specific art sectors.
This year's theme aims to encourage the young artists to reflect various impacts of climate change on daily life in photography, he said.
He expressed his hope that the contest has contributed to raising the public awareness on those impacts and how each people can make a difference.
The Talent Prize is one of CDEF's programmes to provide support for contemporary artists under 35 years old in Vietnam.
Since founded in 2011, CDEF has been supporting over 60 projects in the different fields, including contemporary dance, performance art, publishing and filmmaking.
RoK, Vietnam organise food festival
The Republic of Korea-Vietnam Food & Culture Festival 2014, will be held in Hanoi on November 29-30, with the aim of providing a wide range of activities that visitors will enjoy.
Korean restaurants in Hanoi will show visitors how kimchi and other Korean food are made while Vietnamese-Korean families will demonstrate how Vietnamese cuisine is prepared.
Other cultural activities to be highlighted at the festival include a performance by Van Mai Huong, one of Vietnam's favourite pop singers, as well as film screenings; the wearing of the hanbok, a traditional Korean dress; and picture taking to attract young visitors.
Organisers, the RoK Embassy in Vietnam and Vietnam's Ministry of Agriculture and Rural Development, expressed hopes that the festival would be a good place for the youth and the entire family to enjoy the weekend.
The festival will take place at Calidas Keangnam Hotel at the third floor of Keangnam Landmark 72, Plot E6, Pham Hung road in Cau Giay district. Entrance is free. All proceeds will go to Fund for the Poor in Vietnam.
'Comic relief' at Fukushima event
Fans of manga enjoyed an opportunity to learn how to create the Japanese comics during the Fukushima Festival held at the Vietnamese Women's Museum yesterday.
The museum and the Fukushima-Viet Nam Friendship Association organised the event, which aims to enhance the friendship between Viet Nam and Japan.
One of the festival highlights was a seminar on manga, or comics created in Japan using a style developed in the 19th century, that the International Art Design College hosted.
At the seminar, Japanese manga artists introduced the comics business for advertising and commercial purposes.
The organisers also presented comics about manju (steamed confectionery with red bean paste) and sake (Japanese rice wine).
Visitors had a chance to enjoy manga works at an exhibit and learn more about Japanese culture, especially how to create manga. Participants also experienced making comics using professional tools.
The event included various activities such as exhibits showcasing the accomplishments of Fukushima residents, whose resilience and strength enabled them to recover from a tsunami and nuclear plant disaster in March 2011.
The twin disasters nearly destroyed this peaceful and beautiful city, the capital of Fukushima Prefecture. Over the past years, residents have been living and working together to bring back the city's inherent beauty.
The festival provided information about Japan's traditional arts such as ikebana (flower arrangement demonstration), tea ceremony and yosakoi dance, as well as Fukushima's specialities, including nihonsyu liquor and the craft of painting dolls.
The exhibit also showed the beauty of the traditional culture, nature and sustainable development, as well as knowledge and understanding, of this Japanese city.
This was the second time the festival was organised here. Last year, the festival honoured the contribution of Viet Nam to the city's recovery after the disaster.
Shiraiwa Yasuo, president of the association, revealed that about 3,000 people took part in the festival.
"As the first festival was more successful than expected, we decided to organise another one, highlighted by a manga seminar and a fashion show with designs by students from Imaizumi School," Yasuo explained.
"It's been three-and-a-half years since the disaster, and we consider the festival this year as an occasion to show Fukushima today, with strong vitality, natural beauty and safe agricultural products," he said.
At the festival, Fukushima resident Agemi Shiheware revealed that she and her companions brought with them numerous beautiful tea cups and other tools used in the tea ceremony to enable festival visitors to take part.
"We introduce pottery tea cups with sophisticated patterns and ask the Vietnamese people to join our tea ceremony," she explained. "During the festival, we organised eight tea ceremony sessions to introduce our traditional culture."
"We also introduced business comics that focused on manju, our speciality, and we also offer manju during the tea ceremony," Shiheware added.
Weekend art exhibition raises funds for children with cancer
More than 100 artworks painted by students were sold to raise money for children with cancer at the Saigon Pearl Residential Complex in HCM City's Binh Thanh District over the weekend.
The students, aged seven to 15, used a variety of materials including pencils, oil and watercolour to paint landscapes and daily activities.
The young artists are from Australia, France, Malaysia, Chinese Taipei and Viet Nam, according to Schoolmistress Tran Lien, one of the organisers of the exhibition.
Fifty per cent of the proceeds from the sale of the paintings will be used to help disadvantaged children diagnosed with cancer, as part of the "Thuy's Dream" programme launched by Tuoi Tre (Youth) newspaper.
Blast from the past as 1970s star makes rare appearance
A famous face from the 1970s musical scene, one that has rarely been seen on stage since 2000, has resurfaced.
Bao Yen, 56, returns early next month for a monthly tribute to famous singers that Viet Nam Television has been running for the last year and a half.
Though there will be trademark songs like O Hai Dau Noi Nho (Missing Each Other), Thu Tinh Cuoi Mua Thu (Love Letter at the End of Autumn), Chuyen Hop Tan (A Story of Love and Heartbreak), and Mua Tren Pho Hue (Rain in Hue City), Dau An (Milestone) will not be all about Yen's hits from her three-decade career.
"I will sing all genres I sang — from bolero to pre-war music, foreign music," she told a press conference earlier this week.
The foreign pop-rock songs will bring memories of her halcyon days in the 1970s and 1980s when Yen was the reigning pop music queen.
"I will sing a medley of four English songs and Hotel California fully," she said.
She will also speak to the audience, sharing memories and stories about her career and Vietnamese music. On stage with Yen will be her two singer-musician sons Khai Ca and Bao Chau, famous pop and semi-classical singer Duc Tuan, and woman singer Hien Thuc.
Yen grew up in the south and made her reputation in HCM City from 1975 onwards.
She was a versatile talent who was successful at most music genres; pop-rock, bolero, lyric, pre-war music, country and folk: there was virtually nothing she could not sing, it seemed.
Many composers like Thuan Yen and Thanh Tung chose her to launch their debut works.
Yen was not only a star singer but also a fashion icon for long.
Next month's live show — at 8pm on the first Saturday of the month as usual — at the Nguyen Du Sports Stadium will be broadcast live on VTV 9 and local channels around the country.
Photo exhibition features Vietnam's ethnic groups
A photo exhibition featuring the beauty of Vietnam's 54 ethnic groups is underway at the Temple of Literature in Hanoi.
The exhibition showcased 250 selected photos from a competition which drew the participation of 837 photographers nationwide with nearly 11,000 entries.
Entries were required to match with the competition's themes, including daily activities, productive labour life, tradition, custom, culture and costumes of all ethnic groups in the country.
First prize was given to Truong Huu Hung in the central province of Binh Thuan with photo named 'Playing Together'.
Two second and three third prizes along with five consolation prizes were also presented at the opening ceremony on November 22.
The exhibition will last until November 27.
Artistic photo exhibition kicks off
A photo exhibition tittled ' Colors of ethnic groups in Vietnam' yesterday kicked off at the Van Mieu-Quoc Tu Giam relic that is believed to be the country's first university.
The largest ever exhibition showcased 250 selected pics from a photo competition with the participation of 837 photographers nationwide with nearly 11,000 entries.
Photos are required to match with the competition's content including daily activities, productive labor life, tradition, custom, culture and costumes of all ethnic groups in the country, especially minority ethnic groups, spirit of national solidarity, new rural development to improve social-economic conditions.
First prize was given to Truong Huu Hung in the central province of Binh Thuan with photo named ' Vui dua ' ( Playing together ). Photographer Nguyen Thanh Ha, a resident in Hanoi with the photo ' Net xua' (Old characterists) and photographer Nguyen Cong Binh also in Hanoi with the photo ' Ngay mua o pho Cao, Ha Giang (Harvest time in Cao Street, Ha Giang province ) won the second prize.
The third was given to Bao Hung, Luong Chinh Huu in the highlands province of Dak Lak and Duong Duy Long in the northern province of Ninh Binh  with ' Tham am ' ( Checking the sound), 'Ma nang - Dung si bat voi ( Ma nang - Elephan catcher) and " Qua que ( Countryside gift).
The organizer also presented five encouragement prizes.
Photographers awarded for honouring beauty of Vietnamese ethnic groups
Winners of a photo contest honouring Vietnamese ethnic groups were announced in Hanoi on November 22 with the first prize going to Truong Huu Hung from Binh Thuan province for a picture entitled 'Playing'.
Two second prizes were won by Nguyen Thanh Ha and Nguyen Cong Binh, both from Hanoi, for their photos named 'The Old Days' and 'Festive Days in Pho Cao commune, Dong Van district, Ha Giang province', respectively.
Three third and five consolation prizes were also presented at the awards ceremony.
The contest was launched in June by the Vietnam Association of Photographic Artists (VAPA) and the Association for Literature and Arts of Ethnic Minority Groups. It received nearly 11,000 entries submitted by over 830 photographers from 62 cities and provinces across the country.
The entries reflect the daily life, traditional customs and costumes of Vietnamese ethnic groups living across the country, particularly ethnic minorities.
The competitors also captured in their works the outcomes of Party and State's efforts to preserve and promote Vietnamese cultural identities as well as achievements made by indigenous people in developing rural areas, reducing poverty and eliminating hunger.
As many as 250 best entries of the contest are on show at an exhibition that opened the same day and will last until November 30 at the Temple of Literature in Hanoi.
Vietnam possesses unique and treasured maritime cultural heritage
Deputy Minister of Culture, Sports and Tourism Vuong Duy Bien has said that Vietnam's sea and islands possess numerous, unique and treasured cultural heritages despite going through many historical changes.
Deputy Minister Bien made the statement at the opening ceremony of the Vietnam Sea and Islands Week in Hanoi on November 21.
The organisation of the week, he said, is intended to advertise and honour the valuable treasure to Vietnamese people and international friends, thus calling for investment to boost socio-economic, cultural and tourism development in the country's coastal localities.
The programme is also expected to educate youngsters and students about Vietnam's heritage and raise individual responsibility in protecting and safeguarding the country's sea and islands, he added.
The four-day programme is featuring a string of activities, including exhibitions, arts performances, and booths showcasing typical cultural features, tourist products, and the signature dishes of 13 cities and provinces by the sea.
Visitors can buy handicraft products made by the locals for souvenirs while listening to a traditional art form of the coastal locality and then taste delicious food from the sea, such as oyster soup, jellyfish salad, 'cha ca' (fish paste), and 'banh da cua' (crab noodle) and nem cua be (crab spring rolls) at very reasonable prices.
Exhibitions hosted by the Naval Museum, Museum of the Border Guard, and Vietnam's Coast Guard will also be up for viewing.
The displays include photos, objects and mocks-up on the forces' history, operation and achievements as well as the bond between the people and army.
"It is the first time we have showcased exhibits on Vietnam's Coast Guard", said Colonel Luu Tien Thang. The exhibits, sourced from the service's traditional house, reflect the tradition and merits of the forces since it was established 16 years ago, particularly its contributions to safeguarding the country's sea and islands, he said.
Nguyen Thi Lan Phuong, a student from the Vietnam National University in Hanoi, said that she was impressed by the exhibition's ancient documents and old maps of Vietnam, drawn by both the Vietnamese and Westerners, which assert Vietnam's undeniable sovereignty over its sea and islands.
She thought that the Vietnam Sea and Islands Week is a meaningful and useful event as it helped her increase knowledge of her motherland's history and the national sovereignty.
The week is taking place at Vietnam Exhibition Centre for Culture and Arts, 2 Hoa Lu street, Hai Ba Trung district until November 24.
Competition seeks new young faces for 'Cheo' stage
A national competition for professional 'Cheo' (traditional opera) young talents kicked off in Ninh Binh province on November 22.
The six-day event, hosted by the Department of Performing Arts under the Ministry of Culture, Sports and Tourism, attracted 45 Cheo artists from eight art troupes nationwide.
The competitors, all under 33 years old, are expected bring to the stage 37 Cheo pieces, each of them lasting less than 20 minutes while highlighting typical features of the art form.
Their performances are judged by a jury comprising of stage critics - associate professor Tat Thang; former director of Vietnam Cheo Theatre Bui Dac Su; Director of Hanoi Cheo Theatre Thuy Mui; former director of the Military's Cheo Theatre Dao Le; and former lecturer of Hanoi University of Drama and Cinematography, Thanh Binh.
The entrants should feature Cheo tunes, present the feelings and personalities of their characters, and inspire the audiences.
The competition offers a good opportunity for young Cheo artists to exchange talents and qualification while seeking new and young talented faces for Cheo stage.
Old house preserved for generations
An old wooden house in Quang Nam Province has become known for its great value after the owner got many offers, some as much as a million dollars, and he refused to sell.
Because of its architecture and age, the house of Nguyen Dinh Hoan in Loc Yen Village, Tien Canh Commune has been visited by many historians and researchers. Hoan's father told him that the house was built in around 1850. It took three years to complete, and was built with the wood of jackfruit trees.
It was built in the typical style of the period, with a screen walls in the front and following the rules of fengshui. The house is especially well-known for the carvings on the wooden pillars and walls. Detailed depictions of flowers, fruits and pheasant are carved on the beams.
From generation to generation, Hoan's family has kept and preserved the home, and so to him it is priceless. Hoan said his father refused an offer from Ngo Dinh Diem in 1939. His father pointed to the words on the beams which read, "An inherited house built by the merit of ancestors cannot be sold."
In 1960, Ngo Dinh Diem became the president of southern Vietnam and tried to buy the house again but failed. Hoan said local authorities tried to force his father to sell, but he was determined to preserve it.
The house has survived time and war. Hoan said, "I'm the fourth generation to live in this house. After I die, my children will stay and treasure it."
VNS/VNA/VOV/SGT/SGGP/ND