Disc-jockey competition kicked off
The Disc-jockey competition – BUDJs showing off the talent and skills of the DJs in the country will be kicked off on September 25.
The six finalists, including Deejay Brian, Zon C, Po Po Dương, Bee Tam, Silk and Ruby Pink will spend 12 weeks for training from the US-based duo DJs KimKat.
The contestants will compete in their techonoly, talent, performance skills and the crowd-rousing ability; and eliminated each week
DJ duo "Kimkat" consists of two very talented females, Kim Lee and Katrina Nova. Kim Lee is Vietnamese and French and Kat Nova is Russian.
Since meeting in 2007, DJ KimKat connected over their mutual aspirations and have quickly become a highly sought act in the DJ commodity. The Los Angeles natives have toured across the United States from Scottsdale to New York and internationally from Korea to Vietnam, captivating crowds with their unique electro sets. Expertly infusing EDM, Hip-Hop, Trance, and Top 40, DJ KimKat grace any venue that they play at with unrivaled energy and compelling music selection. Their stylish visual aesthetic brings another tantalizing component to an already enviable presentation.
The show will be aired on MTV Vietnam and Youtube.
Archaeologists find prehistoric ceramic pieces in Truong Sa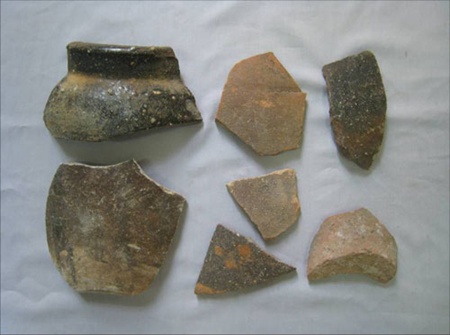 Archaeologists yesterday made public numerous artefacts they had found during the latest excavation off the Truong Sa, Nam Yet, Phan Vinh and Son Ca islands in Khanh Hoa Province.
During the excavation in the province's Truong Sa District in June, archaeologists examined the whole area and opened a one-square-metre-wide excavation pit in Truong Sa island.
They found four pre-historic ceramic pieces, a piece of a ceramic bowl belonging to the Tran dynasty, two white pottery pieces inscribed with deep-blue patterns of the Le dynasty and various glazed terracotta pieces of the 18th and 19th centuries.
The objects unearthed during the excavation in Nam Yet and Son Ca islands include a number of glazed terracotta pieces of the 18th century.
Deputy head of the Viet Nam Institute of Archaeology Bui Van Liem, who was a member of the excavation team, said, "The finds continue to reinforce the conclusions made from previous excavations in 1993, 1994, and 1999.
"The results clearly are scientific proof of the marine activities of the prehistoric inhabitants as well as the Vietnamese people in the country's history. These materials contribute to affirming vividly and strongly the territorial sovereignty of the country over the land and waters of Viet Nam."
Model agency apologises for bikini photo leak
The director of Venus Model Agency has issued an apology to Vietjet Air after several photos of bikini-clad models supposed to be used in an upcoming ad campaign were posted to a social network.
Vietjet Air and Venus collaborated to create a photo calendar for Tet. The photo shoot took place at Tan Son Nhat Airport in HCM City, with 10 models wearing red and yellow bikinis, the colors of Vietjet Air.
The photo shoot attracted passers-by and even employees at the airport. Several photos taken unofficially were then posted on the internet.
While some commented that the photos were inappropriate, others were of the opinion that it was a fresh and unique idea.
On September 22, Vu Khac Tiep, director of Venus Model Agency, said many on-lookers used their mobile phones to take photos, so the situation got out of control.
He said, "These are just backstage photos. The leakage is beyond our control and we sincerely apologise to Vietjet Air. We removed the photos from Facebook and hope that Vietjet Air will understand our situation."
He promised to follow the security requirements of the contract and would carry out any necessary measures to contain the spread of unofficial photos.
German Katona twins meet city audiences
Twin guitarists Peter and Zoltan Katona from Germany will have a one night concert at 7 p.m. on Saturday at the HCMC Conservatory of Music in District 1. This is the twin's second trip to HCMC where they will play masterpieces by Bach to popular songs of The Beatles.
Peter and Zoltán Katona are deemed not only the best guitarists playing traditional works in the world but also convince audiences by playing contemporary musical pieces. They have been known for numerous awards in New York, London, Germany, France and Hungary, and have run solo concerts around the world, including Concertgebouw in Amsterdam, Konzerthaus in Vienna, and Suntory Hall in Tokyo, among others.
Tickets to the show are free at Goethe Institute in HCMC at 18, Road No. 1, Do Thanh Condo, in HCMC's District 3, starting from 9 a.m. on September 23.
Further information about the artists are available at http://www.katonatwins.com or www.goethe.de/vietnam.
Classical concert promotes diversity
Classical music lovers can appreciate some of the genre's canonical works by composers Vivaldi, Bartok and Astor Piazzolla at the J-Classic on October 4 in Ha Noi.
Pieces by the three composers will be performed by the Ha Noi Ensemble & Friends, a collection of young artists and teachers from Viet Nam National Academy of Music.
The evening, presented by the Japan Foundation Centre for Cultural Exchange, also features a variety of classical and popular tunes from Japan by Nanae Mimura, Takatsugu Muramatsu and Shin-itchiro Yokoyama.
The J-Classic is part of the JF Garage Concert, an annual concert series held in the Japan Foundation's garage and courtyard.
The event aims to promote musical diversity to Ha Noi, especially in introducing Japanese music and musicians.
The free hour-long concert starts at 8pm. at 27 Quang Trung, Hoan Kiem, Ha Noi.
Further information can be found at http://jpf.org.vn/2014/09/20/ha-noi-jf-garage-concert-vol-04-hoa-nhac-co-dien-nhat-ban/.
Quang Ngai's specialities gain national recognition
On January 22, 2013, the central province of Quang Ngai announced that four of its local specialties, the Tra River bong fish, keo guong (transparent candy), don (shellfish) and Tra Bong cinnamon, have won national awards.
The bong fish and don made them into the list of 50 Vietnamese specialties two years after their application to the Vietnam Records Organisation.
Tra River bong fish tastes best in summer and is caught with a 1m-long bamboo rod with a sharp spear in the middle. The fish is cooked once it has been marinated in seasoning unique to the locality. The fish tastes peppery, a little salty and savoury.
Tra Bong cinnamon earned its place on the list of 10 natural specialities due to its potency and aroma. Used as a spice or essential oil, cinnamon has medicinal properties. Its bark, wood and leaves can be used to make wooden furniture, pots, and tea boxes.
The Asia Records Organisation also recognised it as one of the top specialty gifts of Asia.
Considering its value and income- generating potential, Tra Bong district is planning to expand cinnamon cultivation and run a promotional campaign.
Keo guong, named in the country's top 10, is made of melted refined sugar blended with lemon juice and vanilla powder to create a gooey mixture. Roasted sesame seeds and peanuts are sprinkled on top. Once cooled, it is cut into bite-sized pieces.   
Even just a small piece transmits the treat's sweetness, crunchiness and chewy texture.
Don shellfish is also one of the top 50 Vietnamese specialities. It is boiled after soaking for four hours in water which is used to wash rice.
Once their shell opens, the meat is taken out and the broth is reheated and seasoned with herbs, ground pepper, garlic, shallots and fresh vegetables.     
Don can be served in a number of dishes, including soup, porridge and summer rolls.
Today, it is not just consumed in the locality but has made its way to other cities and provinces.
Le Quang Thich, Standing Vice Chairman of the provincial People's Committee, asked the Department of Culture, Sports and Tourism and relevant agencies to facilitate lending in order to improve the specialties' quality and promote them in the global market.
The department also awarded certificates to six companies that produce and sell the winning specialties.
VN, RoK boost cooperation on literature copyright regulations
An agreement was signed between the Vietnam Literature Copyright Centre (VLCC) and the Korean Society of Authors (KOSA) in Hanoi on
September 23, aiming to promote bilateral cooperation on literary authority.
In the signing ceremony, Vice Chairman of the Vietnam Writers' Association Nguyen Huu Huan said under the agreement, VLCC and KOSA commit to cooperating and supporting each other in protecting and developing the two countries' copyright industries.
Joint activities include supporting each other to protect copyrights, coordinating in addressing copyright-related issues, and sharing information on ensuring authority, he added.
Each year, the two agencies will introduce 20-50 book titles to their countries' readers in various forms such as translating from Vietnamese into Korean and vice-versa, and publishing works as hard copies and e- books.
They also agreed to jointly manage the authorisation process and enhance the popularisation of literary works throughout the world.
KOSA vowed to support VLCC in training its staff on copyrights, while VLCC pledged to protect copyrights for Vietnamese authors and KOSA members whose works are used in Vietnam .
KOSA, established in 1984, is a member of the International Confederation of Authors and Composers Societies and the International Federation of Reproduction Rights Organisations.
Meanwhile, VLCC, administered by the Vietnam Writers Association, was founded in 2004 to protect the copyrights of its members' literary works. It is also member of the International Federation of Reproduction Rights Organisations.-
2014 Contemporary Dance Festival to kick off
The fourth International Dance Festival 2014 entitled 'Europe meets Asia in Contemporary Dance' will be held from September 24-28 at the Tuoi Tre (Youth) Theatre in Hanoi.
Speaking at a press conference in Hanoi on September 23, Director of the Hanoi Goethe Institute, Almuth Meyer-Zollitsch said that "since 2011, this festival has successfully contributed to a growing awareness of contemporary dance in Hanoi, and has been well received, with enthusiasm and applause by both media and audiences".
During the festival's five evenings, the audiences have an opportunity to enjoy contemporary dance from different countries, including Belgium (Wallonie-Bruxelles), Germany, France, Japan and the host country, Vietnam. This year's festival draws the participation of Sweden and Finland for the first time.
This year's festival will open on September 24 with 'Scarabe' by Finnish choreographer Virpi Pahkinen. Premiered in Helsinki in 2012, the central figure of the dance, the scarabe, navigates a "magnetic memory field" to the tune of Japanese Koto strings.
Also at the opening night, Japanese choreographer, Yo Nakamura will offer the audiences the prize-winning Yokohama dance, 'Good Bye'. Using scripts from Yasujiro Ozu's classic films, Tokyo Story and An Autumn Afternoon, Nakamura explores the gap between the characters' dialogue and their inner minds.
The audiences also have a chance to enjoy collaboration between German choreographer Arco Renz and five soloists from the Viet Nam National Opera Ballet gives life to the billed piece, Ha Noi Stardust, on September 26. The choreography envisions a dynamic encounter between classical ballet and a youthful Vietnamese society.
Arco Renz, Choreographer of 'Hanoi Stardust', shared "'Hanoi' – obvious because it is a project taking place in Hanoi, and the work is with Vietnamese dancers. 'Stardust' is something we cannot grasp. Maybe it's a dream, soothing that we are striving for. It might have to do with glamour, with being famous" and "I take the very basic layer of its definition, meaning "something magical, a charismatic quality or feeling", that is reason to Arco Renz choose this name.
Meanwhile, French artists will premiere Kublai Khan Investigations Dance Group's contemporary ballet piece, 'Your Ghost is Not Enough'. The Wallonie-Bruxelles troupe will perform two pieces, 'Havran' (The Raven) by choreographer Jaro Vinarsky, and 'La Tour Des Vents' (The Breeze Rustling) by choreographer Karine Ponties and Vietnamese dancer Nguyen Van Nam.
On the final night, the Vietnamese choreographer Tran Ly Ly will round off the festival with a dance about the story of a man growing up during significant changes in society. These social tensions give rise to the character's internal conflicts which obsess him. The piece delves into the problem of how the individual self relates to society.
The festival offers meaning playground for dance artists from Europe and Asia, according to Director Almuth Meyer-Zollitsch.
Free tickets are available at the Goethe Institute, L'Espace and the Japan Foundation from September 17.
U.S. photographer shows performance of stillness
American photographer Jamie Maxtone-Graham will hold his solo "That Little Distance" at Galerie Quynh on Thursday, featuring two bodies of work "Still. Life." and "That Little Distance."
The exhibition features photographs produced in the derelict setting of a former factory where the only light source is daylight passing through a large and north-facing window. Each photo has been taken with an exposure of 15 to 20 seconds inspired from the style of 17th-century-Dutch painting and the memento mori genre. Therefore, the dramatic light in the photos lends the work a sacred and serene air, according to information from the gallery.
As a visual play on the fragility of our daily experience, the work "Still. Life." depicts seemingly disparate objects bound together into a structure marked by tension. Meanwhile in "That Little Distance," Maxtone-Graham focuses on enigmatic portraits of individuals with his own presence subdued in deep shadow.
In a palette of soft, muted colors and rich textures, a poet, gangster, artist collective and gay couple are just some of the players in the artist's haunting and illusionary world. These simple, quiet scenes belie the profound themes at play where history, art history, prejudice, human relationships, nature and time itself collide in small performances of stillness.
As a native of Connecticut, Jamie Maxtone-Graham has been working for more than 20 years in the field of narrative cinematography, engendering an eclectic body of works ranging from independent films, mainstream feature films, episodic television, and photography.
He first came to Vietnam in 1990 for the feature documentary From Hollywood to Hanoi and returned a number of times before calling Hanoi his home. In 2007 Maxtone-Graham was awarded a Fulbright Research Fellowship to pursue State of Youth, a photographic project on contemporary youth culture in Vietnam. He has published numerous photography portfolios in notable publications and his photographs have been featured in exhibitions in Europe and Asia.
Jamie Maxtone-Graham lives and works in Hanoi.
The exhibition will continue until October 31 at Galerie Quynh at 151/3 Dong Khoi Street in District 1.
Environmental protection campaign draws crowds in city
September Black Day, a main event of the campaign "Citizens to have actions on climate," lured thousands of tourists as well as young people in downtown HCMC last week.
With this year's theme of coal, a team of young people played human statues painted in black with masks on their faces standing at Ba Muoi Thang Tu Park in HCMC's District 1, the Notre Dame Cathedral, the City Post Office, and the Opera House. Their purposes were to raise the community's awareness on bad effects of coal on people's health and the environment.
Nowadays, one third of carbonic waste gas in the world is from the process of burning coal. Pollution from coal can cause severe problems to human brain, lung, heart, stomach and the immune system.
These human statues drew attention of many locals and tourists who were encouraged to take photos to post on Facebook. The organizers also delivered brochures about the campaign to participants.
The event which was initiated by 350.org Vietnam, the largest youth-led climate change movement in the country since its establishment in 2011, also took place in Hanoi, Danang and Can Tho. In just over two years of operation, 350.org Vietnam has recruited over 10,000 volunteers in 20 provinces, and over 30 Vietnamese Celebrity Goodwill Ambassadors. Successful projects implemented by 350.org Vietnam include The Sun in a Bottle, White Roof Green Wall, Green School, Straw-less Week, Moving Planet, A Different Earth Hour, Vote for Nature, Climate Camp, Light Source of Future and Connect the Dots, which were widely featured in the local media.
Further information can be found at http://350.org.vn/ or Facebook https://www.facebook.com/vietnam350.
VNS/SGT/VNA/VOV/ND/Dantri