VietNamNet Bridge – Toilet-themed café has been popular in a number of Asian countries, but quite new in Vietnam as a toilet café was inaugurated in Hanoi several months ago and over the weekend, Le Huu Quang and his friend Duong Dang Hong Phuc opened Toilet Kingdom Coffee and Food in HCMC's Binh Thanh District.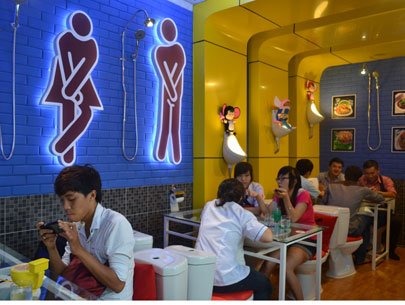 It is hard to imagine someone enjoying foods or drinks in a toilet and using toilet equipment to have foods and drinks. However, sitting on chairs topped with cushions in a toilet-designed café and having snacks on bathtubs and drinking from toilet-shaped cups and bidets on lavabos used as tables may bring an interesting experience for guests.
The gate, staircases and walls of the café are also decorated like those of toilets and there are many kinds of flowers along the ways of the venue.
"All things in the café remind people of a toilet but its decorations and cozy ambience make me never feel the real atmosphere of a toilet but a unique-styled café," student Huynh Minh Tri said and added that he will return often.
Another student Nguyen Thanh Thanh Hang said she came to the café because she is curious about it.
Phuc said many young people have come to the café and left with good comments on it. "We are confident that the café is favored by many youngsters."
Toilet Kingdom Coffee and Food is located at 29/2A Road 2D in HCMC's Binh Thanh District. Drinks and snacks are priced from VND25,000 to VND65,000.
Zing/SGT