VietNamNet Bridge – Opinion about the use of Western musical notation in the teaching of Vietnamese traditional music varies from strong opposition to reluctant acceptance.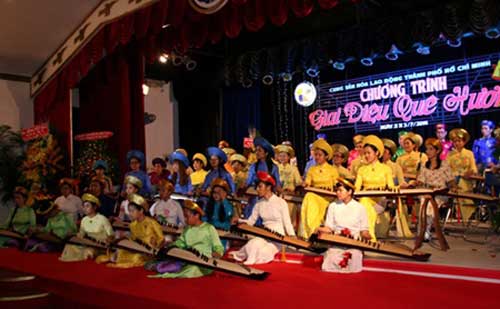 Notation notions: Vietnamese and foreign artists perform at the Zither Festival held on Wednesday night at the HCM City Labour Cultural Palace. A debate has broken out over the use of Western notations to learn traditional Vietnamese music. 
At a seminar during the ongoing zitherist festival held in HCM City, a young Vietnamese who has learned Vietnamese traditional music for more than a year told the panel of experts that the Vietnamese pentatonic scale of ho, xu, xang, xe, cong, should be used in the teaching of traditional Vietnamese music.
"In my opinion, the essence of traditional music will be lost somehow. By doing this, young people are undermining the nation's traditional music," said Nguyen Nhat Lai, a 22-year-old student at HCM City University of Technology.
Lai said he also did not like seeing names of Vietnamese traditional musical instruments translated into English.
Professor Tran Van Khe, one of the greatest masters of the Vietnamese traditional music, who was one of the main speakers at the seminar, agreed with Lai, as did a number of other attendees.
However, several music institutes in Viet Nam, as well as schools overseas, teach Vietnamese traditional music with Western notation to help their students acquire the music easily.
Speaking at the seminar, Van Anh Vanessa Vo, who is a master of the dan tranh (16-stringed Vietnamese zither) and teaches in Fremont, California, said that she preferred to use Western notation as it made learning less of a challenge for her students.
Most of her students, who are Americans and Vietnamese born in the US, have grown up learning Western musical scales, she said.
In fact, many students in Viet Nam learn Western scales at school, and thus are more familiar with this notation.
Nguyen Thi Hai Phuong, a famed player of the dan tranh, who teaches traditional music in HCM City, conceded that the use of Vietnamese notation would be interesting, but that only some of her students would be able to keep up with the lessons.
"The best way now is to learn traditional music using Western musical notation and later help them return to traditional musical notation when the students' music level has improved," she said.
She said that the ultimate aim was to help students play traditional musical instruments and promote the music in the country and around the world.
Speaking to Viet Nam News on the sidelines of the conference, Professor Khe repeated his assertion that Vietnamese notation should be used "to preserve the essence of the distinctive music".
"My principle is to learn ho, xu, xang,xe,cong before, and then Western musical notation later," he said. "Using the Western musical scale (seven notes and a repeat at the octave: do, re, mi, fa, sol, la, ti, do) to teach students at the beginning of a course is similar to a Vietnamese infant who cannot speak Vietnamese but can speak French. And the sounds of ho, xu, xang, xe, cong match the Vietnamese accent."
VNS/VNN