VietNamNet Bridge - Fishermen in the village of Binh Chau, in Quang Ngai province's Binh Son District, have found many precious artifacts allegedly 800 years old near a 700-year-old sunken ship that was excavated in 2013.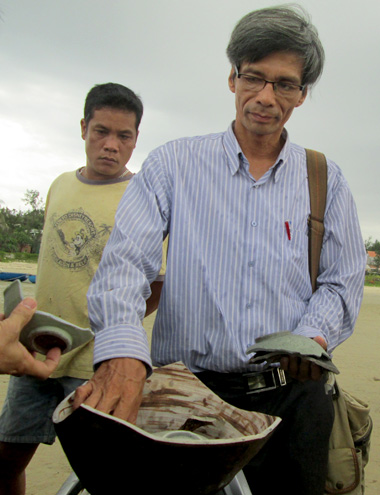 Dr. Doan Ngoc Khoi, deputy director of the Quang Ngai Province Museum examines antiques.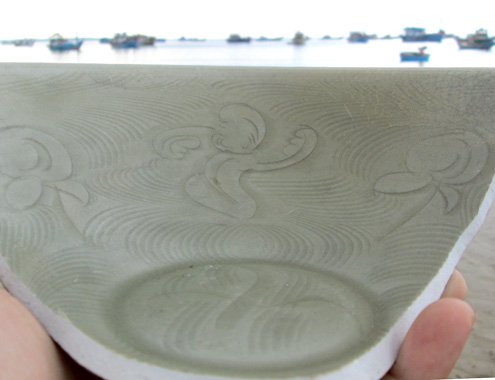 Dr. Doan Ngoc Khoi, deputy director of the Quang Ngai Province Museum, said on Friday the museum's officers went to Binh Chau to examine and seize 15 antiques that were illegally salvaged by locals.
The artifacts include ceramics that were salvaged a few dozen metres to the south of the ship.
"The good news is that the artifacts dated back to the 12th century, earlier than the ship that was excavated last year. Several antiquities have unique patterns that are much different from those salvaged from the 700-year-old wreck," says Dr. Khoi.
According to Khoi, it is likely that other wrecks near the 700-year-old sunken ship are located under water, and the local authorities should make plans for exploration and protection of these vessels.
The Department of Culture, Sports and Tourism of Quang Ngai Province is working on a plan to explore for antiques on a broad scale in the waters of Binh Chau for purposes of research and conservation in conjunction with diving tourism.
Last June Quang Ngai Province collected approximately 5,000 artifacts from the wreck in Binh Chau. Experts said the artifacts on the ship were dated back to the 13th century, and very rare in the world.
Local fishermen said they had found at least seven wrecks containing antiquities and minerals in Binh Chau waters, while the local authorities have excavated three wrecks since 1999.
Dr. Khoi says the Binh Chau waters are an "ancient ship graveyard".
Dr. Nguyen Dinh Chien, deputy director of the Vietnam History Museum, said that the sea could be a busy trade centre in ancient times.
T. Van