VietNamNet Bridge – Korea Fantasy "Sound – Dance & Performance," a traditional music concert by Gukak Chungnam Orchestra from Cheonan City, will take place at 7:30 p.m. on July 3 at Ben Thanh Theater in HCMC's District 1.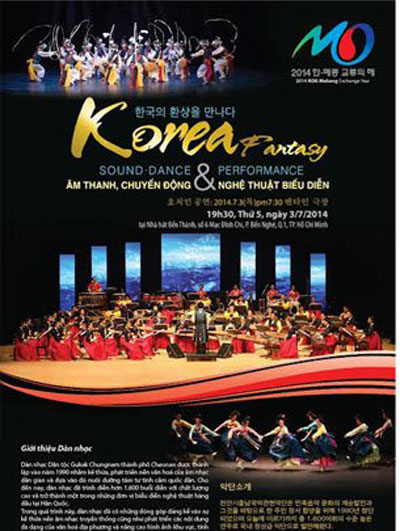 A poster of the Korea Fantasy "Sound – Dance & Performance" concert - Photo: Courtesy of the Korean Consulate General in HCM City
The program which is hosted by the Foreign Affairs Ministry of the Republic of Korea aims to mark the 25th anniversary of the ASEAN-Korea dialogue relations.
Audiences to the event will enjoy a Modeumbuk performance that combines various kinds of traditional drums and percussions and other Korean musical instruments to deliver both strong and velvety sounds. A harmony of Piri flutes by artists from Changbu Taryeong will bring spectators to some typical folk songs of Noraetgarak and Changbu Taryeong regions.
Additionally, there are Samulnori percussion music, Hwajomu song and dance and Deagum flute featuring cultural and lifestyle traits of Korean people.
A highlight of the event is a performance of Pansori, a traditional art form of Korea which was recognized in 2003 by UNESCO as a word-of-mouth masterpiece and intangible heritage of the world.
Especially, audiences will enjoy a popular song by late Vietnamese composer Do Nhuan, "Viet Nam que huong toi" (Vietnam, my country) by singer An So Eun.
The program is directed and arranged respectively by Cho Ju Woo and Moon Jung Il. Apart from Gukak Chungnam Orchestra, there are Pansori artist An So Eun and drum and dance troupes from Cheonan City.
Gukak Chungnam Orchestra, established in 1990, has organized over 1,600 performances and concerts. This is one of the leading art troupes in South Korea.
Ben Thanh Theater is located at 6 Mac Dinh Chi Street in HCMC's District 1.
SGT/VNN