A Eurocopter AS332 L2 helicopter, belonging to the Hong Kong Government Flying Service, made an emergency landing on Monday morning at a reservoir in northern Hong Kong, and all three crew members managed to swim to safety, local media reported.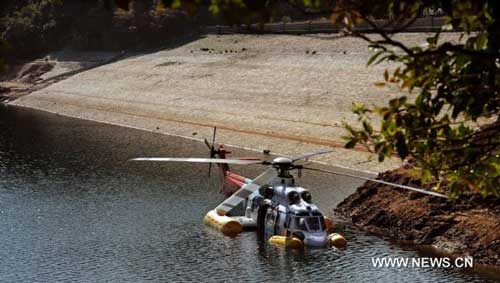 A Government Flying Services helicopter is seen on water after an emergency landing in Shing Mun Reservoir of Hong Kong, south China, Dec. 27, 2010. The helicopter made a controlled emergency landing due to mechanical failure on Monday. Three crew members onboard have safely exited the helicopter. (Xinhua/Chen Xiaowei)

TV footage showed that the white-and-orange helicopter was kept afloat by an inflatable device in the water close to the bank.

The helicopter was participating in the aftermath of a wildfire when police said one of its engines failed and the machine went down, Hong Kong radio reported.

The Government Flying Service is a department of the government of the Hong Kong Special Administrative Region, employing 226 civil servants responsible for flight operations, maintenance and administration.

It began operating in April 1993. Its goal is to provide emergency air services to the local community in Hong Kong and those who earn their livings in the South China Sea, the Government Flying Service said on its website.

The department has a fleet of ten aircraft comprising two British Aerospace Jetstream 41 (J-41) fixed-wing aircraft, one Zlin Z242L fixed-wing aircraft, three Eurocopter AS332 L2 helicopters and four Eurocopter EC155 B1 (EC155) helicopters.
VietNamNet/Xinhuanet